Ten years ago, when I was still horrified by MMA and saw it as nothing more than evidence of civilization's collapse, Fedor Emelianenko (38-6-1) and Quentin "Rampage" Jackson (38-13) showed me the error of my ways. They became my guides through an awful world, my Virgils, the conduits through which a spectacle became sport and repulsion, which became curiosity which became affection which became true love.
On Saturday, the two will finally fight in a match you can stream on DAZN.
Originally, I fell for Fedor first simply because he defied every stereotype I had and hated about fighters. He was balding and pot-bellied, with a placid demeanor and a respectful air. He didn't shout his brilliance to the world, he didn't mock his opponents or gloat after beating them up. He was modest, even apologetic, when he won. He didn't seem to take any pleasure in harming people, didn't exhibit any real malice or meanness at all. Yet in the ring, he was invincible, possessed of all kinds of mysterious skills I couldn't help but wonder about. For a lifelong pacifist and a devoted critic of cage-fighting, Fedor provided a way in.
Rampage, meanwhile, was the personification of everything in MMA I was repulsed by but secretly drawn to: the terror combined with reluctant wonder. Where Fedor was dispassionate, Rampage was cinematic, walking to the ring wearing an eight-pound chain around his neck. Where Fedor was modest, Rampage never missed a chance to sing his own praises and howl like a wolf. All my early experiences with Fedor involved him recovering from impossible-looking predicaments and coming back to win. My first experience with Rampage, on the other hand, was watching him lift another man over his head and crash him onto through the floor of the ring like a comic book supervillain.
There was a deviant thrill in watching something I was so terrified by. If Fedor allowed me a means to get over my fear of fighting, Rampage encouraged me to luxuriate in it, the way some people luxuriate in a horror movie, until terror transmutes into pleasure by some mysterious alchemy.
But Fedor's air of invincibility collapsed in 2010 when he was submitted by Fabricio Werdum. Since then, he's lost as often as he's won and all of his wins have come at the expense of lesser fighters and men long past their primes. The same is true for Jackson. As his performances declined in the 2010s, his once-paralyzing persona descended into self-parody. The thick chain around his neck, the wolf's howl, the cruel sneer—once omens, they're now the lovable gimmicks of the pro wrestler, theatrical bursts tugging at the heartstrings of older fans who remember when they were signifiers of violence itself. The muscular frame that used to strain the limits of the 205-pound division has now ballooned up to 260, betraying the softness of age and decadence.
Now, at least 10 years too late, the two legends are finally going to fight. And to put a fine point on the fact that it's nostalgia fueling the event, they're fighting at the Saitama Super Arena, ancestral home of the legendary Japanese PRIDE promotion where they made their names. Once giants, Fedor and Rampage are now reminders of the passage of time and the inevitable decline of ability, reputation, and the body. Their fight will take place at a lower temperature than it would have in 2005, when nothing could have mattered more for either of them than proving that the world belonged to them and not the other.
But still, they'll fight. Because that's what fighters do. Even aging, slowing fighters who long ago lost whatever anger propelled them to greatness in the first place.
Here's everything you need to know to live stream Fedor vs. Rampage.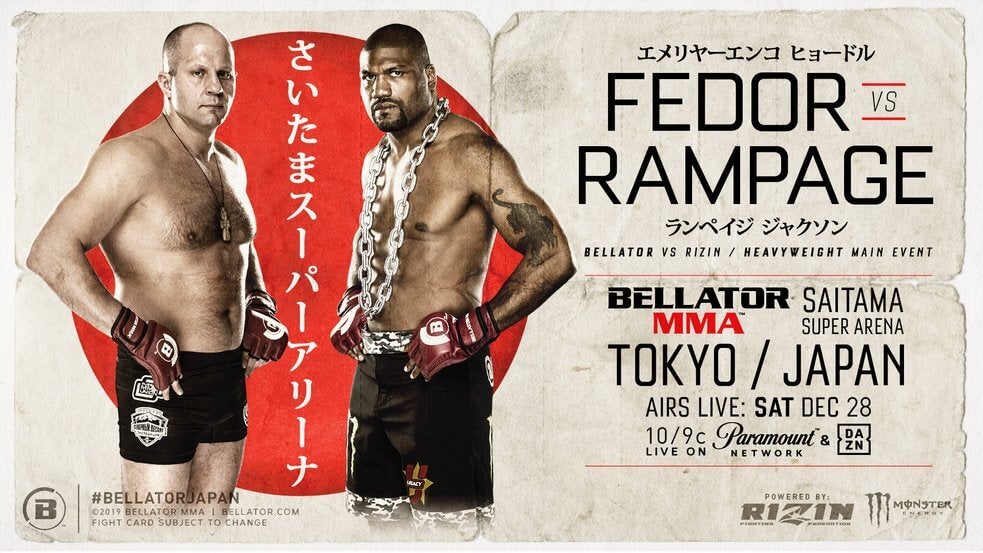 Bellator Salute: Fedor Emelianenko vs. 'Rampage' Jackson
When: Saturday, Dec. 28 at 10pm EST
Where: Saitama Super Arena, Saitama, Japan
Streaming: DAZN
If you still have cable TV, you can watch many of the Bellator events on the Paramount Network. For this card, that is indeed the case. But if you've cut the cable cord for good, you can also stream it on DAZN. A subscription to DAZN costs $19.99 per month or $99.99 for a year, and it's been a great resource for combat sports fans.
DAZN was introduced to the U.S. audience in September 2018, and since then, it's showcased Bellator's biggest events along with featuring some of the most popular boxers (Canelo Alvarez, Gennady Golovkin, and Anthony Joshua) and that sport's rising stars (Regis Prograis, Devin Haney, and Vergil Ortiz Jr.). With the two combat sports combined, DAZN shows more than 100 fight cards per year.
DAZN works with Roku, Apple TV, Amazon Fire Stick and Fire TV, Xbox One, PlayStation 4, and both iOS and Android phones. All you have to do is download the DAZN app and log in with your subscription credentials. You can also stream via computer browsers Chrome, Firefox, Safari, Edge, Internet Explorer, and Opera. (You can read our full DAZN review here.)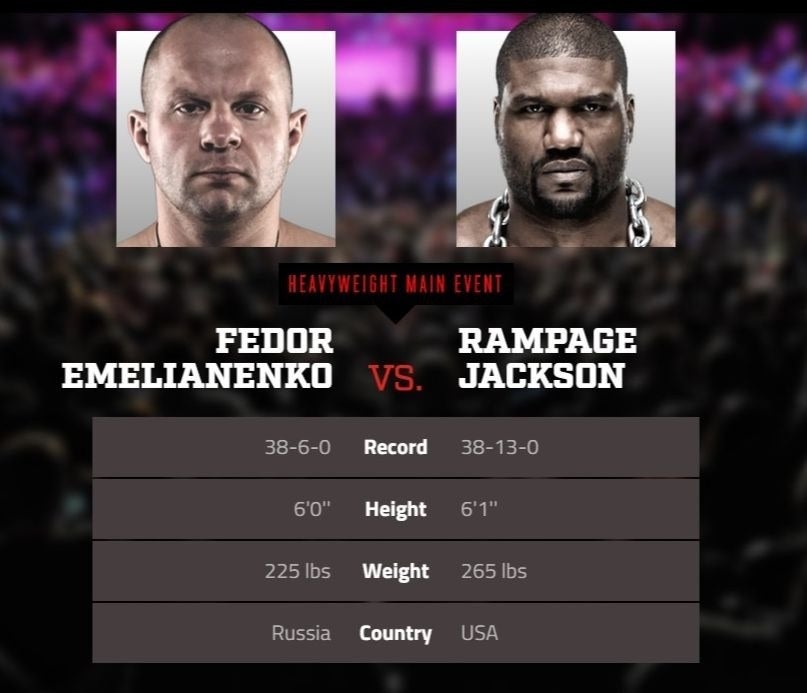 Bellator 237 live stream schedule
All times ET.
Main card | 10pm on DAZN
Fedor Emelianenko vs. Rampage Jackson
Michael Chandler vs. Sidney Outlaw
Michael Page vs. Shinsho Anzai
Lorenz Larkin vs. Keita Nakamura
Ilara Joanne vs. Kana Watanabe
Goiti Yamauchi vs. Daron Cruickshank
For a year-round sports fix, sign up here and check the "sports" box to receive our weekly boxing newsletter. You'll hear about all the biggest fights and best knockouts from the Daily Dot's streaming sports guru Josh Katzowitz.
The Daily Dot may receive a payment in connection with purchases of products or services featured in this article. Click here to learn more.