The daily weather report is finally coming from a trusted source—in this case, a grandmother.
Weather From, a new website from actor David Krumholtz, launched today, providing the weather forecast from anywhere in the world, based on your location. The weather expert? Not anyone you've ever seen on TV, but rather Gigi, a Jewish grandmother who's "very opinionated, very obnoxious," according to Krumholtz.
"So many people rely on local weather reports to tell them what's going on every single day," Krumholtz told The Hollywood Reporter. "We thought, 'Why not make them laugh while they're watching it?'"
Gigi is played by Krumholtz himself and made completely unrecognizable thanks to prosthetics from the guys who did the makeup for Jackass Presents: Bad Grandpa. He based the portrayal on his own grandmother, and he pretaped 35 different weather segments to play depending on where you're located (or which city you choose). The reports are based on information from the National Weather Service.
Last week, Krumholtz teamed up with Funny or Die to give a taste of the hijinks you could expect from Gigi. While Gigi is Jewish, you don't have to be Jewish to enjoy the spectacle or the crude humor—but some of the references may go over your head.
When you first visit Weather From, it will show you approximately what city you're near and the temperature.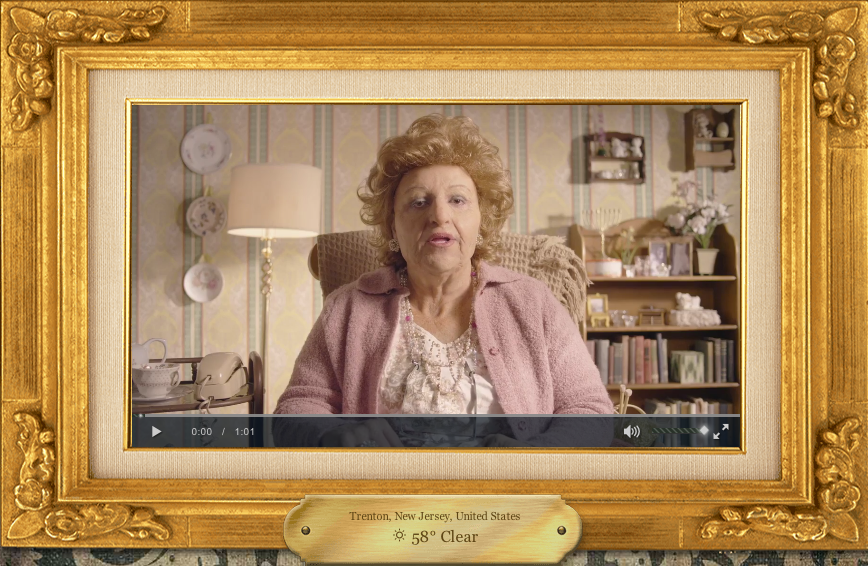 "All in all, it's gonna be a gorgeous day!" Gigi told me about the forecast in Trenton. "Not too hot, not too cold, just perfect. So make sure you layer, because if you don't, you're gonna be schvitzing by lunchtime."
You can hit "Random" to see all of the videos Krumholtz created. Even if the weather doesn't affect you, there are still gems hidden in the clips.
Screengrab via Funny or Die