Cult BBC drama The Hour may have been cancelled earlier this week, but fans aren't letting it go without a fight.
Blending Cold War espionage and 1950s class warfare with romance, The Hour was a newsroom drama about the birth of television reporting, and was seen by many as Britain's answer to Mad Men. Fans have been quick to set up a petition to have the critically-acclaimed show renewed for a third season, citing its high quality writing and mature subject-matter as one of the few BBC shows able to compete with channels such as HBO:
"It's unique, it's gripping – and, most importantly, it shows the BBC is still willing to deal with heavyweight issues… In an age of dumbing-down, it is important that the BBC remembers its own purpose: to inform, educate, and entertain."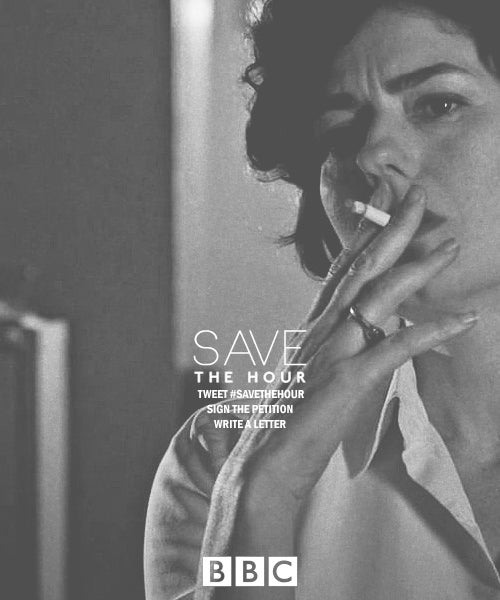 Image via lyonsheart/Tumblr
In an ironic twist, much of the conflict within The Hour centers around its characters battling against ratings-driven BBC TV bosses who want to cancel its own show-within-a-show. This certainly came in handy for fans making supportive GIFs and images to use in the campaign, which conveniently comes with its own ready-made slogan: "The Hour you can't miss".
Starring Romola Garai (Atonement), Dominic West (The Wire) and Ben Whishaw (Cloud Atlas; Skyfall), The Hour gained a dedicated fan-following on both sides of the Atlantic—an international fanbase which may account for its low ratings. Much like the similarly ratings-challenged Community, The Hour seems to be a show whose fans mostly caught up by watching online and participating in Tumblr-based fandom rather than using traditional viewing methods.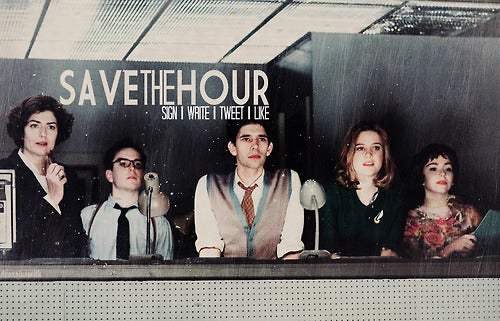 Image via dearsixsmith/Tumblr
As well as writing to the BBC and creating a Save The Hour Tumblr to publicize the campaign, viewers have been taking to Twitter to voice their displeasure via the #savethehour hashtag. Fans have also been reaching out to actors and showrunners from other cult TV series such as Firefly to gain their support, with New York Times bestselling author (and, apparently, The Hour aficionado) Joe Hill pointing out that several other shows have been brought back from the brink by similar campaigns.
If you're curious about why more than 10,000 people have signed the #savethehour petition in two days, Tumblr user bishaw has created a comprehensive list of resources for The Hour's various creative endeavours, including fan videos, art, signature tea blends, 1950s cocktails, and more.
Image by doctor-waitforit-who/Tumblr