Relive every nasty and inventive breakbeat on Facebook—one post at a time. 
Trip-hop pioneer DJ Shadow has only put out four proper albums over an illustrious 16-year career. Between mixtapes, tributes, and compilation discs, however, the California visionary has released a potentially insurmountable amount of original material.
Even for the nuttiest crate junkies, the collection would be a bear to sort through.
To help fans make sense of the prolific output, Shadow—whose most recent LP, The Less You Know, the Better, came out last October—has put Facebook's Timeline to good use. The DJ has filled his fan page with a date-specific link to every single project or track that he's produced since he started recording music.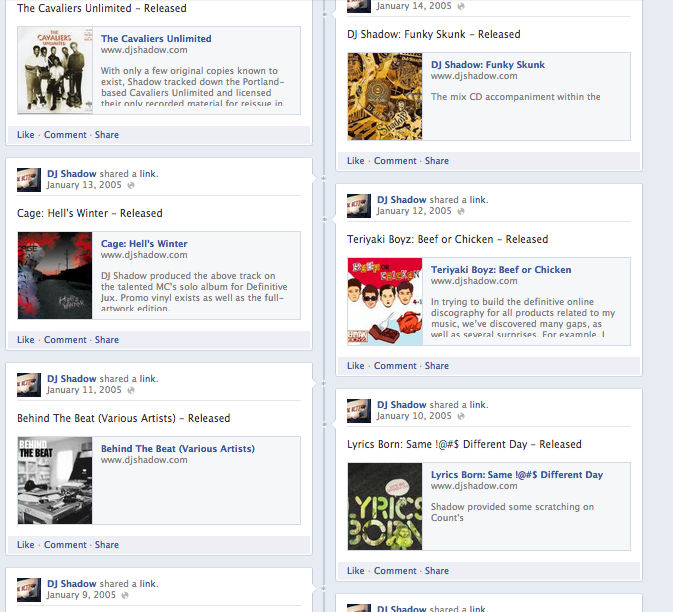 The timeline tracks everything from his 1999 "UNKLE" collaboration with James Lavelle to his Scale It Back Remix EP, which came out in March, with all sorts of goodies in between.
You can literally find everything: a limited edition 12″ release of Keepintime from 2002, his "Blues Explosion" single, a live recording of DJ Shadow's December 2006 performance at Brixton Academy. You name it, DJ Shadow's Facebook timeline now has it.
The project was kick-started by digital marketing strategists Fame House, whose Hisham Dahud wrote in a hypebot post that Facebook timelines can give "your music context to listeners and provide a refined mental and personalized association" with music that came out a long time ago:
"Facebook's Timeline provides album, yearbook, scrapbook, and diary software all in one, while providing you with greater control over which posts are highlighted and how prominently posts appear."
Though most of the posts have gone without any likes or comments, a few choice cuts from the archive have spawned some entertaining fan notes. Some, like the "UNKLE" track mentioned above, have been deemed "a milestone" and "simply one of the  reatest tracks ever written."
"One of my all time favorites," one fan posted about Shadow's Quannum MCs: Extravaganza project from 1999. "Like the 'fellowship'…its rhyme'city!!!"
Come relive the glory days on Facebook, one nasty and inventive breakbeat at a time.
Photo via DJ Shadow
Pure, uncut internet. Straight to your inbox.