Daytrotter is the dark horse of indie rock.
While giant rivals like Spotify and Pandora filter music based on algorithms and leverage the social graph—whatever that is—Daytrotter uses personal touches to distinguish itself: homey illustrations, carefully curated content, and personal introductions by cofounder Sean Moeller.
Founded in Rock Island, Ill. in 2006, Daytrotter records the best new and emerging bands straight to analog tape—one take, no overdubs—and then releases the sessions as free downloads. There's a rough intimacy to the recordings, giving a rare and unfiltered glimpse of artists in the moment.
As of December 2010, Daytrotter had delivered 16 million total downloads, based on roughly 1,160 sessions. Those aren't iTunes-sized numbers, but they're significant for a skeletal operation that works on a shoestring budget, with no commercial advertising and mostly under-the-radar bands.
Last year, the music discovery site transformed from an archive of exclusive recordings to the most unique and endearing social network for indie fans. It began last summer with Daytrotter Friends, a microalternative to Facebook that allows users to connect and follow each other's listening habits. A new playlist feature, set to roll out soon, will allow users to create and share Daytrotter mixtapes.
In October, the site switched to a subscription service—an essential step that removed its reliance on advertising. For $2/month, users gain keys to the Daytrotter vaults. (The site offers a free seven-day trial.)
While such transitions are usually rocky at best, most patrons responded with enthusiasm. Just scroll through the 4,800-plus mentions of Daytrotter on Twitter tracked by the social media search engine Topsy over the past 30 days—or the comment section of any given session.
"Wilco and Daytrotter both represent things I believe in," wrote user cwms in response to the site's most popular session from December. "This a great milestone on the trail you've blazed, Sean. I wish you continued success, thanks for letting us tag along."
"[T]his is why [I] love daytrotter!" exclaimed fredemg in regards to a recent post by the Lumineers, a relatively unknown Americana trio out of Colorado. " [W]hen [I] find music like this that touches me, it really saves my grey winter days!"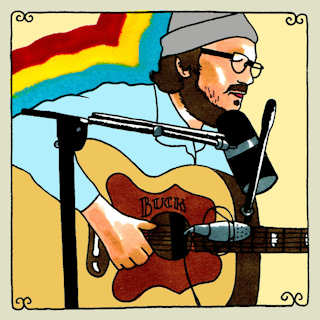 That sense of connection is bolstered by Daytrotter Live, a relatively new feature that allows patrons to eavesdrop on recording sessions as they happen. In its fall revamp, the site also jumped from posting one to three sessions daily.
In total, Daytrotter released well over 450 sessions last year, featuring everyone from MGMT and Wilco to the Jon Spencer Blues Explosion and Trombone Shorty & Orleans Avenue. (This author's personal favorites include Josh T. Pearson, Yuck, and Bill Callahan.)
"Daytrotter has been our first and only real national exposure," reflected Mike Harmeier, the leader of the Austin outlaw country act Mike & the Moonpies, who taped a session and took part on Daytrotter's Barnstormer tour last year. "As far as a sense of community, I think that pretty much sums up Daytrotter. I still talk to bands, fans, and staff from Daytrotter on a regular basis."
Now Daytrotter is looking to expand internationally. Later this month, the site will begin recording with Communion Records' engineer Ian Grimble at 2KHz Studio, the facility used by Mumford & Sons, along with Montreal's Break Glass, operated by Jace Lasek of the Besnard Lakes.
"We're spreading out a little bit, just trying to dig into different landscapes and scenes," offered cofounder Sean Moeller outside the Driskill Hotel in Austin, Texas, taking a break from touring new studio spaces in town.
As the site continues to count down its top 57 tracks of 2011, the Daily Dot sat down with Moeller to discuss the road ahead.
Daily Dot: You're coming off a huge transitional year, especially with the move towards membership. What brought that about?
It got to be a situation where we just really had to do it. For the last two years, the advertising model really wasn't working. We had to turn down a lot of advertising because of what they wanted, and between running studios and the bandwidth, what we do isn't cheap.

At this point, I'd rather have our readers support something that they told us they like. That's how we arrived at $2/month. That's basically to pay our costs, to get us buy. In a way, it's a little bit of a new beginning. People are using the site differently. The time on site is through the roof compared to what it was before. There are so many more people discovering the site since we made the switch because we're putting up more sessions. I still think we're so far away from tapping into everyone that would potentially like Daytrotter knowing about Daytrotter. We're still just in the one percentile.
DD: What have the numbers been like so far in terms of the members?
I don't even know really. We're still a long ways away from breaking even, but it's moving in the right direction. Every day between new subscribers and trial members, we're averaging about 1500-1700 users.
DD: Everyone is live-streaming content now, but Daytrotter's Live sessions offer something really different.
You're getting to hear exactly what the engineer is hearing—what's going to tape. It's not just one mic that's set up in the room. It's everything that's coming through the console. might be listening one song and hear a guitar go up or down. You're hearing the creative process and the band interacting between the songs, which is my favorite part of it.
DD: Between Daytrotter Live, the Barnstormer tour, and the Friends feature, Daytrotter really seems to be trying to create an independent community.
Still the most important thing is for people to trust us—to be able to surprise people. That's how you're going to have longevity. Things come and go on the Internet. But if you can have people actually believing that Daytrotter is where you can go to hear new things that you're going to like, that's the most important thing to me and to the band's that we feature on the site.
DD: You're up to three downloads a day. Do you worry that you're overwhelming fans?
Everybody uses our site in different ways. There are people that are dedicated to every session. But there are people that love Daytrotter that don't stop by that often. We were worried that we might be short-changing bands, but the sessions still have four days on the main page before going into the archive.
DD: What's the big picture for Daytrotter in 2012?
We're really going to be focused on London. That studio is going to open a lot of doors for us. Even if it's a long shot, it at least gives us an opportunity to talk to the Radiohead people and Paul McCartney. The Gallagher brothers [of Oasis] are interested in getting there early with Beady Eye and High Flying Birds.

Who fucking knows?
Illustrations by Daytrotter