Overnight, the entirety of Random Access Memories, Daft Punk's latest album, was uploaded to YouTube.
The robotic duo's YouTube account now features every song from the album, with the new audio tracks joining the full music videos for "Get Lucky," "Lose Yourself To Dance," and "Instant Crush."
Ten "Official Audio" tracks were uploaded, with each including a vinyl pop and hiss before showing a vinyl copy of the album being played.
Only one track is missing from the new album: "Horizon," which was only released as a bonus track on the Japanese edition of Random Access Memories.
In a 1997 interview, Thomas Bangalter of Daft Punk told Massive magazine that one of the reasons why the pair decided to sign with a major record company was that "the music would be available to everybody, and after that people choose to like it or not." With the new album available to listen to for free on YouTube, the pair have apparently returned to their roots.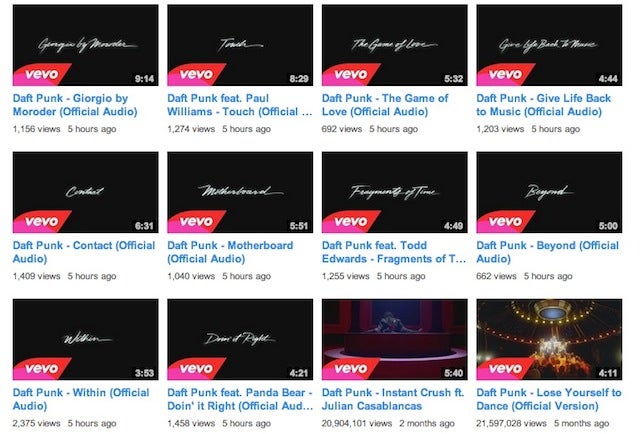 The new videos seem to take place in the same "spaceship" that Daft Punk featured in its album unboxing video. The flashing buttons in the background and minimalist turntable suggest that Daft Punk don't intend on returning to Earth just yet.
Screengrab via Daft Punk/YouTube