Most of us will probably never go into space, but thanks to Commander Chris Hadfield, we can get a pretty good idea of what life is like aboard the International Space Station (ISS).
Hadfield already had an active presence on social media before he went into space on Dec. 19, but he's becoming known as much for making strides on social media as he is for his work as an astronaut.
Often keeping a cheerful demeanor, thousands are keeping up with Hadfield as he broadcasts space travel in real time with photographs and observations of his day-to-day life. With only about 20,000 Twitter followers when he took off, he now has over 216,000 followers and counts Star Trek alums William Shatner and Wil Wheaton among his fans.
Hadfield is already raking in the Internet karma and gets even cooler with each post. He's got some time before he returns to Earth in May, but we've put together a list of reasons we'd follow him anywhere.
1) He's a redditor.
Many were first introduced to Hadfield when he stopped by Reddit for an AMA shortly before his departure. Originally encouraged by his son Evan, Hadfield came for the AMA and stayed for the community. He engaged with r/space and even crowdsourced for ideas of what people wanted to see from space. Depending on the Internet connection and PR restrictions, he may do an AMA from space.
Hadfield's hasn't posted anything since Jan. 6, but his day job probably keeps him busy.
2) He's rubbed shoulders with another famous captain.
Hadfield made headlines on Jan. 4 after a Twitter exchange with another famous commander, James T. Kirk—or rather, actor (and fellow Canadian) William Shatner—to the excitement of nerds everywhere.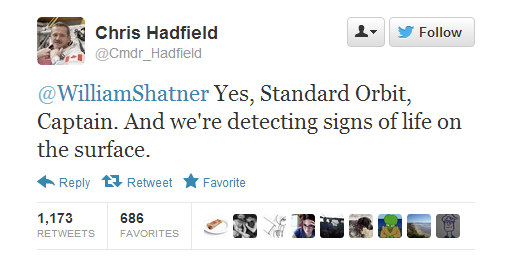 Hadfield shared a photo of them from a Canadian Space Agency (CSA) photo challenge. The CSA then invited Shatner to chat with Hadfield from space, who said that while he couldn't make any promises but would see what he could do.
3) He composes his own music.
Hadfield is a musician and will sometimes play the guitar when he's not working. He recently teamed up with fellow astronaut Catherine Coleman on the flute and performed "Ride On" in tribute of Sally Ride. He also composes his own music, and on Christmas Eve he posted "Jewel of the Night" to YouTube, a song he wrote and performed aboard the ISS.
4) He can count William Shatner, Bryan Adams, and Wil Wheaton among his friends.
While Hadfield's chat with Shatner is still up in the air, the CSA is making it possible for him with other people such as musician Bryan Adams, with whom he chatted with earlier Tuesday. Wil Wheaton, who played Wesley Crusher on Star Trek: The Next Generation, offered Hadfield a connection if they ran into any Nanites outside the ISS.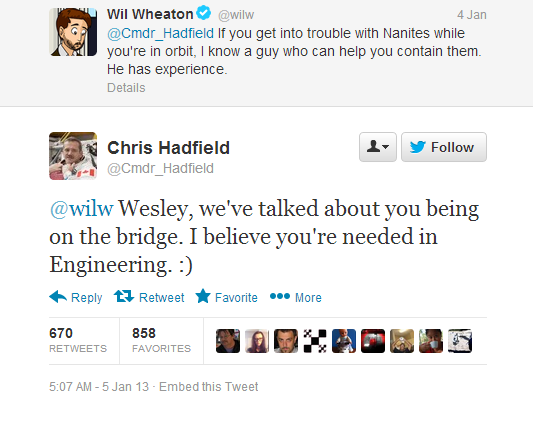 5) He answers the questions people actually want to know … 
When Hadfield posted his AMA last month, he also included a list of Frequently Asked Questions where he covered everything from the existence of aliens, items he's bringing from home, the logistics of sex in space and another bodily function, which he also explained in a video he posted online in December.
6) As well as the ones we never thought of.
Thanks to Hadfield, we now have the answer to a small-yet-vital question: How do you cut your nails in space? With zero gravity, the clippings would fly around and possibly get into someone's eye. Luckily, the astronauts have a solution, demonstrated in this CSA video.
7) His outside view is way better than yours.
When Hadfield is not working, he'll often post photos of his view outside the ISS and down below to Earth, which, aside from making us all jealous of the view, lets us view our planet in a way that we never would have been able to see otherwise.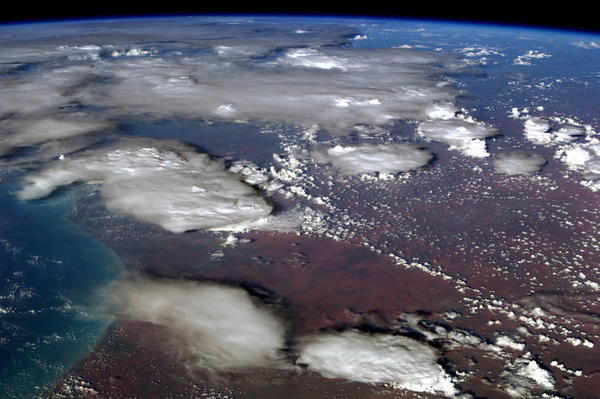 Photo via Chris Hadfield/Twitter
8) Despite his workload at the ISS, he still finds time to tweet often.
Hadfield tweets photographs and snippets of his life on the ISS several times a day, and it's essentially become part of that job. And while we often look on with awe, others have wondered whether he's actually working—something Hadfield has managed to take in stride.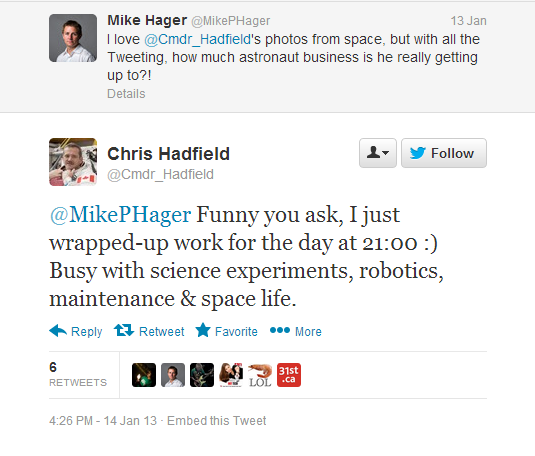 Photo via Chris Hadfield/YouTube