Opening Day offered not just the start of the 2019 MLB season, but also an ambitious new show from DAZN that wants to change the way you watch baseball.
Produced in partnership with MLB, ChangeUp is a nightly program that brings you all the big plays from around the league, both with recaps and in real time via drop-ins to the various games in progress. It's part SportsCenter highlights, part sports talk radio, and incredibly addicting. In short, ChangeUp hopes to do for MLB what NFL RedZone has done for watching football on Sundays: cut out the filler—commercial breaks, timeouts, etc.—and replace it with instant analysis and humor.
ChangeUp is the first original production from DAZN for any of the four major American sports leagues. Launched in the U.S. in September 2018, the subscription service has primarily focused thus far on cornering the boxing market. The service has signed three of the world's most popular boxers—Canelo Alvarez, Anthony Joshua, and Gennady "GGG" Golovkin—to exclusive, long-term deals, and it hosts a major fight card practically every weekend. That includes MMA events from Bellator. But DAZN is no stranger to MLB. The service offers live and on-demand MLB action in Austria, Germany, Japan, Switzerland, Canada, and Italy.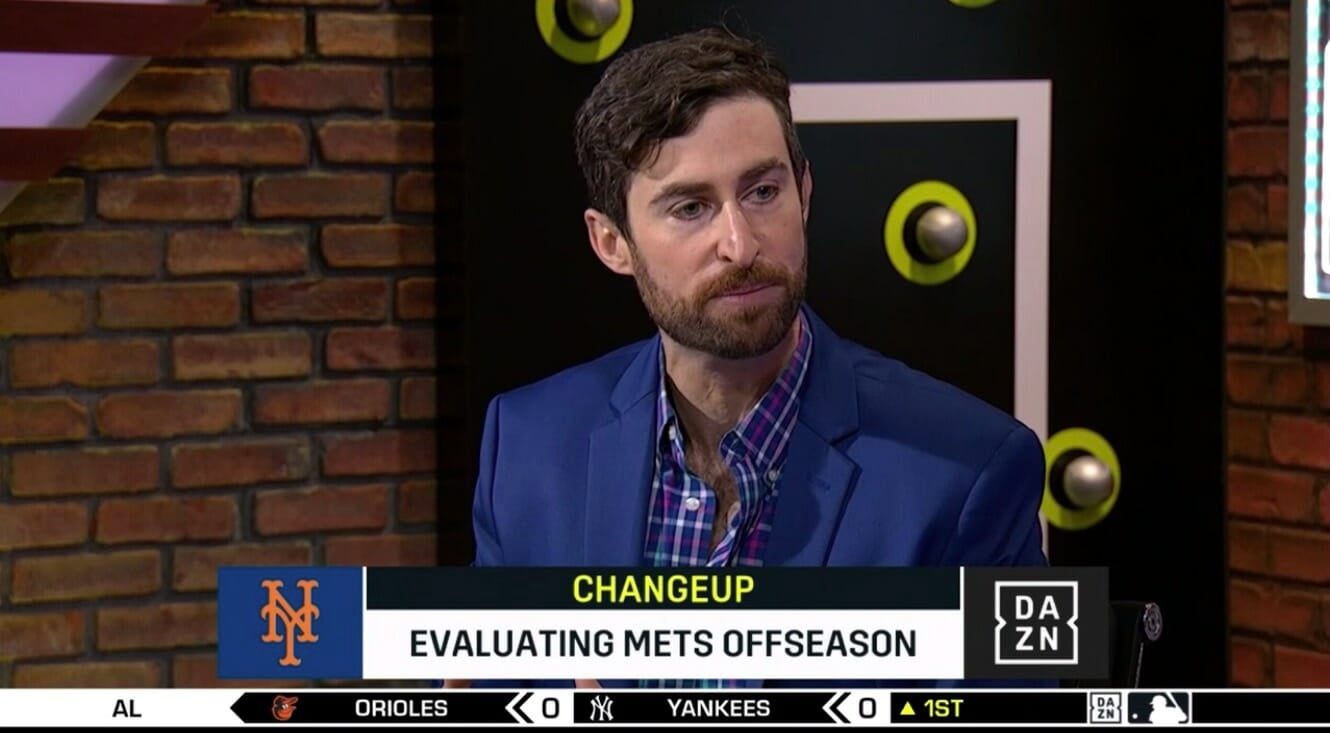 ChangeUp broadcasts every weeknight starting at 7pm ET and remains on the air until the last inning has ended. Former Baseball Tonight anchor Adnan Virk co-hosts in primetime alongside scrappy upstart Scott Rogowsky (above), while Lauren Gardner (formerly of Denver's Altitude Sports Network) and NHL Network's Tony Luftman hold down the evening shift, with help from Alfredo "Freddy" Lomeli, a broadcaster with experience in English and Spanish for ESPN. Jake Mintz and Jordan Shusterman, the Twitter-famous duo better known as Cespedes Family BBQ, host the weekend edition, which runs from 10pm to midnight ET on Saturdays and Sundays.
For Opening Day, ChangeUp kicked things off at 1pm in time for the season's first pitch. I streamed the DAZN app on both my laptop (a MacBook Pro) via the Chrome browser and a smart TV (a Samsung QLED), and the picture quality was terrific on both. (You can also stream DAZN on Roku, Apple TV, Amazon Fire Stick and Fire TV, Xbox One, and PlayStation 4, and on up to two devices at once.) There were a couple lags on my laptop, but that could easily have been due to how many tabs I had open at the time.
ChangeUp already feels like a polished product. Virk and Rogowsky are still figuring out their chemistry—Rogowsky comes off a bit like the nervous younger brother, anxious to pull out every stat—but their insight and wit carry the program. The quick-turn editing is particularly impressive, bringing you highlights and replays right after they happen. And if Thursday's initial outing is any indication, you can expect plenty of guests and live interviews. MLB veteran Mark DeRosa stopped by the studio, and Minnesota Twins pitcher Kyle Gibson joined from the dugout.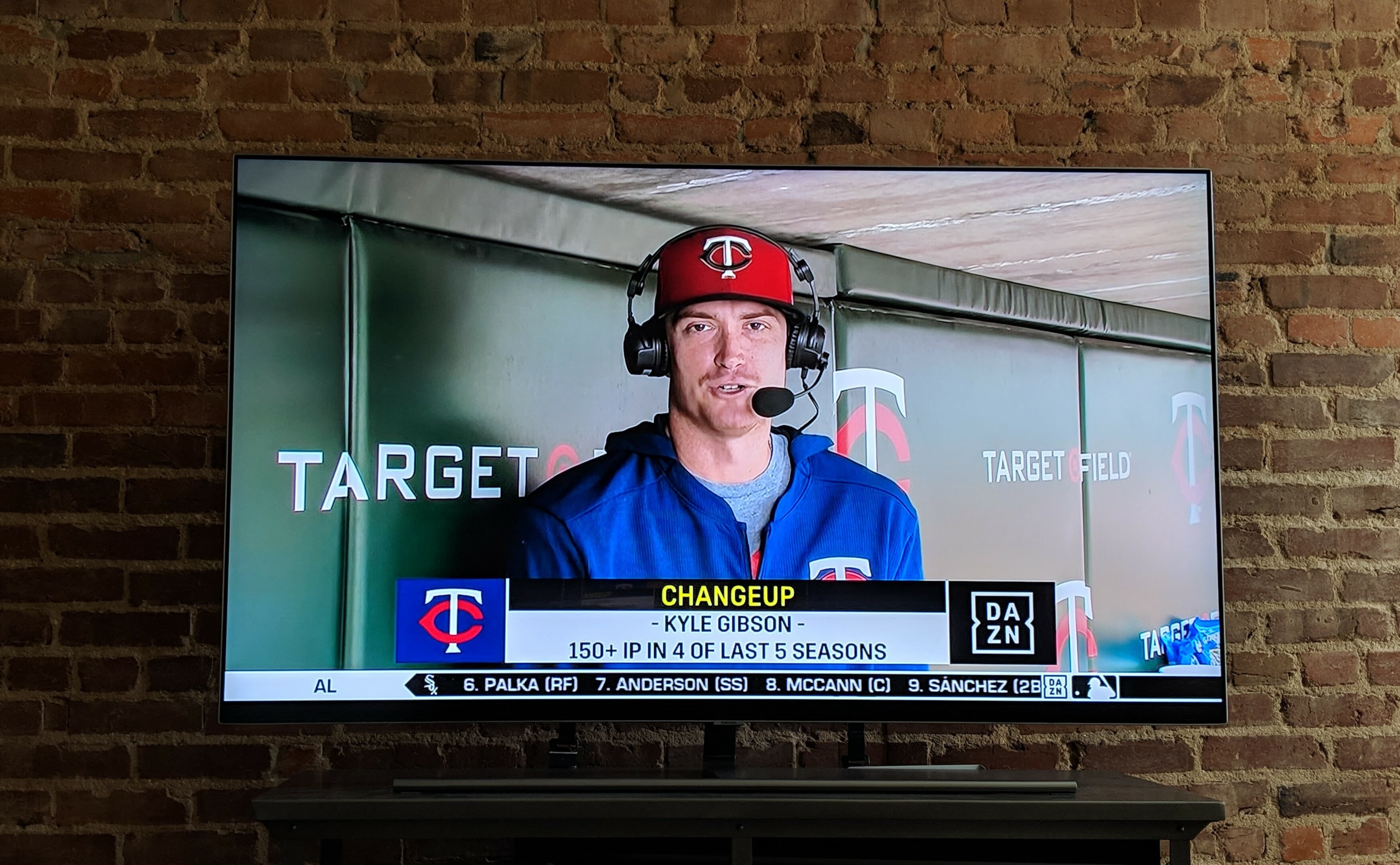 I would've liked to have spent more time in each game—as with NFL RedZone, you never quite feel like you're watching one particular outing—but I didn't feel like I missed anything, either. I watched Bryce Harper start 0-for-3 with two strikeouts in his highly anticipated debut for the Philadelphia Phillies, for example, as well as the most impactful moments from the New York Yankees' romp of the Baltimore Orioles and the New York Mets' shutout against the Washington Nationals.
The whip-around format likely won't appeal to purists who prefer the simplicity and rhythm of a full nine innings, but if you're the type of fan who would rather check their phone than take a seventh-inning stretch or generally approve of new efforts to speed up the game, you'll find ChangeUp to be more your pace. The show should take a cue from NFL RedZone, however, and incorporate more fantasy stats into the format. There's definitely a market there to capture.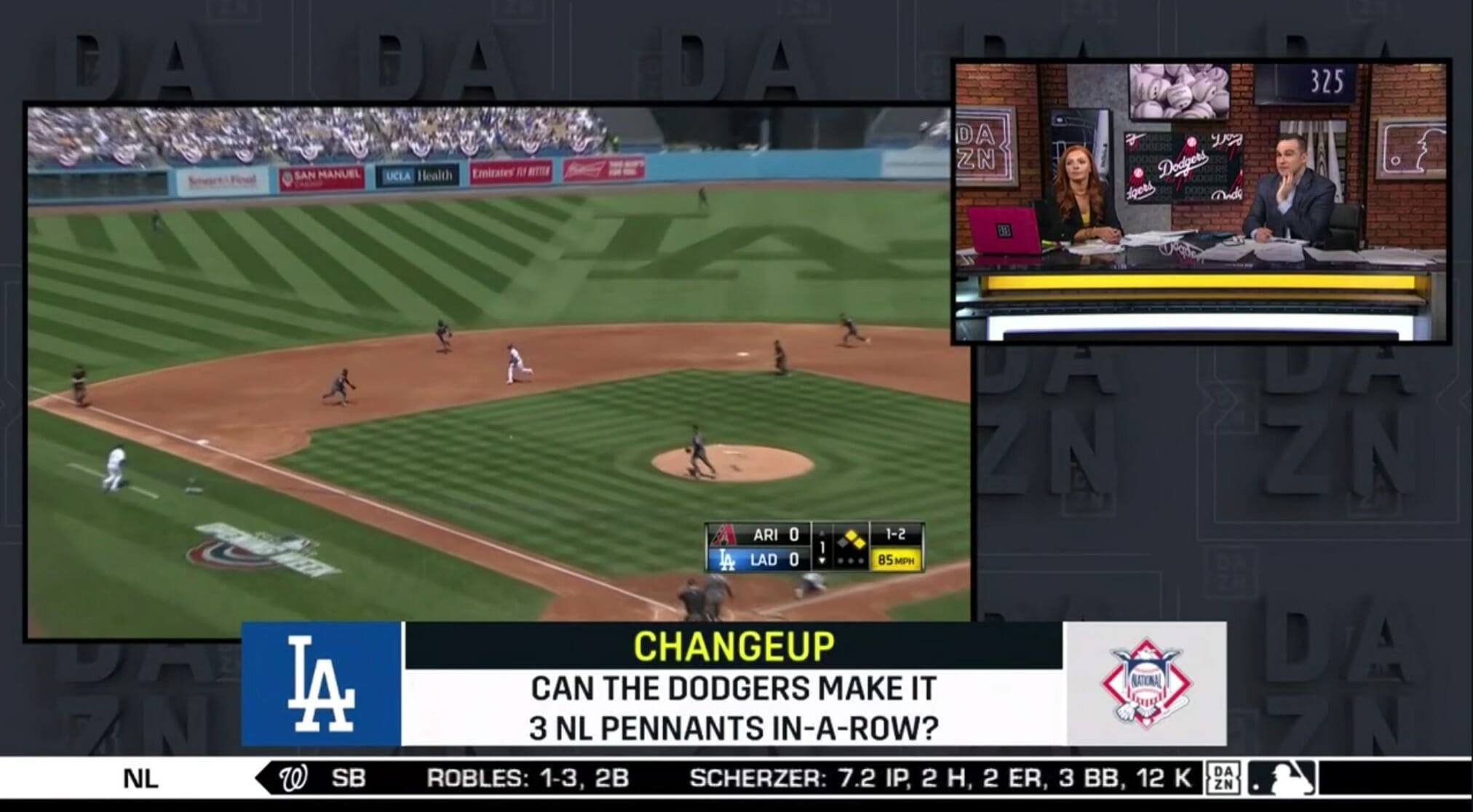 Earlier this week, DAZN hiked its monthly price to $19.99 (or $99.99 for an annual membership) and did away with its month-long free trial. While that seems steep, a monthly subscription to MLB.TV, which lets you watch every out-of-market game all season long (and up to four at once), costs $24.99 on Amazon Prime. They're very different services—it's like listening to hits on the radio versus diving into a full catalog on Spotify—but both provide a way to watch MLB games (or portions of them, in the case of ChangeUp) every night for the entire season. In that context, DAZN still provides strong value, especially if you're at all interested in professional boxing. (If that's the case, it's better to think of ChangeUp as a bonus for getting to watch two Canelo Alvarez fights per year.)
But DAZN would be wise to reconsider its free trial or to offer one that's exclusive to ChangeUp. The show is operating in relatively uncharted territory, and fans will want the opportunity to check it out for a couple of nights before committing. It would be a shame for ChangeUp to go unnoticed.
While it's way too early to tell if ChangeUp will succeed—after all, you wouldn't judge a player's season based on his first at-bat—DAZN has landed on a format that will appeal to younger viewers and streamers of all (pin)stripes.
The Daily Dot may receive a payment in connection with purchases of products or services featured in this article. Click here to learn more.