This article contains spoilers for the Breaking Bad series.
Netflix has officially confirmed that a Breaking Bad movie is on its way–and it's set to follow Jesse Pinkman in the aftermath of the series, which came to a conclusion in 2013.
Netflix released a trailer for the movie, titled El Camino: A Breaking Bad Movie, on Saturday. The trailer features Skinny Pete, one of Pinkman's closest friends, sitting in an interrogation room. Pete, being questioned about Pinkman's whereabouts, says, "I have no idea where he is. Don't know where he's headed either. North, south, west, east, Mexico, moon–I don't have a clue.
Last we saw, Pinkman was riding off to freedom in the show's finale. And by the looks of the trailer, it seems he may not have initially made it there. In the trailer, Pete says to the interrogators that even if he knew where Pinkman is, he wouldn't tell them. "I've been watching the news, same as everybody else. I've seen that little cage of his they kept him in. I heard about what all they did to him to make sure he kept cooking … No way I'm helping you people put Jesse Pinkman back inside a cage."
Reddit user saddadstheband pointed out a possible flub on Netflix's part. A placeholder image for the film popped up on Netflix, revealing the sequel title and blurb for the film.
"Fugitive Jesse Pinkman (Aaron Paul) runs from his captors, the law and his past. Written and directed by Breaking Bad creator Vince Gilligan," the blurb read.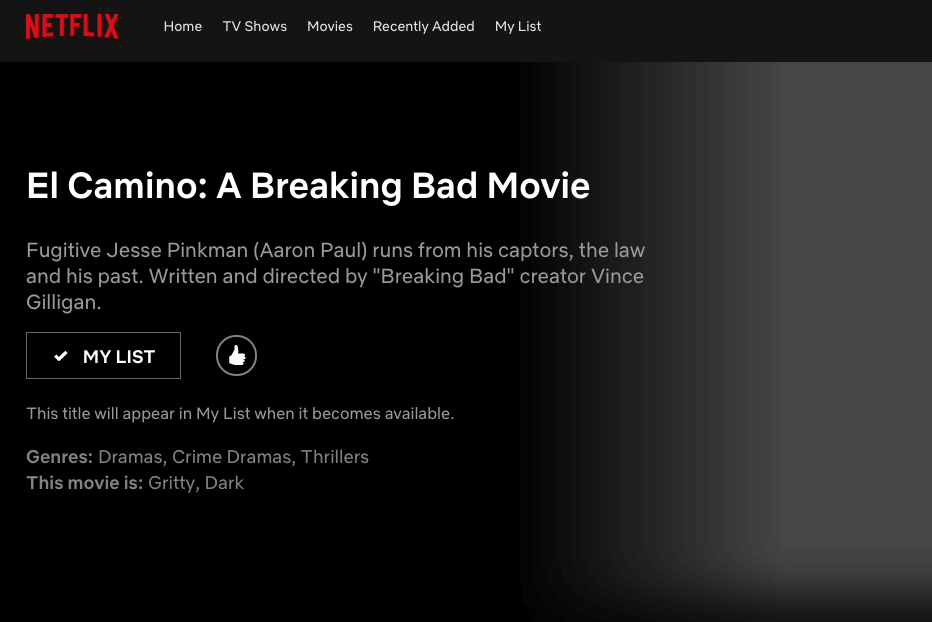 The placeholder, which confirmed Aaron Paul and Vince Gilligan's return to the franchise, has since been taken down from Netflix.
Even if the news was announced sooner than Netflix had intended, people don't seem to mind. In fact, many are rather excited by the news.
"Yeah Disney. Take that, Bitch!!!" one Twitter user wrote in response to Disney's seemingly take-no-prisoners approach to the streaming wars.
watching skinny pete talk about jesse after all these years got me all teary eyed yalllllll #ElCamino #BreakingBadMovie pic.twitter.com/vgoHRshtPf

— S (@Miss_Sinha27) August 24, 2019
me: they don't need to make a breaking bad sequel movie. the series ended perfectly

me after hearing skinny pete's voice for 0.5 seconds: pic.twitter.com/e6HUTm0RJ7

— MKYVID-19 Malarkeyvirus (@protann) August 24, 2019
https://twitter.com/chalameche/status/1165398621992443905
Look at the pictures next to the door. It's Hank and Steve Gomez. #breakingbad #ElCamino pic.twitter.com/VRN2qSRcHa

— Deaf Yinzer (@deafyinzer) August 24, 2019
MY WISH
MY ONLY WISH
THEY DID IT
THEY HONORED Hank Schrader AND Steve Gomez!!!#BreakingBad pic.twitter.com/pxJmPzBLAS

— ♎~Jeff~♎ʬ⁸⁴ (@jeffzzzz99) August 24, 2019
https://twitter.com/ThatKateyGirl/status/1165405054624501763
The #BreakingBad movie trailer gave me Hank and Steve photos on the wall and Skinny Pete protecting our boy Jesse. I'm so hype for this. pic.twitter.com/0pg2TMqIws

— rose (@awildirishrose) August 24, 2019
The movie has already been filmed if a dodgy lawyer is to be believed. When speaking to the Hollywood Reporter, Bob Odenkirk–who plays Saul Goodman in Breaking Bad and its prequel series Better Call Saul–fueled the Breaking Bad movie speculation, which has been ongoing for some time now.
"I find it hard to believe you don't know it was shot," Odenkirk said. "They did it. You know what I mean? How is that a secret? But it is. They've done an amazing job of keeping it a secret."
El Camino is slated to drop on Oct. 11. So get your Gatorade ready.
READ MORE: