"The One Who Knocks." Heisenberg. "The Cook." Water White went by many monikers before the end of his rise to power chronicled in the AMC drama Breaking Bad. What started as a struggling high school chemistry teacher with a cancer diagnosis riding the line to make money for his family, culminated in gripping drama, classic dialogue, heart-pumping action, classic characters, and yeah, even a few laughs.
Who can forget the complicated relationship between Walter White and his troublesome sidekick Jesse Pinkman? Giancarlo Esposito's Gus Fring is as memorable a villain as Ben Linus, Ramsay Bolton, and Negan. You'll never look at a chicken restaurant the same way again. Long-suffering white Skyler White made Anna Gunn a household name, even if she made a few misogynistic chuds angry along the way. And then there's Saul. Legendary sketch comedian Bob Odenkirk's portrayal of the Albequrque, New Mexico, criminal lawyer was so captivating, it even rendered a spin-off in Better Call Saul.
Best of all, the show is so fantastic, all five seasons fly by. And to think, it all started with creator Vince Gilligan's elevator pitch for the series, which was simply turning "Mr. Chips into Scarface." Little did Gilligan know that the show would enter the great American television pantheon. That, and it gave us the phrase "Yeah, science, bitch!"
Here's everything you need to know to watch Breaking Bad online.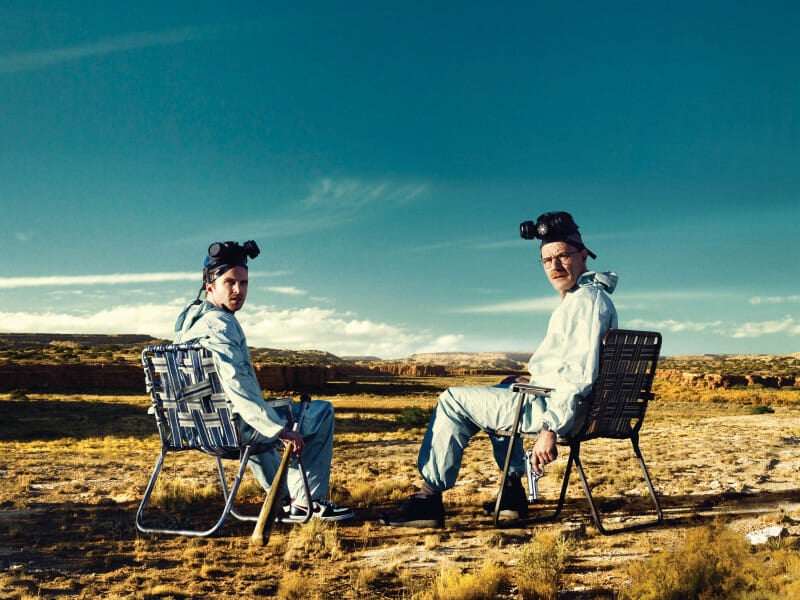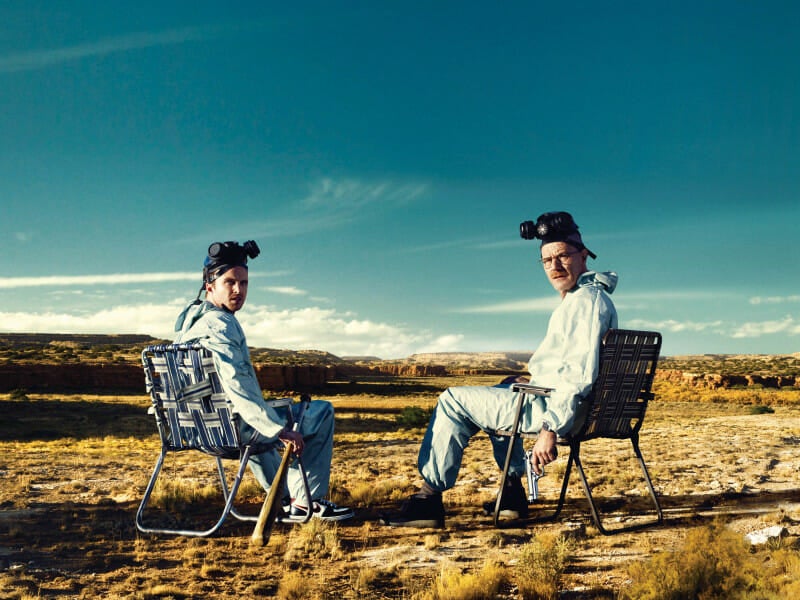 Breaking Bad cast
Bryan Cranston as Walter White 
Anna Gunn as Skyler White 
Aaron Paul as Jesse Pinkman  
Dean Norris as Hank Schrader 
Betsy Brandt as Marie Schrader 
RJ Mitte as Walter White, Jr. 
Bob Odenkirk as Saul Goodman
Giancarlo Esposito as Gustavo "Gus" Fring 
Jonathan Banks as Mike Ehrmantraut
Laura Fraser as Lydia Rodarte-Quayle
Jesse Plemons as Todd Alquist
Is there a Breaking Bad movie in the works?
There is a Breaking Bad move in the works, which will be written by show creator Vince Gilligan, and be distributed by Netflix, and then later on AMC. The movie will focus on Jesse Pinkman after the events of the show's finale.
On what channel did Breaking Bad air?
Breaking Bad aired on AMC.
How many seasons of Breaking Bad were there?
There were five seasons of the show, but season 5 was split into two parts.
How to watch Breaking Bad online
Here are a handful of streaming services to watch Breaking Bad online. Some of them offer trials, so you can watch the show totally free.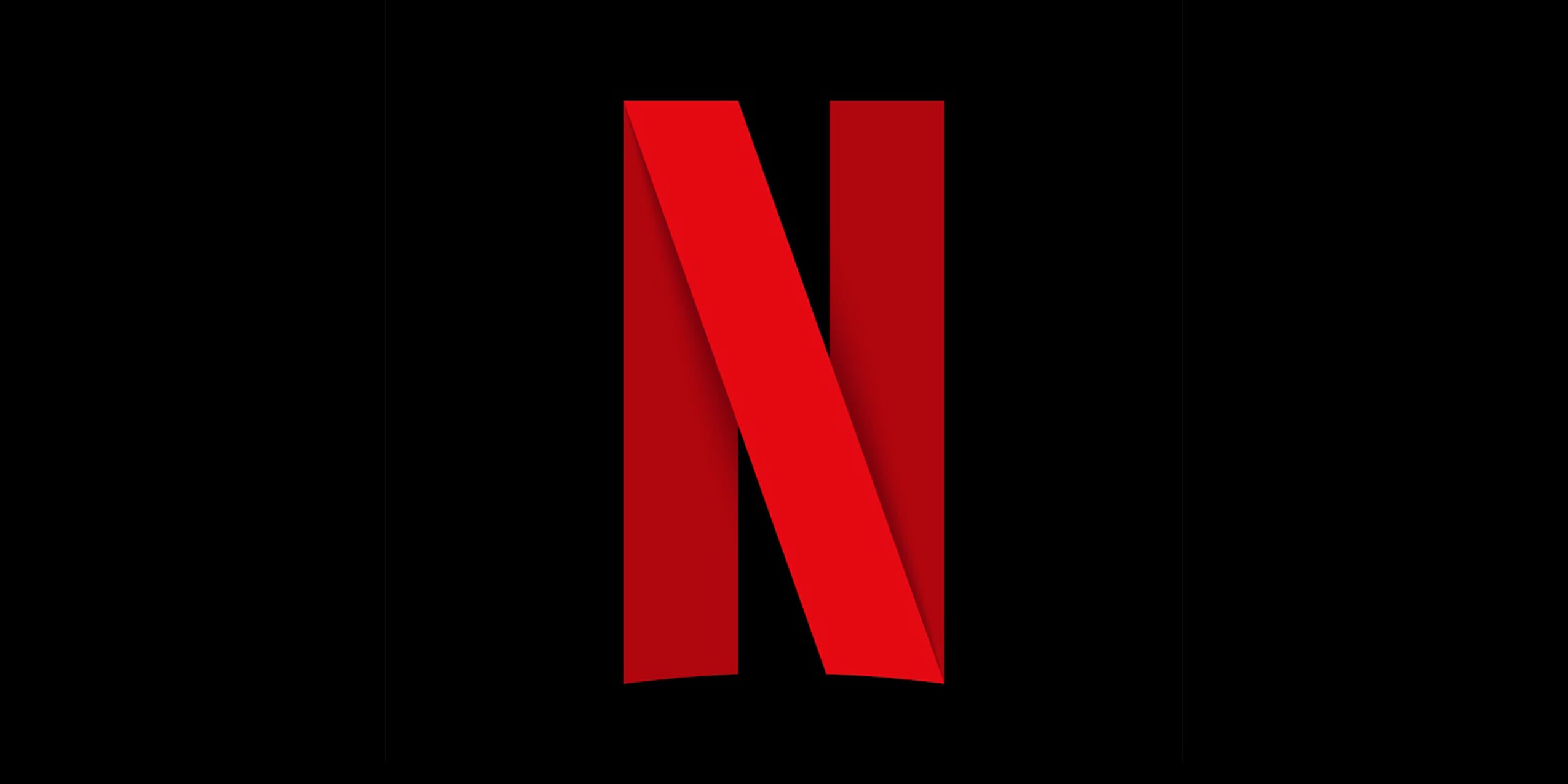 Cost: $7.99-13.99/month (after a free month)

Devices: Amazon Fire Stick, Fire TV, Fire tablets, and Fire phone; Roku, Google TV, TiVo, PlayStation 3 and 4, Xbox One, Nintendo Wii
Netflix is the king of online streaming, or at least, it's the most ubiquitous one. The library of shows is massive, whether it's original series like House of Cards or Orange is the New Black or popular shows like Bob's Burgers and Breaking Bad. The entire series is available to stream on Netflix, which is also where the Breaking Bad movie will air. 
---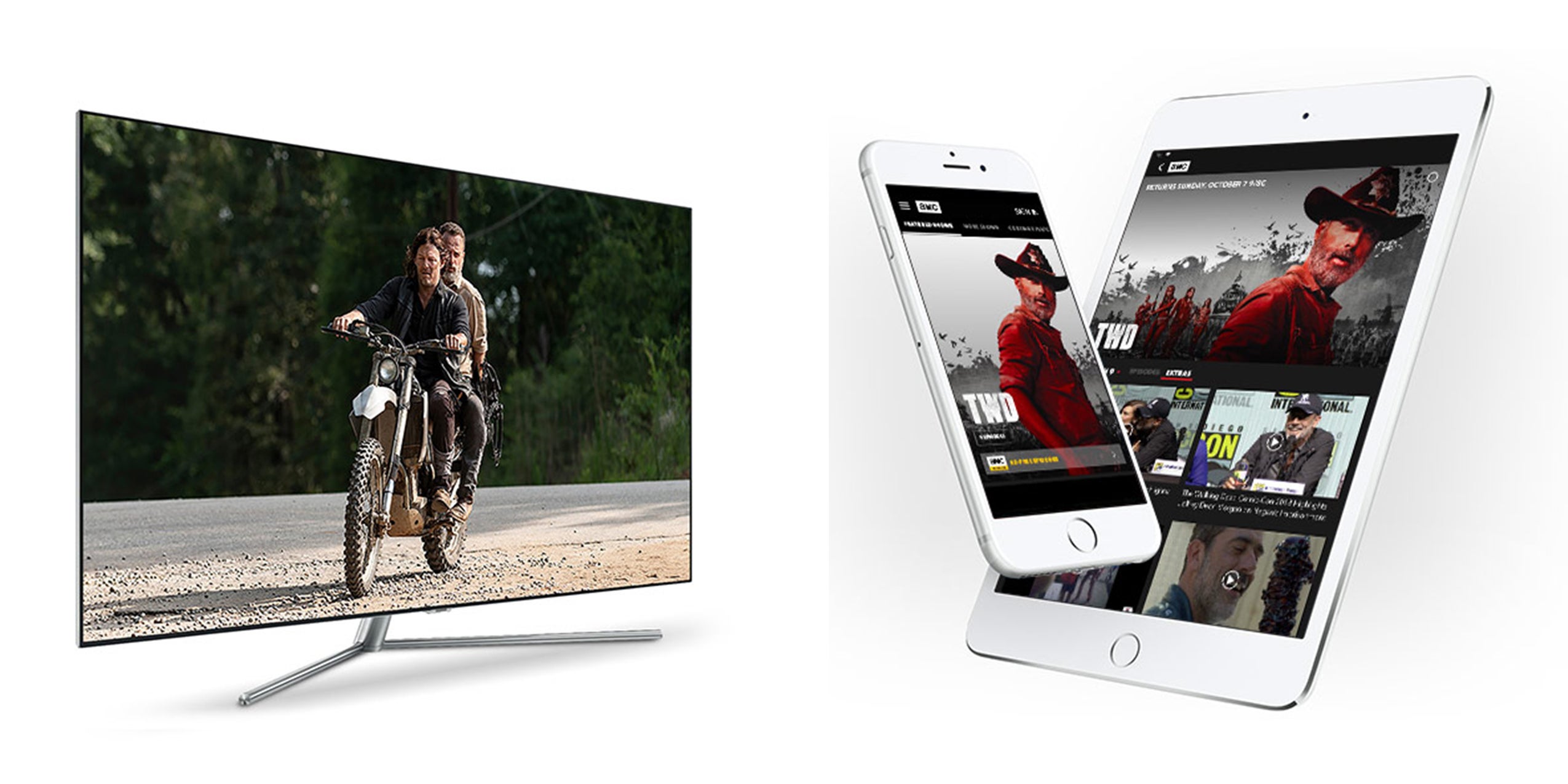 Cost:

$4.99 per month, on top of your monthly cable or live TV streaming subscription
AMC Premiere works a bit differently from the typical on-demand channel service. You can watch shows from the AMC family of channels as soon as they are without commercials, along with exclusive content and behind-the-scenes footage. However, you need to have a cable or live TV streaming subscription to join, plus pay an additional $4.99 a month. If you're addicted to Brockmire, Better Call Saul, and The Walking Dead, it may just be worth the price for you.
---
How to watch Breaking Bad episodes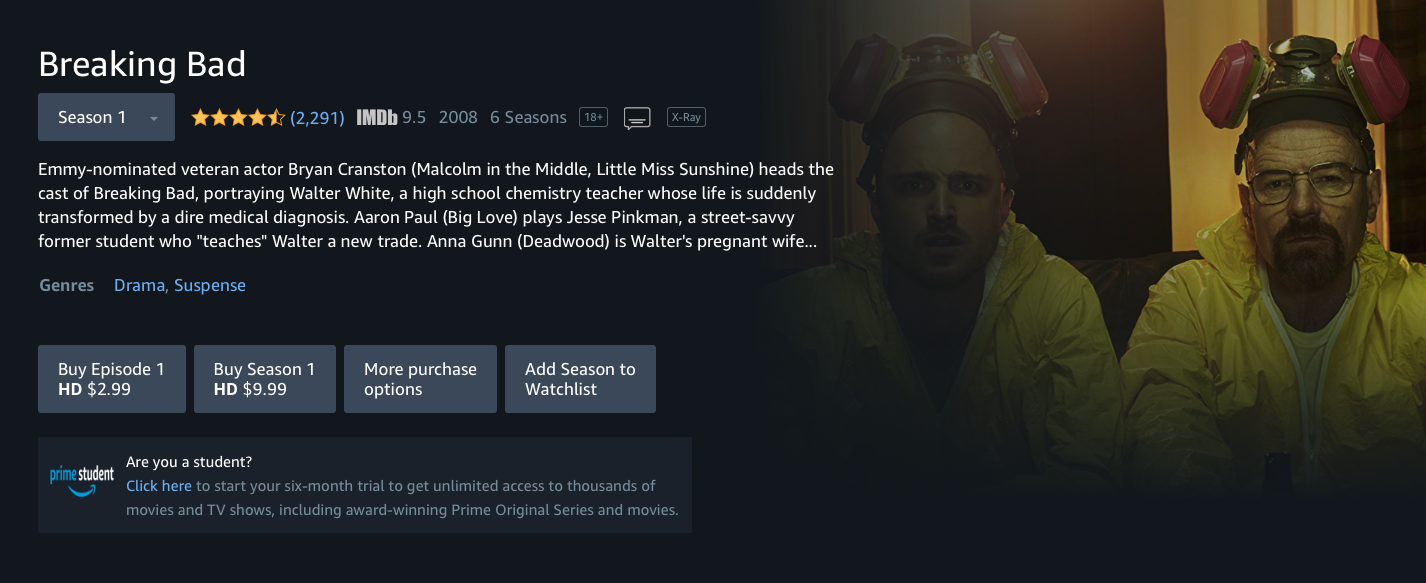 Cost:

$2.99/episode, $9.99-24.99/season

Devices: 

Amazon Fire Stick, Fire TV, Fire tablets, and Fire phone; Roku, Google TV, TiVo, Nvidia Shield, PlayStation 3 and 4, Xbox One, Nintendo Wii
Every episode of Breaking Bad is available for purchase a la carte from Amazon Video. This is a good venue to stream from if you've missed a handful of must-watch episodes like "Face Off," "Ozymandias," and of course, the explosive "Felina." Single episodes are available for $2.99, with entire seasons running from $9.99-24.99.
The Daily Dot may receive a payment in connection with purchases of products or services featured in this article. Click here to learn more.