Pop superstar Ariana Grande recently confirmed her engagement to Saturday Night Live star Pete Davidson, and it's been noted that the two recently were flirting about having kids on Instagram.
Now, people are speculating that Grande actually is pregnant, because of some of the imagery in her latest music video.
Her newest single "God Is a Woman" was uploaded to YouTube on Friday—where it was the top-trending video as of this writing on Saturday—and users immediately noticed some symbolism. Or what they thought/hoped was symbolism that hinted that Grande might be pregnant.
First, here's the video. And then, we can discuss what people are saying.
In the video, Grande sits on top of the Earth, playing with weather patterns and perhaps giving us the symbolism that Grande is Mother Earth. Someecards investigates further, writing, "At the 1:45 mark, the video shows a flurry of tiny Arianas dancing. Then, a larger Ariana emerges from the hive and turns to look at the camera before looking down at her stomach. At this point her stomach explodes into a flock of tiny flowers."
There's also this image that, um, doesn't leave much to the imagination where Grande appears to be gazing down at her swollen belly.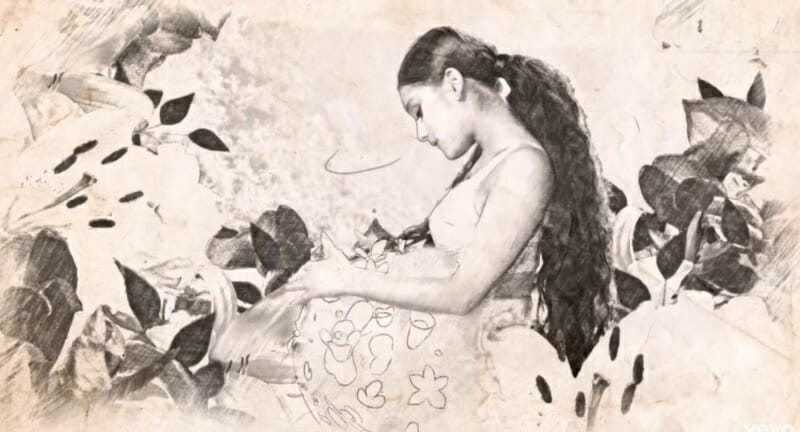 Some of her fans, meanwhile, went bonkers at the possibilities of a baby Grande.
https://twitter.com/softkieu/status/1017803066899419137
https://twitter.com/alfiemeader/status/1017806591817584640
https://twitter.com/sometimesariana/status/1017807881499041793
@ArianaGrande I have a theory. So you and Pete got engaged so quick (congrats girl!) my theory is that you are pregnant and in Italy you have to get married before having a baby? one of the parts is you with a baby bump. Are you pregnant or is it just to show how strong women are pic.twitter.com/dKUeDzwv5H

— Marshall (@ItzMarshallT123) July 14, 2018
Yaaaa for her omg I didn't know she was pregnant

— Girl Almighty (@LayingInStars) July 14, 2018
https://twitter.com/JosueJellyfish/status/1018047325590118402
Other commenters, though, were quick to refute the notion, writing things like, "No, it's supposed to represent God giving birth to the world. Y'all wild" and "issa joke yall chill."
Neither Grande nor Davidson have made any comments about whether Grande is pregnant, though Davidson, after the video came out, was quick to write on her Instagram account, "YUM YUM YUM."
READ MORE:
H/T Someecards