Aphex Twin, an Irish electronic musician with a knack for being lightyears ahead of the curve, just announced a brand new album on the Deep Web by launching a Tor hidden service.
SYRO, Aphex Twin's first album in 13 years, was announced in a tweet that sent fans to an onion address—http://syro2eznzea2xbpi.onion/—that revealed the album's title and tracklist.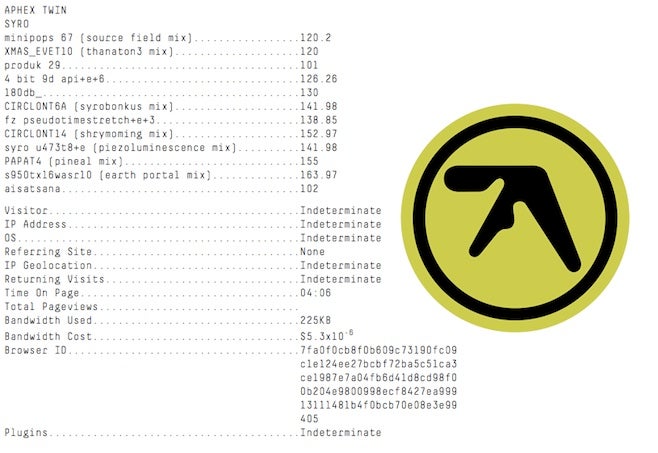 Image via Pitchfork.com
If you visit the website without using Tor—which you can see at http://syro2eznzea2xbpi.com/—you will be presented with no album name or tracklist. Instead, you'll see a scary but easy-to-obtain amount of information about you, including your location.
The Twitter/Tor-based announcement comes on the heels of reports of an Aphex Twin-branded blimp flying over Manhattan last weekend, plus sightings of the band's logo elsewhere in the city.
Richard James, the man behind Aphex Twin, doesn't just blaze technological trails. He also happens to make beautiful music that has influenced bands like Radiohead and all electronic music today. Here's a pretty little tune called "Film":
H/T Pitchfork | Photo via marktowning/Flickr (CC BY 2.0)