Teenage rapper Bhad Bhabie put Adrien Broner, a 30-year-old boxing world champion, on blast for sliding into her DMs.
According to the Shade Room, Bhad Bhabie (whose real name is Danielle Bregoli) posted a screenshot of a direct message sent by Broner saying, "text me crazy girl," alongside a screenshot from Akon's hit song "Locked Up."
Broner responded to the callout by claiming his attempt to shoot his shot was "an honest mistake."
"Nobody want to date a kid but I fault Instagram for not having people's age on they profile," Broner reportedly told the Shade Room. "I thought she was grown the way she out here moving…"
It is unclear whether Bregoli's Instagram bio listed her age before the DM, but it now says that she is 16.
Broner also jokingly referenced her infamous catchphrase, saying it was obviously not time to "catch her outside."
Many who commented on the story are finding it difficult to believe the boxer had no idea that Bregoli was underage, especially given the fact that she made a name for herself after appearing on Dr. Phil as an out of control teen.
"Now y'all don't know her age when every time she's posted all I see is comments about how she a little girl that got famous for being disrespectful," Instagram user @perc._ responded.
Others pointed out that his message instructing Bhabie to text him implies they already exchanged numbers and argue that him calling the 16-year-old rapper "girl" in the message is a dead giveaway that he was well aware of her age.
"Sooooo he said text me meaning she already has his number and been ignoring him. Wow," Instagram user Cyn4thewin argued.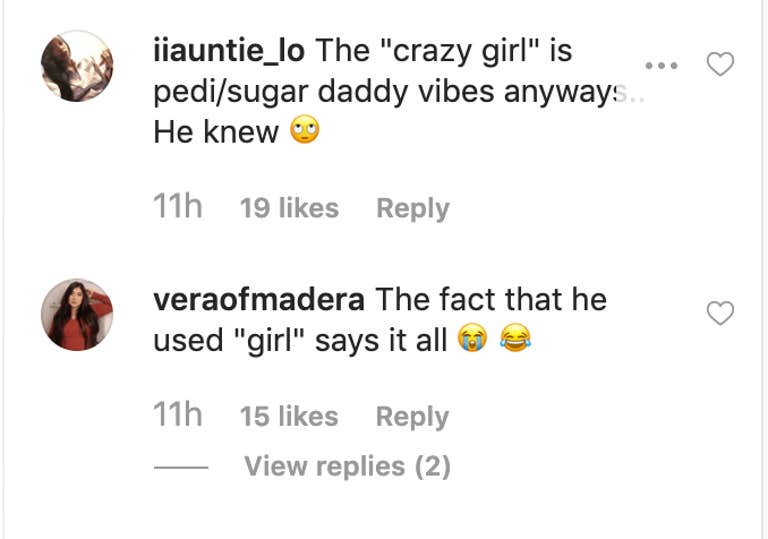 Broner has a long history of problematic and even violent behavior against women. Back in 2016, the boxer was charged with misdemeanor battery for allegedly choking a waitress at a nightclub. And most recently, in December, he was ordered to pay $830,000 for sexually assaulting a woman.
The boxer should definitely scrap any plans of catching Bhad Bhabie outside, or anywhere else for that matter.
READ MORE: