Since the days of William Randolph Hearst and Joseph Pulitzer, comics and editorial cartoons have been a fixture on American coffee tables, closely tied to a newspaper or magazine's success.
As the print industry continues to struggle in the digital age, a new generation of artists have emerged on Tumblr, the social network purchased by Yahoo this week for $1.1 billion.
In fact, Tumblr is an ideal comics platform for all of the reasons Yahoo made such a monumental investment to begin with: It's a mobile service, with a minimalistic interface, powerful sharing tools, and most importantly, a rapidly growing teen audience.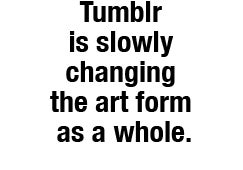 By using Tumblr's reblog feature, users can easily share and cite other people's work. And unlike Twitter and Facebook, Tumblr users are free to design their blogs and feature paid advertisements.
Tumblr also has a powerful discovery system. The comics tag is updated daily with more than 20 pieces of art chosen by a team of 25 volunteer editors. Comics featured on the curated page typically receive more than 300 notes—the site's internal mechanism for measuring a particular post's reblogs, likes, and comments.
In a sense, Tumblr is slowly changing the art form as a whole. While you can find classic black-and-white celled comics on Tumblr, a growing number of artists are putting down their pens and learning how to GIF instead. By adding subtle animated elements—like a basketball player wagging his tongue back and forth or a boxer being punched in the face—comics are able to place added emphasis on certain elements and bring their work to life like never before.
What works in print doesn't necessarily work online. Success on Tumblr comes with its unique set of standards and expectations.
"A great comic can lose its chance at being popular if it is presented poorly," Benjamin "The Frogman" Grelle noted recently on his blog. "When creating your comics, always assume that no one will click to enlarge your images. You must present your comic so it is clearly viewed on the dashboard. You can make it high resolution, but be sure that the text is easily read and the detail in the images is not lost at 500 pixels wide."
The following list exemplifies some of the best webcomics Tumblr has to offer. It was compiled with the help of Tumblr comics tag editor and Daily Dot contributor Sam Brown, best known for his longstanding Explodingdog comic.
1) Liz Climo
When Liz Climo isn't making sure Homer Simpson's two strands of hair are in order as storyboard revisionist for The Simpsons, she's creating minimalistic comics that capture the cute, light-hearted moments we all imagine dogs, whales, sharks, and bears have together when we're not looking.
"If I hear something or see a situation that is easily relatable and simple, it'll usually spark something in my mind like, 'Hey, this might be sort of funny if an animal were dealing with this,'" Climo told the Daily Dot in August. "If the idea is especially ridiculous (which it often is), hopefully the drawing is funny enough that, even if there isn't much of a joke there, the final product is still appealing and relatable in some way."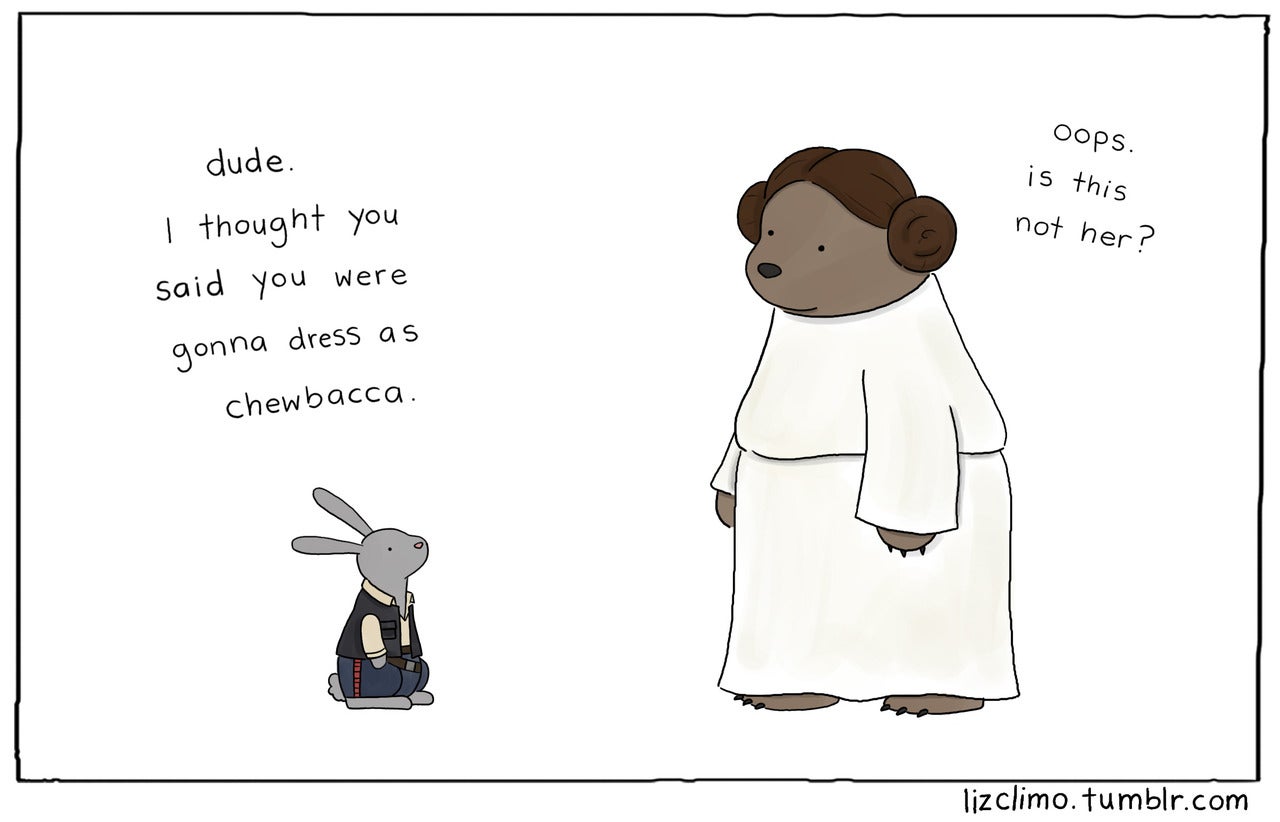 2) Maya Kern
If college theses were graded according to Tumblr notes, Maya Kern would have received an A+. Kern's 23-page thesis for the Minneapolis College of Art and Design (MCAD) is a Little Red Riding Hood-inspired comic series called redden. So far Kern has posted more than 13 pages from the series on Tumblr, where they have collected hundreds of notes each. Like Kern's other webcomics, redden features a strong female lead character set for adventure in a world of unknown obstacles.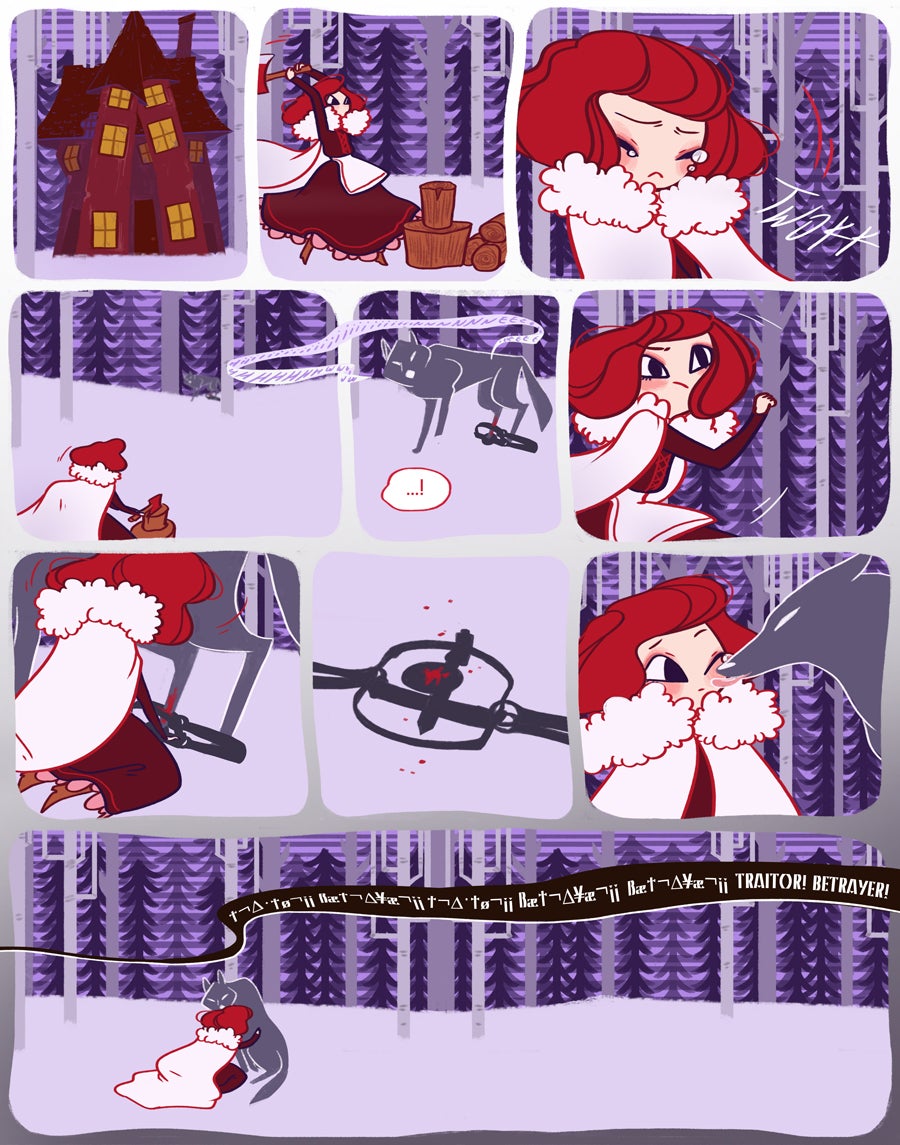 3) Zac Gorman
Zac Gorman's comics reflect a deep kinship with video games that only a lifetime of button mashing can foster. His comics reimagine the stories of characters like Link of the Legend of Zelda series who not only save the princess but discover the true meaning of life.
"I always loved games of all kinds, not just video games, but when we got the NES though, that's when my life changed forever," Gorman told the Daily Dot in August 2011.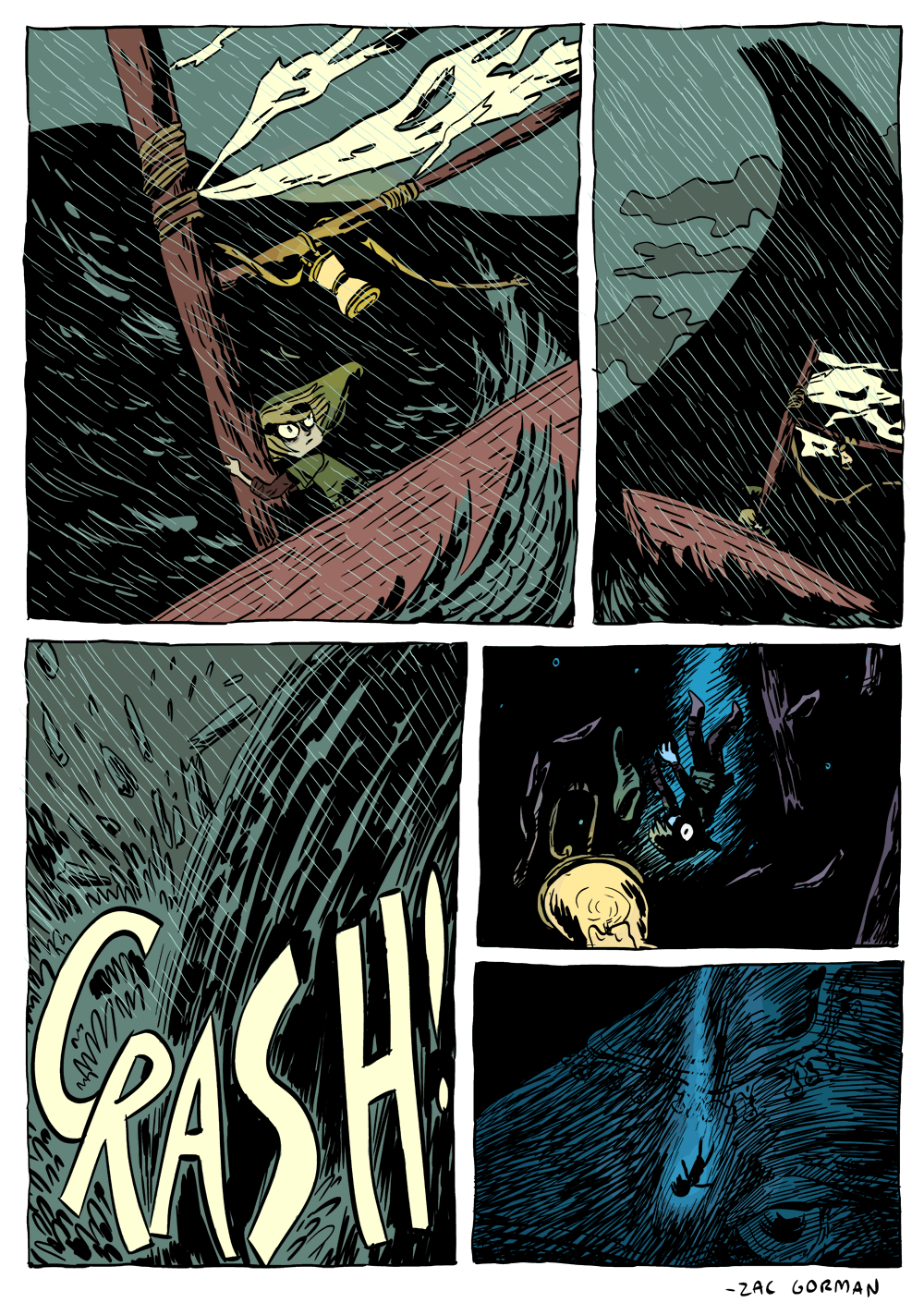 4) Henry
Elongating his characters like a an overused Stretch Armstrong action figure, the mysterious Henry creates leggy caricatures of cartoons like Wolverine, Doctor Eggman, and the Justice Friends. Where traditional comics use word bubbles to get their message across, Henry animates particular elements of his comics to accentuate the mood of each piece.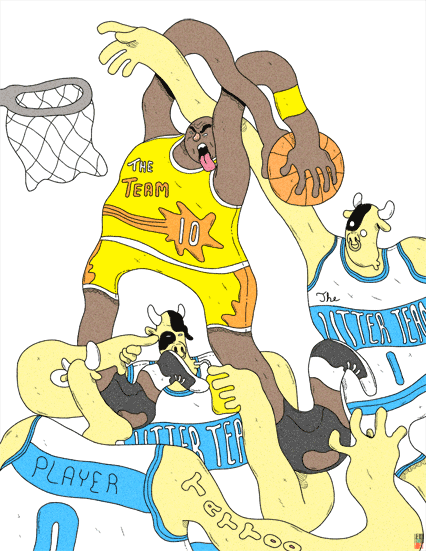 Maybe it was her stint at Spumco, the animation production company behind The Ren & Stimpy Show, or her budding friendship with Tumblr's GIF princess Lacey "lulinternet" Micallef, but Marlo Meekins has embraced toilet humor in all its glory. She also has found a way to use it to address serious issues surrounding sex, beauty, and men.
"I think I was born to draw," Meekins told the Daily Dot in July 2012, only about a month after joining Tumblr. "Young people prefer the absurd, which is perfect."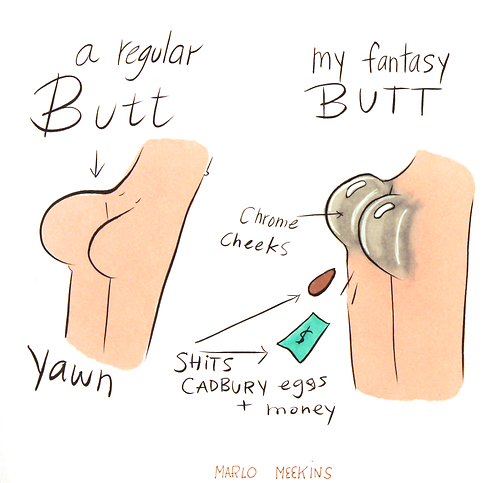 6) Ryan Selvy
Awkward teenage moments—like having a stranger knock on the bathroom stall you're occupying or figuring out how to respond to a nonsensical Tumblr comment—are what inspire the work of college comic artist Ryan Selvy. Using rounded cartoon characters and colorful textures, Selvy tackles Internet phenomena with a wink and a nod. Just check this comic about Tumblr users' penchant for asking nonsensical questions.
"I've always been artistic in some form, but I never have taken any of it too seriously," Selvy told the Daily Dot in August. "I still don't. I feel like I should have elaborate ideas about my work and deep emotional connections to my work, but I'm still just having fun. I grew up watching cartoons and I still do. It's a weird occurrence to go a week without watching Spongebob, Futurama, or Adventure Time, so it's kind of just a part of me."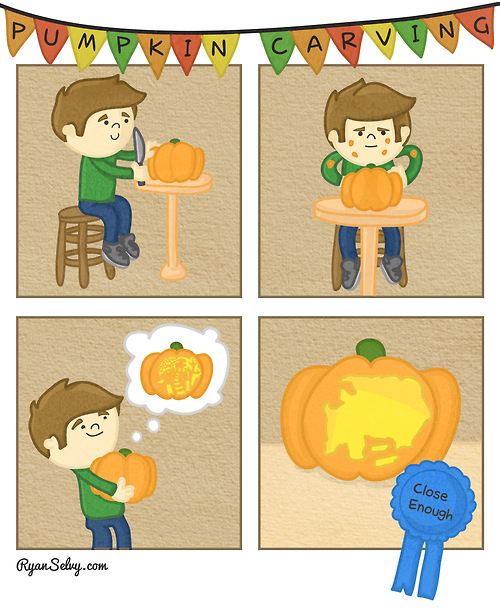 Dakota McFadzean's work illustrates the deep, dark thoughts you'd never share in public, like being angry enough to punch a baby, in a style reminiscent of Mother Goose and Grimm. McFadzean has a master's of fine arts degree from from the Center for Cartoon Studies and has had his work featured in the anthology The Best American Comics: 2012.
8) Grant Snider
"There are worlds out there waiting to be drawn," reads the caption to one of Grant Snider's recent works. Since he started a weekly comic strip years ago for the Kansas City Star, Snider, an orthodontics student at the University of Colorado-Denver, has been doing his part to capture those imaginative realms. His work is equally humorous and inspirational, tackling questions of love, life, and ambition.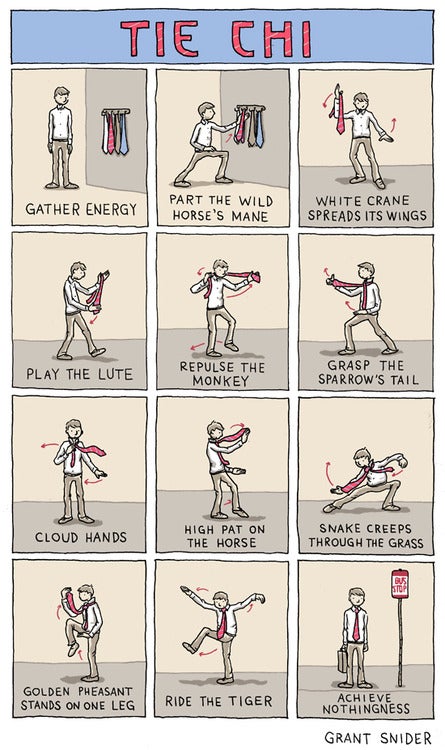 Lisa Hanawalt's comics are delightfully demented, a curious mix of imagery that feels like the Brooklyn artist is throwing everything at the wall. Her work has been featured in the New York Times, Bloomberg, and Vanity Fair.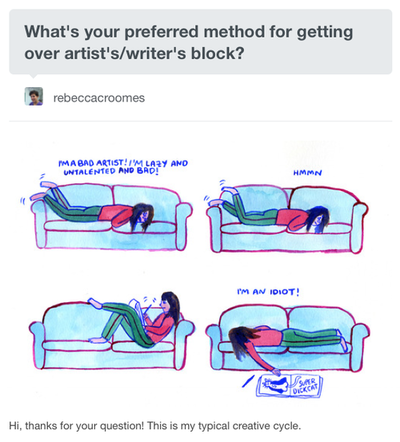 10) KC Green
Don't let the innocent-looking characters and warm colors fool you. KC Green comics are deceptively dark, like the comedy of Rocko's Modern Life cut with the childish horror of Goosebumps. Green's work explores the world of cemetery caretakers and ghosts, leaving readers guessing where life ends and the afterlife begins.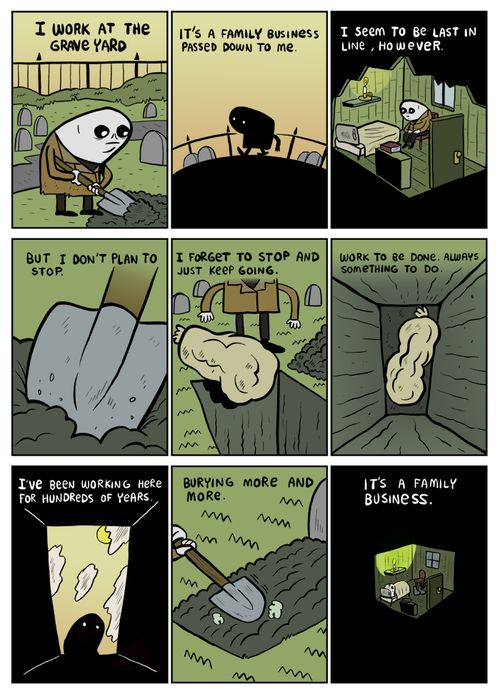 Main art by Maya Kern