Thanks to the Internet, we now have a host of new ways to offend, enrage, misinterpret, creep out, or alienate people. In the Tangled Web, we field your questions about how to be a decent human online. Have a question? Ask [email protected].
How do you deal with people you know IRL who are super annoying on social media? I'm thinking of people who continually check in on Foursquare (at work! where they go every single day!) and people who use things like Insight Timer and Run Keeper. I don't care if you meditated today or ran 2.1 miles. Don't post it!
It is a sad fact of advice columns that these people will probably never be the ones to write in. "Will my friends really panic if I don't check in at work? Is it possible they will think well of me even if they don't have constant assurances that I exercised?" said no obnoxious social media user ever. So instead of advising them to put a sock in it, I'm stuck telling you how to manage your online experience so these loudfingers don't ruin it. It doesn't seem fair.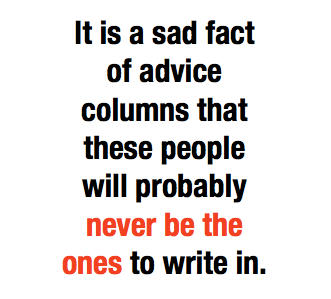 Still, before I get started, a quick PSA, for all the good it'll do: GUYS. IT IS NICE THAT YOU RAN. IT IS GOOD YOU WENT TO WORK. PLEASE KEEP IT TO YOURSELF. Or, more accurately, keep it on the network for which it is designed. Want to obsess over your exercise levels? Go hit up your Fitbit leaderboard. Want to become the mayor of the water cooler? Leave that on Foursquare. It is totally fine if you want someone to know everything about your life. It is not fine if you want everyone to know everything. Try to make your personal analytics opt-in rather than opt-out.
Now, back to the folks who are suffering but not perpetrating this annoying BS, i.e. the people who are actually listening. Luckily, it's easy to hide these things on Facebook, and only a little harder on Twitter. The "hide" option on Facebook (it's under the down arrow that pops up in the upper right corner of the status update when you hover your mouse over it) will give you options to always hide updates from a particular app. Voila, no more Run Keeper. Of course, you'll also have to individually hide Fitness Tracker, Run Tracker, Track Runner, Trapper Keeper, Fit-O-Matic, Jog Fixation, Leg Moving Fast Speed Analytics Machine, and Guys Guys I Went To The Gym Today, as your friends discover each of these in turn (they're doing it just to get around your blocks). 
On Twitter, most clients have an option for muting particular programs, hashtags, keywords, or link sources—you should be able to keep a blacklist of things you don't want to see anymore. If you're using the Web interface, as many casual Twitter users do, there's a Chrome plugin called Proxlet that will give you the same functionality; for Firefox there's a similar plugin called (weirdly) Larry. Again, it's irritating that it's up to you to keep people who lack social media skills from pooping on your good time. But think of it like scrubbing the toilet—it's a little onerous, and you have to keep doing it, but the peace of mind and (metaphorical) hygiene benefits are worth it.
Jess Zimmerman has been making social blunders on the Internet since 1994. Most of her current interpersonal drama takes place on Twitter (@j_zimms).
Art remix by Fernando Alphonso III, image by Sustainable Sanitation/Flickr