Have you heard dubstep? Read the #imagine tag on Twitter? Seen the Tumblr of a person under the age of 15? Each week in YOLO*, Millennial Analyst Lindsey Weber picks a new teen trend she doesn't quite understand and attempts to unpack it before your very eyes.
This week, for you dear reader, I think that I joined a gang. Nothing too dangerous (we'll see), just a bunch of cool-seeming kids who are really into the Internet. It's like your high school's Computer Club meets the Stoners who hang out in the parking lot, meets … Odd Future. Their preferred scale of "cool": Klout.
That's right! Someone's 'using' Klout! And even if they're only shouting it out by name, the somewhat-hated social media analytics tool can use any coolness it can get. In fact, Klout should be paying these kids for including it in the gang's preferred hashtag: #YUNGKLOUTGANG.
I found about them when BuzzFeed's FWD extensively showcased their inner world of RTs, and apparently, that bit of press has helped kickstart their spread. While they're arguably a Twitter-based crew, a #YKG Facebook page started on August 24th and has 51 likes. The page features the FWD piece and a #branded Star Wars-themed Cover Photo. Facebook user Daniel Rucker writes, "YUNG RUDE REPORTING 4 DUTY" on the page's wall and it gets 2 likes.
One of the founding members, and arguably #YKG's biggest influencer, is underground 8-bit emcee, Chippy Nonstop. Chippy's been doing a great job of repping #YKG's recent recognition, "RT IF U WANT A #YUNGKLOUTGANG REALITY SHOW ~~" she tweeted a few days ago. Hey, why not?
I submitted my application by tweeting at them, using the gang's preferred hashtag, and including some of our shared pastimes: Bud Light Lime and Tamagotchis. I left out that according to Klout, I'm influential in "Beyoncé" and "Brooklyn"—though I'm sure that would only help my application. (I'm also, according to my jokester friends, influential in "Babies". But please don't tell my new #YUNG friends.)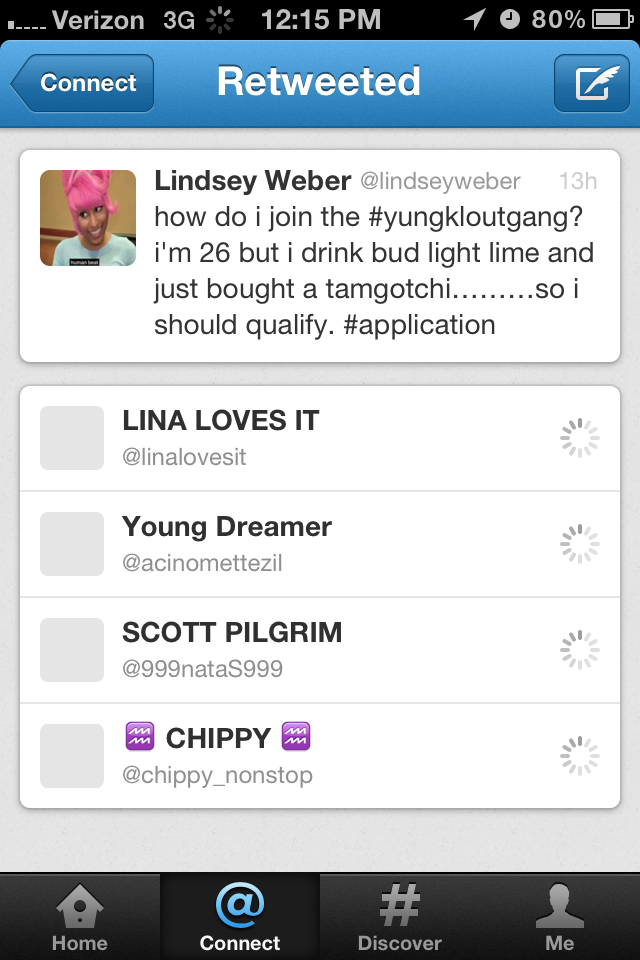 I still haven't received my membership e-card, but those #YGK RTs sound encouraging?
"YUNG KLOUT GANG IS A NATIONALLY RENOWNED BRAND BASED IN OAKLAND BUT IS NOW EXPANDING ACROSS THE GLOBE. BASED, RARE, AND RELEVANT. WHAT'S YOUR KLOUT SCORE?" reads FUCKYEAHYUNGKLOUTGANG.tumblr.com—a Tumblr blog that collects the crew's Twitter activity and reblogs all the member's relevant posts.
(The use of BASED is certainly inspired by avant-garde rapper Lil B—who is known as "Based God" to his fans and also hails from Oakland. Another 'gang' that revolves around music, Odd Future, has seemingly also influenced YKG—but a jump into mainstream with OF member Frank Ocean's newest album, Channel Orange, has a broad appeal that #YKG doesn't seem to crave. Seems like they just want the … clout.)
"The name is kind of a joke," @B666S (aka Brittney Scott) told BuzzFeed. Then she added, "[it] also kind of isn't." They were originally a group of four, then eight, and now … who knows? According to a Twitter search of #YUNGKLOUTGANG, I'm not the only one tweeting an application for membership.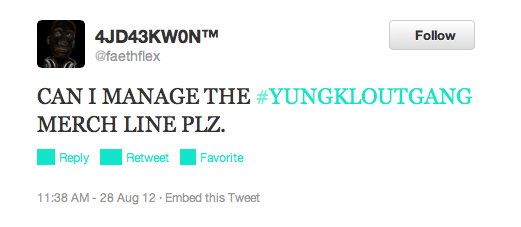 But according to another #YKG crew leader, membership is indeed limited.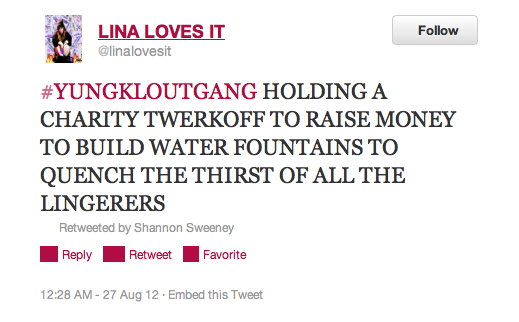 #Damn. Foiled again.
Photo by Lindsey Weber
*I've learned that teens don't say YOLO anymore. Seriously.