If you told me people were freaking out over a YouTube clip of some bison galloping up a road in Yellowstone National Park, I'd assume they were being chased by a bear, or some other glorious spectacle of nature. I probably wouldn't guess that the wooly beasts were being viewed as harbingers of a supervolcano eruption huge enough to plunge the U.S. into nuclear winter.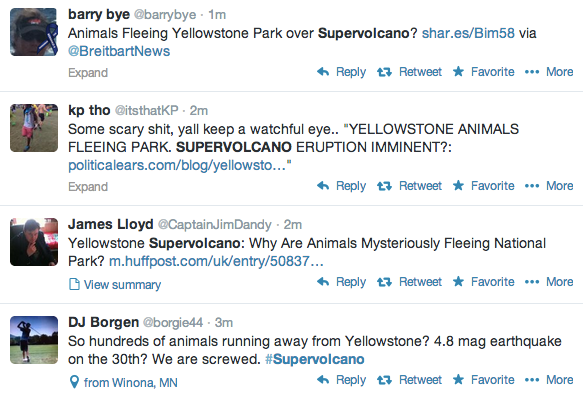 The so-called Yellowstone Supervolcano, which last erupted 640,000 years ago, has long been a favorite topic among conspiracy-minded doomsayers—some of whom contend that President Obama just reissued a George W. Bush-era gag order on all data relating to the volcano's activity. With considerable seismic action of late in the western U.S., their warnings have become more dire. Survivalist Tom Lupshu, for example, made the claim that 25 percent of Yellowstone's northen elk herd was "missing," and that helium levels in the area had spiked.
That sort of fear-mongering, paired with the bison video—uploaded on March 20, a full 10 days before Yellowstone was hit by the 4.8 magnitude earthquake—convinced gullible sectors of the Internet that the animals had an inkling of something big and deadly happening under their hooves. But considering that they stuck around through a 7.5 magnitude quake back in 1959, it seems pretty unlikely that they were spooked this time. Besides, as Yellowstone Public Affairs Chief Al Nash explained in a "rumor control" video, the park experiences some 1,000 to 3,000 quakes annually, most of which you wouldn't even notice. Most of the animals on the move are just migrating to find food in the lean winter months, he said.
So relax, Chicken Little—you probably won't be be buried alive under lava and ash anytime soon. If you are, well, feel free to say "I told you so."
Photo by Jitze Couperous/Flickr (CC BY 2.0)