Most normal people fill out office brackets for March Madness. On Reddit, one user took matters much further, making a bet that involved eating a lemon, getting slapped 50 times by his sister, and rubbing Icy Hot on their testicles—and he actually followed through.
Redditor eorgetown—who uses a logo of Georgetown's G as part of his username, making his favorite team readily apparent—made a series of bets r/CollegeBasketball in front of his fellow hoops fans on March 17.
"If [Syra]Cuse makes it farther than Georgetown I'll icy-hot challenge," he said. "If Georgetown gets out before Sweet 16 I'll eat a lemon." Later, he followed up: If a Big East Team that isnt Gtown wins the [national championship] my sister will slap me across the face 50 times."
Well, Georgetown lost in the first round. Syracuse made it all the way to the Final Four. And Louisville, which tied Georgetown for best Big East conference record this year, won it all.
So 17-year-old eorgetown did it all. In a YouTube video titled "Paying My Dues," he applied the Icy Hot (off camera, thankfully). Then, in between eating a bite of lemon—peel and all; it's apparently a thing for risky basketball fans—he had his sister slap him in the face. Over. And over. And over.
"Who's the bet with?" his sister asks him at one point in the video.
"Everyone on the Internet," he responds.
Unfortunately for his fans on r/CollegeBasketball—and there are many—humiliating yourself online while you still live with your parents comes with a price. The video, and eorgetown's comments on that thread, have since been deleted.
"parents making me take this all down. apologies," he wrote.
Here's a screengrab from the since-deleted YouTube video.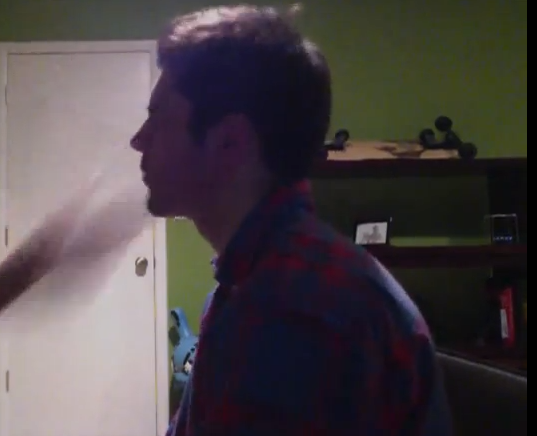 Screengrab via YouTube