Hey, ladies: Are you tired? Down in the dumps? Do you feel like you've lost something important, but you can't quite figure out what? Well, it turns out one enterprising entrepreneur has identified what it is: Your labia just isn't pink enough. And they've got just the product to restore your rosy glow by making your lady lips look like the inside of a Hallmark store during Valentine's Day.
It's called My New Pink Button (SFW), and it's a temporary dye that purports to "restore the youthful pink color to your labia." Because come on, ladies: If there's one more thing marketers want us to hate about our bodies, it should probably be the color of our labia.
My New Pink Button was invented by an evil witch doctor/certified paramedical esthetician who was inspired to patent the dye after discovering her own "genital color loss." The dye isn't new—the Frisky also noticed it back in 2010—but it seems to have attracted a fair amount of attention: the product is currently listed as sold out on the website.
The dye comes in four different colors: Marilyn (the lighest shade, for fair-skinned users), Audrey (a "bold burgundy pink color"), Ginger (for darker skin tones), and Bettie ("for that sexy-hot-pink, 'I am fired up' look!"—for the 21st-century businesswoman who doesn't have time for dating, instead attracting partners with a vagina that looks like that of a baboon during mating season). As you can tell, the shades are named after 20th-century beauty icons celebrated for their various accomplishments on stage and screen, chief among them being the exemplary hue of their labia.
Of course, as is the case with virtually any novelty product, the product descriptions on My New Pink Button's website aren't nearly as amusing as the product reviews on Amazon.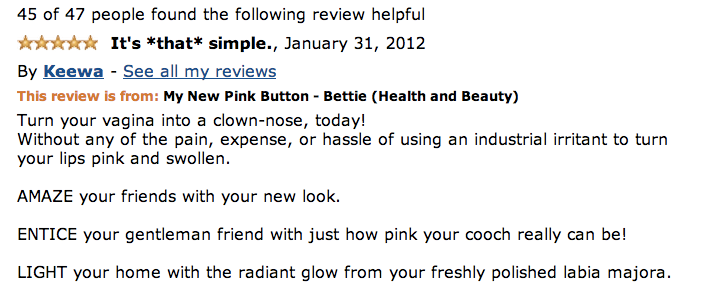 Screengrabs via Amazon, My New Pink Button
Unfortunately, the product description on Amazon says the website doesn't know "if or when" My New Pink Button will be back in stock, so it looks like we ladies will have to find a new part of our anatomy to obsess over and be embarrassed about. Let's go with "asshole circumference" for now. Marketers, start developing patented anal stretchers in 5, 4…
H/T Nerve | Photo by Leonard John Matthews/Flickr (CC BY-NC-SA 2.0)