Can clutter be your aesthetic?
If you tend toward cluttered spaces, there are plenty of shows and books and YouTube tutorials that will help you organize your mess. But on TikTok, organizational or decorative disarray is an aesthetic—a challenge, even.
The term cluttercore, which is essentially the opposite of minimalism, has more than 1 million views on TikTok, and showcases rooms with thoughtfully arranged tableaus. While cottagecore, another decor-centric Gen Z aesthetic, at times feels more staged in its quest for Victorian-leaning vibes, cluttercore embraces a more lived-in approach, with a focus on decorating with items that have personal meaning. It's also perhaps a response to a decade of minimally decorated, depersonalized spaces with cute but uncomfortable furniture, fed to millennials via Instagram, Pinterest, or Apartment Therapy. Gen Z is embracing "organized chaos."
The cluttercore aesthetic isn't new; the messy teenage bedroom has long been revered and recreated. But TikTok has opened it up to pop culture and memes.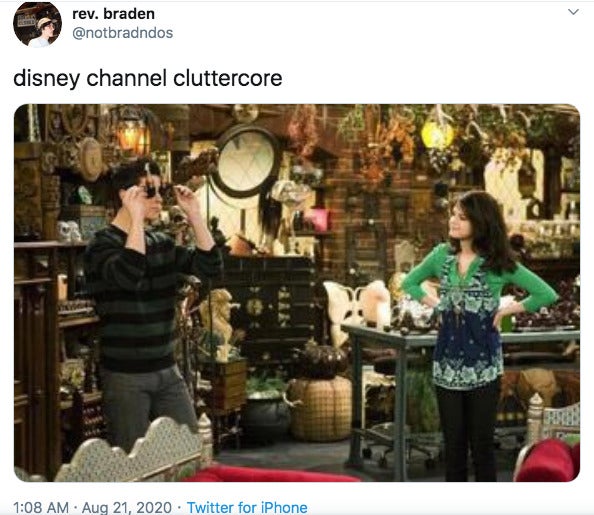 Back in March, user ajbxwn used scenes from Howl's Moving Castle to convey the aesthetic. Last month, mDugy went viral with a collage of cluttercore scenes set to that film's "Merry Go Round of Life," which has become one of the aesthetic's unofficial soundtracks. Cluttercore has crossed into Animal Crossing, too.
A cluttercore "scavenger challenge" has also circulated, with participants showing off the "strangest" and "oldest" things in their rooms. As Vice details, many young people who embrace the aesthetic assign value to items others would toss in the trash, like clown figurines, and find comfort in their collections of things. There's also more access to people's bedrooms and living spaces now, via Zoom classes and meetings, and perhaps an effort to turn those spaces into more personalized backdrops.
The aesthetic stops short of showcasing more traditional hoarder behavior. It's more about mindfulness, but some people are realizing their aesthetic has a name. Or at least that's what they tell their parents.

Still, there is some comfort in knowing people still have too many cups in their rooms.