A hacker best known for claiming he took down WikiLeaks has foiled the Westboro Baptist Church's attempt to exploit the tragic tornado disaster that occurred in Moore, Okla., on Monday.
The much maligned congregation, known for hateful signs claiming that "God hates fags," registered the domain name GodHatesOklahoma.com a mere day after a category 5 tornado killed 24 people and displaced thousands. The site no doubt was intended to assert the notion that God allowed the tornado to happen as punishment for America's alleged embrace of homosexuality.
But then, at some point between then and earlier today, the site's content was replaced by a hacker known as the Jester. Instead of being bombarded by the WBC's hateful message, visitors were greeted by an image of Jesus flipping the bird with text that reads "Westboro Faptist Church— Even Jesus Hates You."
Below that, there was another message:
"'On the 8th day, God created hackers, and he saw that it was good.' From the Gospel according to @th3j35t3r."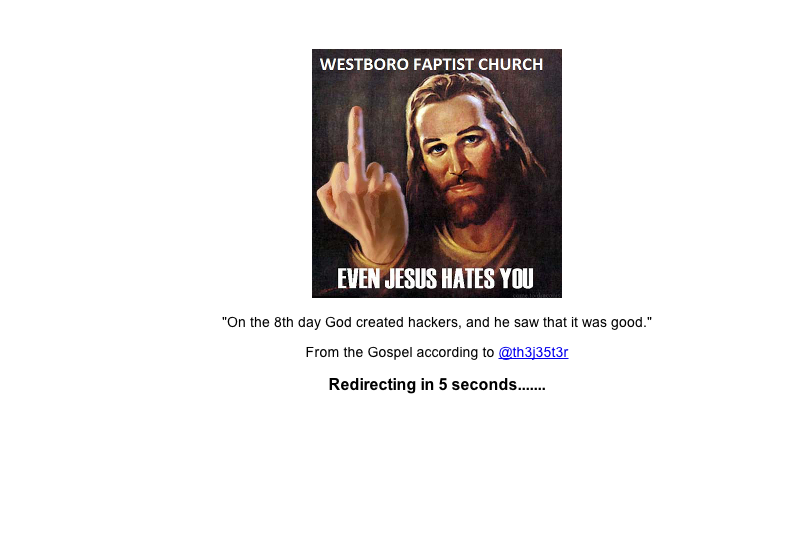 After five seconds, the site would then redirect to a donation page for the American Red Cross Disaster Relief.
The page has since been disabled. Thankfully, the Jester tweeted out a cached version for posterity.
This isn't the first time the Jester has crossed paths with Westboro Baptist Church. In 2011, he knocked the organization's websites offline for over a month with a distributed denial of service (DDoS) attack.
The Daily Dot has reached out to the Jester for comment.
Illustration by Fernando Alfonso III