Sports mascots are meant to illustrate battles between teams. It's not often you see one actually kill a living creature with an official prop.
But then again, the West Virginia University's Mountaineer mascot, who totes a muzzleloader rifle, has only been on Twitter since April (at least according to When Did You Join Twitter).
It's a tradition for WVU Mountaineer to bring an old, musket-style rifle to football games, which he fires it into the air to celebrate. But Jon Kimble, the 65th young man to don the outfit, caused an Internet stir when he took that character a little seriously, using that same rifle to kill a young black bear he'd cornered with dogs, then posted evidence to Twitter and YouTube.
Though the original video has since been deleted, it's since been reposted to YouTube. In it, Kimble, dressed in costume, kills the treed bear, then hollers, "Wooo! Let's go Mountaineers!" The video then cuts to a simple blue background, overlaid with gold text that reads "TOUCHDOWN for the MOUNTAINEER."
Kimble, whose tweets indicate he's a regular deer hunter who makes jerky for fans, noted on that hunting the bear wasn't just for sport and that he planned to fully harvest the animal. "Gonna make a rug out of it and some bear jerky!" he tweeted. He also retweeted a picture of himself, wearing his mascot's hat, holding the bear in what appears to be a garage where he's about to process the animal.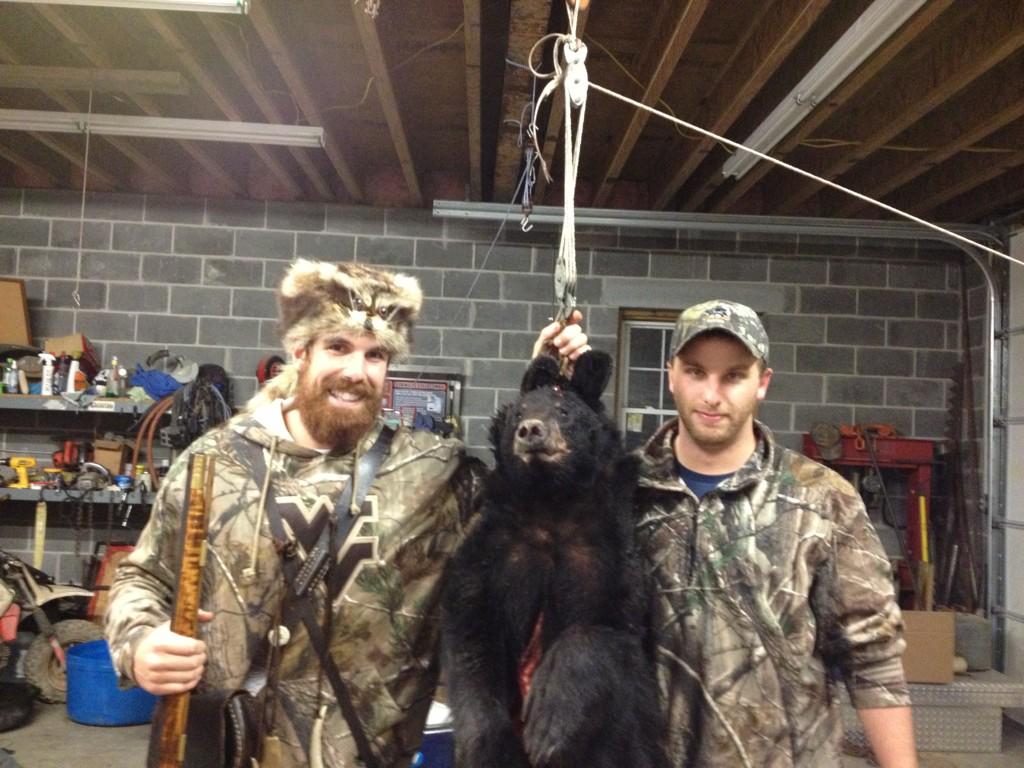 Photo via @curt0088/Twitter
Hunting black bears is legal in West Virginia, provided the hunter follows a number of restrictions. Nevertheless, the images upset plenty of Twitter users, even WVU fans.
"[T]he more I think about what you did and how you did it with the bear, the more I am embarrassed for my state and WVU," posted @WVNation. "Booooo!!!" posted @TamiWVU, whose bio describes her as an "avid WVU fan."
WVU didn't return request for comment. However, in unrelated news, WVU's rifle team was named the best in the country by a coach's poll Tuesday.
Update: A spokesperson for WVU provided the following statement. 
"While Jonathan Kimble's actions broke no laws or regulations, the University has discussed this with him and he agrees that it would be appropriate to forego using the musket in this way in the future. There are some provisions regarding the gun, but none that prohibit its use outside of University-sponsored functions or for hunting purposes. It is also worth noting that powder is used when the musket is discharged at public functions."
Photo via @WVUMascot/Twitter