If you've ever seen that one Folgers commercial, then you know that the best part of waking up is getting some sibling lovin' with your morning cuppa. So it's fitting that the unexpected plot twist of this Craigslist ad involves a hipster breakfast bar in Williamsburg.
Waffle & Wolf is exactly what you'd expect a waffle shack in Williamsburg to be. It has an Instagram account where it posts delectable images of fruit- and vegetable-stuffed waffles topped with mesmerizing ingredients like lemon marscapone and lavender-honey. Fridays it offers chicken & waffles. You can even get waffles and ice cream.
And for one lucky Craiglister with a fetish, Waffle & Wolf apparently serves up a whole lot of love.
The ad, entitled "I want to waffle your wolf," purports to be written by a woman looking for a man in Williamsburg. It begins innocently enough:
hi i am trying to find the man who works at waffle and wolf in williamsburg. …i am trying to find the man who works at waffle and wolf because you look so similar to my father. 

i lost my father in a drunk driving accident was i was 12 years old. but he had darkish reddish hair, wore glasses like you, and was thin. he was my best friend.
Sweet and hopeful, right? The plot thickens.
i am writing to you because i know that he had a lover in new york. before he died, he worked for the ny times and would visit her. i only know this because i found his travel receipts before he passed on and i threw them away so my mother wouldn't find them. it's too much of a longshot that we are siblings, but you look like him, which brings me to this…
Oh my goodness! Is it possible that the Craigslister could be reunited with her secret sibling? What could be more heartwarming, more beautifully uplifting, more—
my number one fetish is incest-fantasy. 
—more totally not going where we thought it would. Woah. Wait. What? Wait. What?
i don't want to have sex with my family, but i like role-playing this fantasy. my boyfriend is not ok with it. i'm not 100% comfortable with it either, and i dont know why it gets me off like it does. 
So she wants to have roleplay sex with her potentially long-lost brother?
i want to meet you and maybe have a non sexual encounter where you speak to me as my father and we can resolve my grief. if you are up for a sexual encounter, we can try that out too. 
No. Even better. She wants to have roleplay sex with her potentially long-lost brother while he's roleplaying her dead father. 
A sibling roleplay within a sibling roleplay?
Waffle & Wolf, sign me up for the Bereaved Family special with lavender honey and extra cream.
A staff member at Waffle & Wolf told me they do have a staff member who matched the description of the man in the ad, but he wasn't currently on shift. I started reading him the Craigslist post, but he quickly hung up. No one answered the phone after that.
A note of advice to you, unknown waffle guy: You might want to stay home for a while.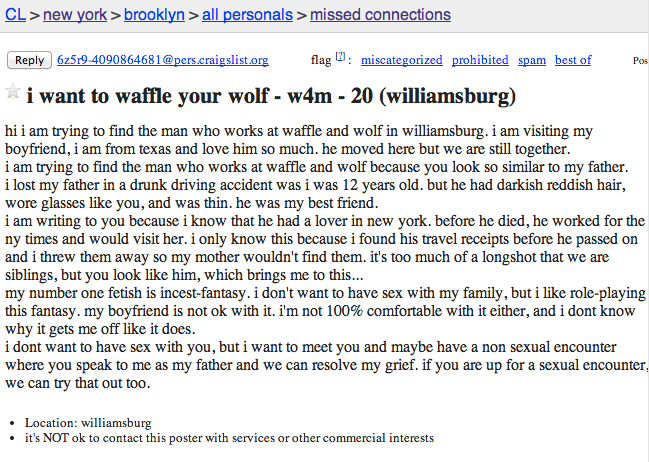 Photo via aloha75/Flickr