Traditionally, the museums of America only displayed toilet paper in their restroom areas. Fortunately, those days are long over.
The Virtual Toilet Paper Museum was established—and apparently last updated—in 1999, when Angelfire pages, animated ClipArt, and Webrings still roamed the Internet. A greeting on its front page (lobby, if you will) invites visitors to "come inside and view our extensive collection of brands from the mundane to the exceedingly rare, wondrous toilet-paper-related artworks of unusual beauty, and myriad informational exhibits."
If such a sentiment does not put you in the mood for exploration, then there is something wrong with you. Either that, or you have the ability access to other websites.
There is no admission fee to get into the Virtual Toilet Paper Museum, which immediately places it on the level of the Smithsonian Institution. Obviously, your first stop should be the Exhibition Hall.
The Exhibition Hall includes links to both the Museum's various informational exhibits and galleries. A journey through the virtual hallway of the informational exhibits may land you at, for example, the famed History of Toilet Paper page. 
Here, you will lay eyes upon a number of different toilet paper factoids, such as the great toilet paper shortage of 1973 and what people formerly used to clean themselves (grass, leaves, and—yes—corncobs are just some of the items listed).
Elsewhere in the Informational Exhibits section, you will find the longstanding debate of "Over or Under" as well as a section on Toilet Paper News and Articles, with some links that actually still work. You can even witness the results of the Y2K Toilet Paper Compatibility Test so you know exactly what to expect if time suddenly starts flowing in reverse.
Once you have had your fill of toilet paper trivia, it is time to visit the true star of the site, the aspect you obviously came to see: the various Toilet Paper Galleries.
Start with the Vintage Collection, which includes photographs of various rolls of bathroom tissue from throughout the ages. The oldest example, dating back to the 1880s, is Albany Medicated Toilet Paper.
While we are certain that the Albany Company had the best interests of its customers' rear ends at heart, the appearance of its product could benefit from a major makeover. While partly due to the item's age at the time the photograph was taken, Albany Medicated Toilet Paper looks more like a canister of World War II mustard gas than anything that I, personally, would apply to my nether regions. People likely took one look at that roll of paper and opted instead to keep using corncobs.
Other notable entries in the Vintage Collection include Japanese Toilet Tissue (which, as its name implies, was manufactured in the United States), Soft Spun Tissue (which asks unsatisfied consumers to mail unused portions of the roll back), and Aurora, winner of the coveted Official Oregon Cup Environmental Award from 1972 through 1977.
Once you have perused the Vintage Collection, click your browser's "back" button a couple hundred times, backtracking through the framesets until you return to the Galleries page. It is time to proceed to the Contemporary Gallery, home of the modern-day ("modern-day," in this case, meaning "over 14 years old") toilet paper collection.
All of your familiar favorites are listed in this section, from the famed Scott brand…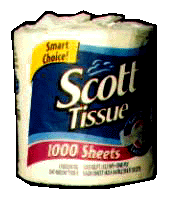 to Charmin…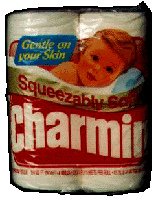 to even pharmacy-specific: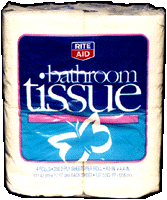 If you're lucky, you may even spot the very brand that you personally use! 
The next time you do your business, you can look upon your roll with pride, knowing that it has been immortalized in the pages of a mystery curator's outdated Web presence.
The last section of the Galleries is a small handful of toilet-paper-related art. There is nothing really impressive in this particular collection, nothing that will give you the same sensation as laying your eyes upon a roll of Albany Medicated Toilet Paper. The lone exception is this portrait: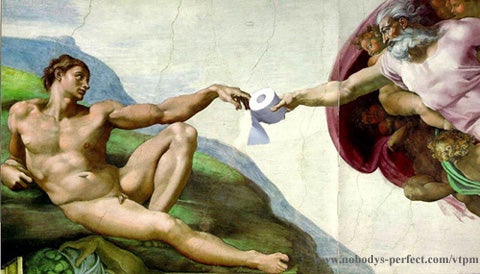 According to the website, this was Michelangelo's original vision of his famous painting "Creation" as it appeared on the ceiling of Italy's renowned "Cistern Chapel."
Finally, what museum visit would be complete without a trek through the gift shop? Various toilet paper images, demonstrating a near-mastery of MS Paint, are available for free, provided you link back to the page itself.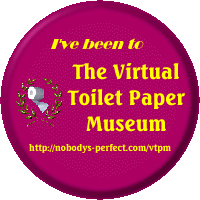 This image came from the Virtual Toilet Paper Museum. It didn't come from Facebook.
If you want any actual goods, however, you will need to pony up a fair amount of non-spitting llamas. According to the pricing guide, a commemorative shirt will run you one llama, while a roll of rare toilet paper requires that you part with 30 to 50 llamas.
As you leave the Virtual Toilet Paper Museum, don't forget to flush.
Photos via Virtual Toilet Paper Museum