Good news, government employees! You still may not be getting paid in the wake of the ongoing government shutdown. But all your newly expanded downtime just got a lot more fun.
The gregariously-minded folks at Vibrators.com are putting their money where their mouth is—and don't worry, it's not where you think.
They're giving away 200 free vibrators a day as long as the shutdown lasts. The giveaway is meant for government employees, and it's sure to cause a buzz on Capitol Hill. The sleek pink wands come with a DIY ethos that even Republicans should approve of, and may make Congress rethink the meaning of "non-essential personnel."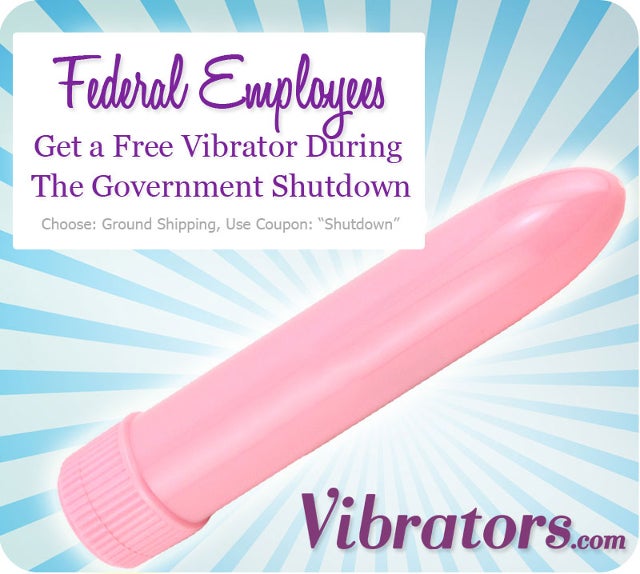 Like everyone else, Vibrators.com assumes that outcast employees are probably feeling bouts of pent-up frustration at the government's inability to perform. From the website:
Are you a federal employee that has been deemed non-essential? Do you have a little too much time on your hands and nothing to do? Is the recent government shutdown to blame?… [W]e know you have some free time, why not try something new?
Suggested optional accessories include four Double-A batteries—for when you need to galvanize your constituency—and "slick and soothing premium lube" for anyone smarting from their run-in with big government. Helpfully, the site also provides free erotica for anyone who's grown tired of reading myths about the Affordable Care Act.
Since it's hard to prove just who does and doesn't work for the government, Vibrators.com is capping the giveaway at 200 per day, limit one per customer. "When the shutdown ends, so does the free vibe offer," admonishes the site.
Of course, that doesn't give the government much incentive to come back from its enforced vacation period.
But at least when Congress is back in session, they'll all be much more relaxed.
Photos via Vibrators.com