For many, South by Southwest—the annual music, film, and interactive conference and festival held in Austin, Texas—is as much about the parties as it is about the latest cool app, band, or movie. Hundreds of major brands and celebrities throw crazy and exclusive soirees in hopes of making a name for themselves and whatever product they're shilling that year.
Recent examples include music video site Vevo hosting an open bar concert headlined by Kanye West that resulted in police refusing entry to thousands of fans who couldn't get in, Snoop Dogg playing in a stage meant to resemble a Doritos vending machine, and even an RV driving through the streets of Austin as its passengers do karaoke.
This veritable display of oneupsmanship is the idea behind @SXSWPartyzzzzz, a new Twitter parody that pokes fun at and lambasts the excessiveness of SXSW parties.
Though it has only been around since Feb. 13, the handle has already picked up more than 1,400 followers as of this writing. And with good reason, too. @SXSWPartyzzzzz tweets ridiculous and fake events that could almost legitimately happen during those two weeks in March. Below is a compilation of some of our favorites.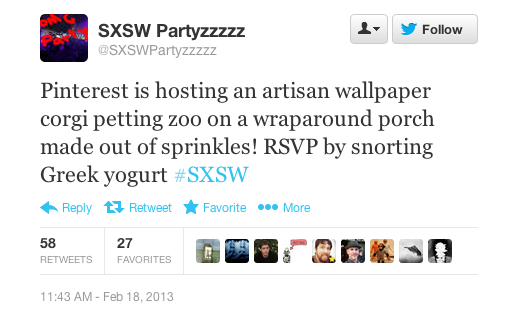 Pinterest should totally steal this idea before Etsy beats them to the punch.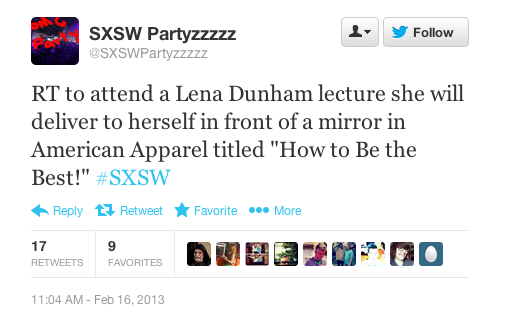 Fun fact #1: Lena Dunham's career got off the ground when her film Tiny Furniture was awarded the narrative feature prize at the 2010 SXSW Film festival.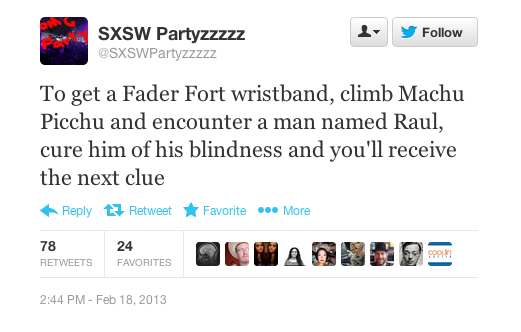 The worst part is you still have to wait half an hour just to get a free can of Budweiser.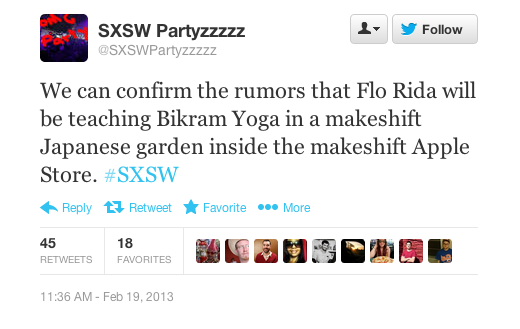 Fun fact #2: Apple opened up a makeshift store in downtown Austin during the 2011 interactive conference to sell the iPad 2. That venue is now occupied by a Brooks Brothers. Because obvi.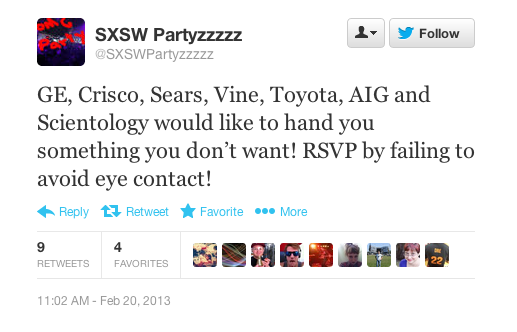 Yep, that's all going to get dumpstered.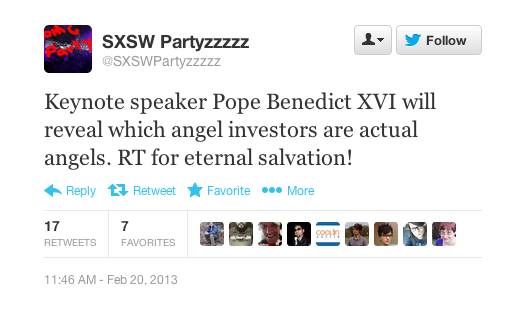 Makeshift confessional to be built at the convention center.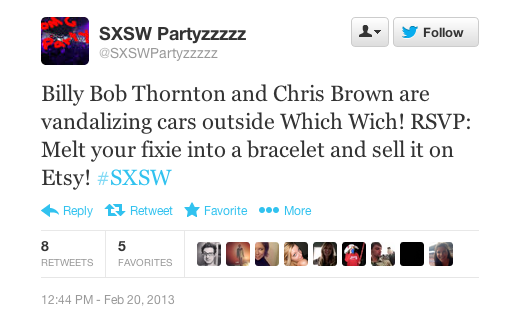 This party will hopefully be cooler than the time Jack White played atop of an ice cream truck that sold records.
Photo via ShashiBellamkonda/Flickr