While the United States still has the most Twitter users in the world, they're not the most active tweeters, according to a new study.
An analysis of public tweets made between Sept. 1, 2011 and Nov. 30, 2011 found that 33 percent of Dutch tweeters posted at least one message a day, reported Semiocast, a French research organization. The U.S. came in fourth with 28 percent, tying with Indonesia, Venezuela, and Canada.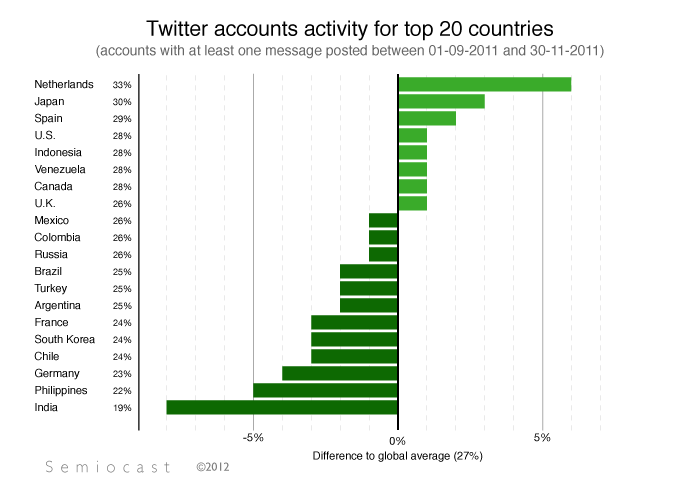 "The global average is only 27 percent, as many Twitter users mostly use the service to read tweets from others," Semiocast reported. Semiocast used a combination of data, including the user's stated location, language, and GPS data to associate accounts with countries.
Through the end of 2011, the U.S. added 107.7 million new Twitter accounts. Brazil and Japan added 33.3 million and 29.9 million accounts respectively. Although Brazilian users now outnumber Japanese users, users in Japan, the site of Twitter's first international expansion, still send more messages per account.
While the United States now holds only 28 percent of all Twitter users, the social network is still growing on its home turf. In December, it added 5.6 million new accounts.
Twitter's international push may soon take new form, as it's added support for languages like Arabic and developed the ability to censor tweets country by country rather than globally, which should allow it to operate in countries with stricter controls on freedom of speech.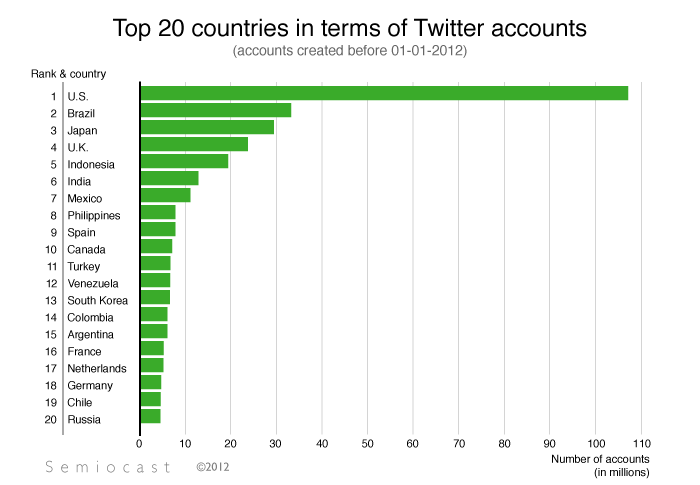 Photo by ampotter, remix by Fernando Alfonso III