You may not be able to judge a book by its cover, but you can definitely judge the quality of a film from its source code—or so the 20,000 people who've flocked to the new Tumblr Source Code in TV and Film seem to think.
In the month since its creation, the Tumblr, run by Web geek John Graham-Cumming, has taken a look at a wide variety of films and television episodes that have shown examples of code onscreen. By asking basic questions about what the code does and where it came from, the Tumblr provides a fascinating glimpse into the world of movie production and design, as well as the culture of computer programming and the way it's portrayed by Hollywood.
We're probably all familiar with certain infamous depictions of programming onscreen, like the notorious cyberthrillers of the '90's. But the new Tumblr reveals that we can find evidence of lazy, even hilariously uninspired examples of fake code throughout cinema. Take this example of pure nonsense code from the film Clear and Present Danger: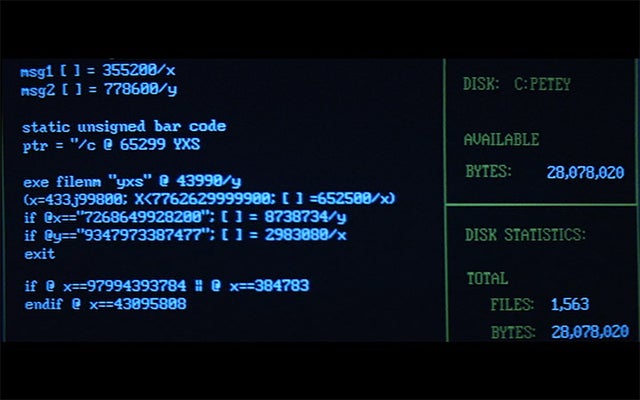 It's easy to see why Graham-Cumming labels it an "abomination."
Other great examples include the use of code in the most inexplicable contexts—like when a fire alarm in the tv series El Barco briefly displays lines of code. Writes Graham-Cumming:
"[A]pparently the fire alarm system is CSS & HTML based? :D"
The code appears to be the start of the source code for google.com around 2006 with the word Google replaced by Origami."
Then there's this example from the film The Tournament, "when the 'hackers' are trying to locate people by making a table in HTML."
But perhaps even more interesting than the various examples of code gone horribly wrong are the instances where the production has clearly made an effort. 
An early episode of Buffy shows two girls learning basic programming using a C++ library script. The Big Bang Theory doesn't win many points for positive portrayals of modern geeks, but it wins for accuracy in having code specially written for a programming episode. Another customized code is that which runs through The Social Network. And in what may be a film first, White House Down actually uses a decryption code for a scene where someone is decrypting.
There are the near misses, like when Person of Interest uses historically accurate code, but uses coding language that's off by about 15 years. Whoops. 
There's the just-plain-cool, like this image of Doctor Who examining a scalable vector graphic of a light wave. What for? Who cares!
And then there's the not-even-trying, like this Spanish government promotional video which just substitutes mashing the keyboard for actual code: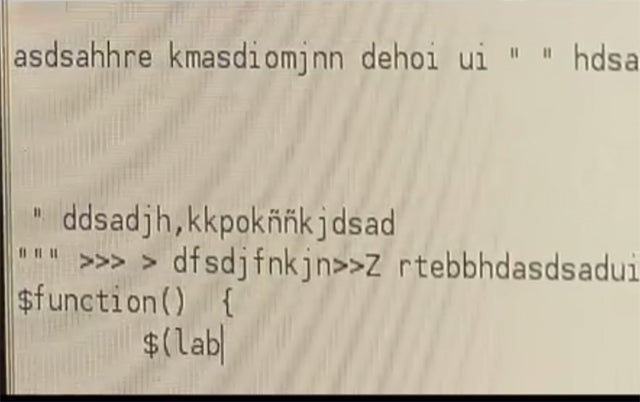 In addition to running cool Tumblrs, Graham-Cumming is the author of The Geek Atlas: 128 Places Where Science and Technology Come Alive, which looks at real-life spaces where computing culture is making strides.
We're pretty sure none of those places are Hollywood, but perhaps this Tumblr will inspire filmmakers to get geekier, and share better coding with us all.
Photos via moviecode/Tumblr