"Tumblr" has officially surpassed "blog" as one of the most searched terms on Google.
Tumblr overtook blog in December for the first time since the microblog network was started in February 2007, tweeted Laura Olin, a social media director.
According to Google's search stats, the word "blog" has been on a decline since May 2009, which is around the same time Twitter became the third highest ranked social network according to visits. (Tumblr was not ranked in the top 25 at this time.)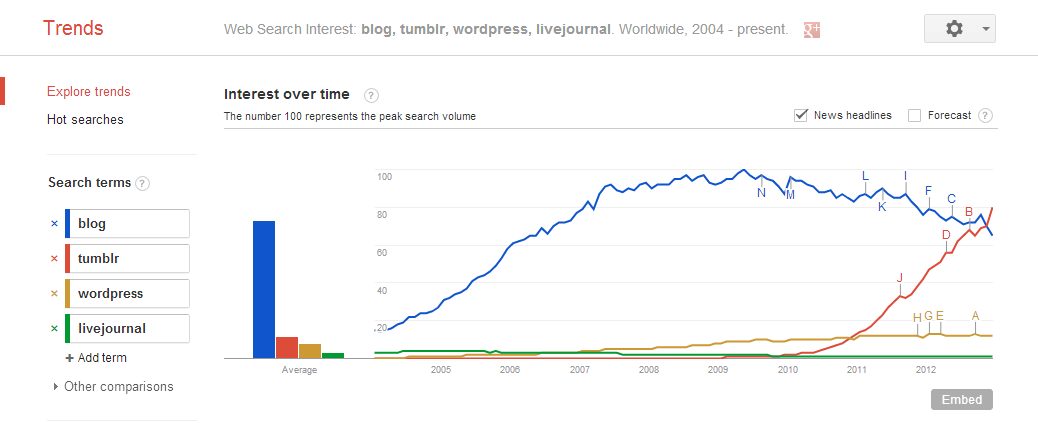 The decline of the traditional blog was foreshadowed in June 2009 by The Guardian's Charles Arthur in a story aptly titled "The Long Tail of Blogging Is Dying."
"Writing a blog post is a lot harder than posting a status update, putting a funny link on someone's Wall, or tweeting," Arthur wrote. "People are still reading blogs, and other content. But for the creation of amateur content, their heyday for the wider population has, I think, already passed. The short head of blogging thrives. Its long tail, though, has lapsed into desuetude."
In November 2012, Tumblr became one of the top 10 most visited sites in the world, with an audience of about 170 million people per month, according to statistics from Quantcast. The network also collects about 20 billion pageviews a month, Tumblr founder David Karp announced.
"This isn't meant to be a brag—though you should definitely try our new Android and iOS apps if you haven't yet—but a credit to all of your brilliant creative efforts," Karp wrote in a blog post. "You guys have earned an audience bigger than the biggest TV networks, and you continue to make some of the most thought provoking, insightful, inspiring, funny, diverse, and compelling content being created today."
The word blog was coined by Peter Merholz in 1999. Thanks to early blogging networks like LiveJournal and Blogger, blogs became known for their "raw, unpolished authenticity and individuality," The Economist reported in 2006. The sudden rise of blogging may have also been its downfall, The New York Times reported in June 2009.
"According to a 2008 survey by Technorati, which runs a search engine for blogs, only 7.4 million out of the 133 million blogs the company tracks had been updated in the past 120 days,'" The Times added. "That translates to 95 percent of blogs being essentially abandoned, left to lie fallow on the Web, where they become public remnants of a dream — or at least an ambition — unfulfilled."
Thanks to streamlined blogging networks like WordPress, which powers about 22 percent of websites in the U.S., the traditional blogging model is certainly not going anywhere fast. But with Tumblr powering 87 million blogs, and growing, WordPress's days of dominance may be numbered.
Illustration by Jason Reed