Boy, people sure are mad at the National Security Agency right now.
In case you've been away from the Internet (and your TV, phone, and newspapers) for the last few days, you might have missed the big news that hey, the NSA and FBI apparently have direct access to the servers of several major Internet companies. Those reportedly include Microsoft, Facebook, and Google, all of which have denied that any secret government back door into their servers exists.
BuzzFeed creative directors Chris Baker and Mike Lacher are attempting to put the NSA's PRISM snooping system and phone monitoring capabilities to the test.
Their site, Troll the NSA, urges visitors to call or email others with a script that's festooned with triggers which might just flag the U.S.'s "impressive surveillance apparatus." According to the site, "They say they don't read or listen to the contents of our messages. Why not test it out?"
The inspiration for the prank came from Baker's father, who said how "great it would be if we could get a bunch of people on the phone at the same time and say the word 'bomb' over and over, just to cook their servers."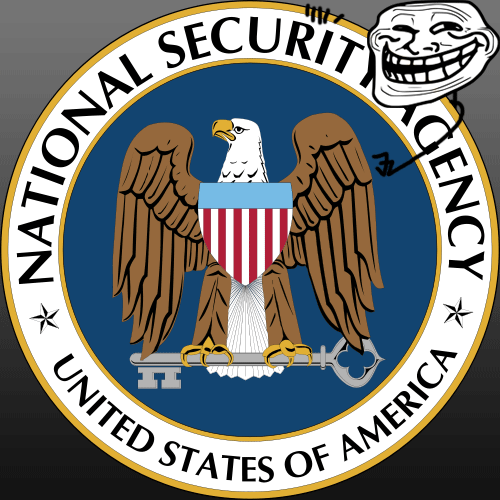 GIF by Jason Reed
"We created the site as a fun comment on the current controversy surrounding the NSA recently," Baker, who built the site in about an hour with Lacher, told the Daily Dot. "The goal is really to have this spread around as much as possible."
The trigger words in Lacher's script "were chosen based on what we thought could make a message that's equal parts innocuous and suspicious." A few people have tweeted that they think the prank would be "fun to do," but it's not clear whether it will draw the kind of participation needed to really test the NSA.
The aim, according to the site, is to have millions of people share the innocent-on-the-surface script by phone or email at the same time on Wednesday evening. Here it is in its entirety, with the bold text presumably denoting the trigger words (spoilers for Breaking Bad Season 2 ahead!):
Hey! How's it going? I'm all right.

My job is so shitty I wish could overthrow my boss. It's like this oppressive regime where only true believers in his management techniques will stay around. I work marathon-length hours and he's made all these changes that have made it the worst architecture firm to work at in Manhattan. Like he moved the office to the Financial District and fired my assistant. She was the only one who knew where the blueprints were! I need access to those blueprints to complete my job! F my life, right? And he keeps trying to start all these new initiatives to boost revenue, but seriously we just need to stick to what we do best. There's only one true profit center. I seriously feel ready to go on strike at any second.

I just read this article about how these free radical particles can cause the downfall of good health and accelerate aging. These could actually cause death to millions of Americans. If these particles are flying around undetected everywhere, does that mean we're all radicalized?

Have you seen the second season of Breaking Bad? I just finished it. I couldn't believe that episode where they poison the guy with ricin! That was the bomb! I won't say any more because I don't want to reveal the earth-shattering events to come.

Oh! So I've been planning a big trip for the summer. I'm thinking of visiting all of the most famous suspension bridges in the United States. So probably like the Golden Gate Bridge, The Brooklyn Bridge, and the Verrazano Narrows Bridge. I'm gonna bring my younger brother and I know he'll want to go to bars, so I'm thinking of getting him a fake drivers license, but I hope that doesn't blow up in my face.

Okay, I gotta run! I'm late for flight school. I missed the last class where we learn how to land, so I really can't miss another one. Talk to you later!
Baker and Lacher don't have any fear of retribution from the NSA. In fact, they claimed they'd "love it if the NSA saw it."
If the prank takes off, the NSA is bound to have a blast analyzing all that data at once.
Illustration by Jason Reed