Nine Inch Nails musician Trent Reznor once owned a Commodore 64 and feels that his wife is a better kisser than his fellow studio musicians.
These and other details were revealed when Reznor sat down to a Nov. 13 Reddit AMA (Ask Me Anything) session.
The singer/songwriter and composer was on the site to promote the new EP from How to Destroy Angels—a band featuring Reznor, his wife Mariqueen Maandig, producer Atticus Ross and graphic designer Rob Sheridan—and used the group's official Twitter feed as proof of his identity on Reddit.
During the exchange, fans discussed everything from his music projects to his technological preferences.
Aside from destroy angel's new EP, what's next for you? (AmeliaLaChida)
"A number of things. Tweaking some things for the HTDA full LP (coming in Spring), helping Josh out on a new [Queens of the Stone Age] track, working with Roy, starting rehearsals for two bands."
Was there anything you didn't/couldn't do for the Year Zero [Alternate Reality Game] because it would have pushed the boundaries too far? (imaac)
"Several ideas came up, including blowing up a building, actually incarcerating fans, and staging an appearance of the Presence in real life. Can't win em all."
Reznor's single-word answer of "Poop" to redditor BarryMenilow's criticism-laden post invoked awe from fellow redditors (and a trip to the bathroom for BarryMenilow).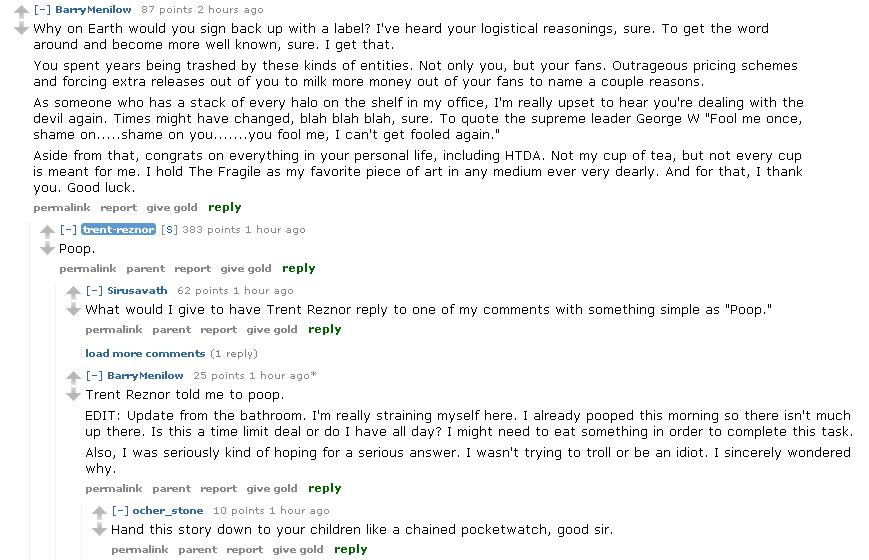 Reznor also discussed his first encounters with technology, including the instrument that kicked off his career in music.


Photo via Burns!/Flickr