You can't say they didn't see it coming. A platform full of passengers, many recording the moment with their smartphones, were waiting with great anticipation as an Amtrak train came by their station. They knew it was about to plow into a huge pile of snow and you can almost hear their thoughts: "Oh man, this is gonna look cool!"
It looked cool alright. It looked downright freezing. The train plowed into a giant mound of snow left by winter storm Stella, which blanketed the Northeast, and absolutely covered these people in a tsunami of snow (snonami?).
Thank god someone posted this in slow motion, as there are so many great moments to appreciate. There's this beautiful, nearly 50-50, divide as one group of people step up to the edge of the yellow line, phones in hand, to capture what they believe is going to be (and totally is) an epic moment. The other half retreat backward a few useless steps, chuckling about how they're the clever ones. But the snow conquers brave and clever alike. How perfect it is to watch it wipe out one amateur cinematographer after another until finally, inevitably, it reaches the man shooting the very video we're watching. Someone needs to find all these videos and string them together, assuming the various phones involved all still work.
Although this might be the largest group recorded being wiped out by snow in this manner, it's far from the first. Hopefully, no one is rooting for this kind of thing to happen to their fellow citizens, but if it does, we all hope there's a camera there to capture it.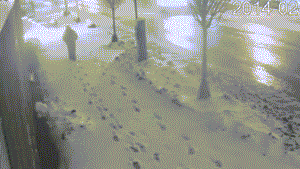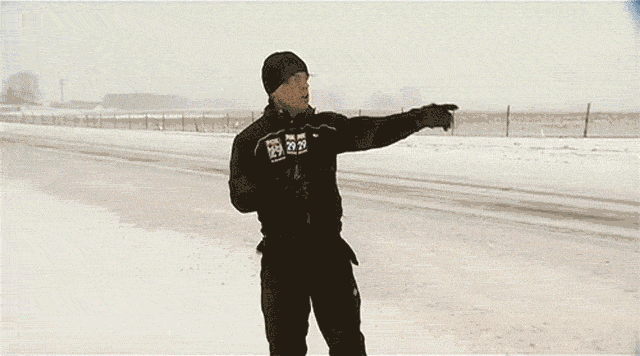 Sometimes they even get each other: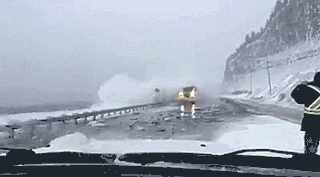 It's an important reminder that snowplows, or in this case trains, have important work to do, and you enter their domain at your own risk.