In August of 2007, Wired complained: "The web still lacks a generalized way to convey relationships between people's identities on the internet."
Days later, Brad Fitzpatrick, creator of LiveJournal, wrote about the dilemma of the "new social graph" on his blog: "What I mean by 'social graph' is a the global mapping of everybody and how they're related…  Unfortunately, there doesn't exist a single social graph (or even multiple which interoperate) that's comprehensive and decentralized."
This is a problem journal-based fandom has been dealing with for half a decade. In fact, friction with Fitzgerald's own LiveJournal may have exacerbated fandom's diaspora and with it the dilemma of centralizing and mapping users who once congregated in one place.
In 2001, Fanfiction.net, the largest fanfiction archive on the Internet, suffered prolonged server outages that made use of its discussion forums difficult. Thousands of fans, looking around for a place to settle in response, chose LiveJournal. Though other journaling platforms like DeadJournal, GreatestJournal (now defunct), InsaneJournal, and JournalFen existed, LiveJournal was the central fandom hub for its ease of unifying discussion and fanwork.
In May of 2007, Strikethrough happened, and the prevailing image of LiveJournal as fandom's permanent home changed. In the wake of Strikethrough, LJ user Femmequixotic wrote:
"I've talked to a lot of people lately who are really seriously worried about fandom fragmenting…. Honestly, I think we'll settle into a way of keeping track of multiple flists on multiple sites… 6A's kind of thrown us out there, you know?… It's what we have to do. By necessity, not choice."
Femmequixotic's words proved prophetic: Over time, fandom has gradually dispersed to other locations. The question of how to consolidate platforms has been so central to fans that in September 2011, when Delicious' roundly condemned meltdown instigated a mass fan movement to social bookmarking alternative Pinboard, it came with a public google doc: a spreadsheet of various fandom platforms, passed around fandom via word of mouth, that eventually garnered over 400 users who wanted to make sure they could be found in various new locations.
Through that spreadsheet, we can get a general idea of the direction LiveJournal and Delicious-based fandom was headed: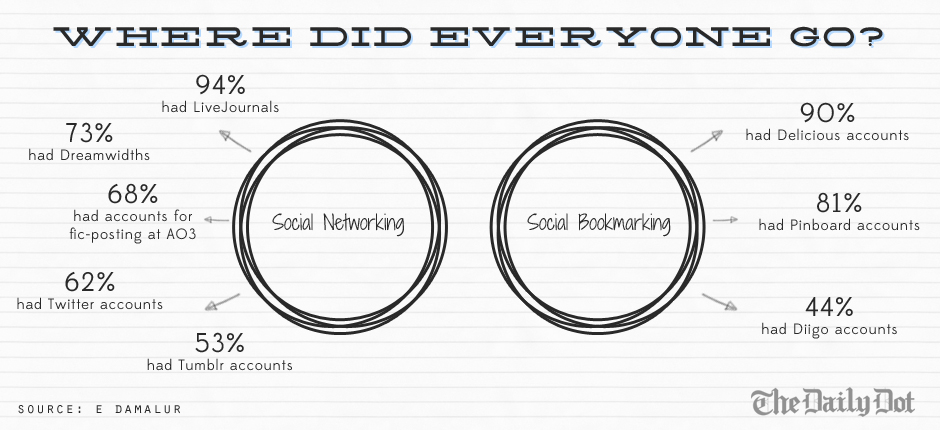 Last update: October 2011
Changing discussion and community platforms is nothing new. The "Eternal September" of Usenet in the mid-'90s is well-documented. And fans aren't the only ones who've had to adjust to the expanding diaspora. Faced with user indignation at the sudden influx of fans flooding the pages of Pinboard with slash fanfic, owner Maciej Ceglowski responded in "The Fans Are All Right":
"For any bookmarking site, the fan subculture is valuable because it makes such heavy and creative use of tagging, and because they are great collaborators. I can't think of a better way to stress-test a site than to get people filling it with Inception fanfic."
Pinboard, however, remains behind a paywall that leaves many users unable or unwilling to switch over from the floundering Delicious. Meanwhile, the increasing migration of fans to Tumblr has sparked ongoing debate, as users alternately embrace and fear Tumblr's large mainstream fandom presence.
But no one is denying that cross-platform interaction has changed fandom. Author Cecilia Tan told the Daily Dot:
"Nowadays there are lots of [fan] groups on Facebook, and it's just such a crappy platform for the purpose. To run a fest these days you have to have mirrors on LiveJournal, InsaneJournal, and Dreamwidth, and then if you added up all the comments on all three sites it would just about equal what we used to get on LJ alone."
One thing seems clear: The era of the single-platform community is effectively over.
"Fandom's not ever going to go back to congregating significantly on one platform," Femmequixotic told the Daily Dot. "[E]ven without the problems that occurred on LiveJournal that caused fandom to splinter, I think we would have still ended up in this moment just based on how social media technology has expanded. It would have been fantastic if a workable aggregator of some sort could have dropped in our laps to help fans keep track of all the sites we're following, but an effective one hasn't, at least not yet.
"So for now, each one of us has to figure out how to construct our own fannish experience."
Correction: an earlier version of this article incorrectly stated that DeadJournal was a defunct journaling site. We apologize for this error.
Header graphic by Aja Romano, infographic by Matt Sisson