Lance Moore found some unlikely inspiration in his most recent touchdown celebration dance to date.
The New Orleans Saints wide receiver scored the first touchdown of Sunday's game against the Tampa Bay Buccaneers. He ran the ball into the end zone after catching a 44-yard pass from Drew Brees, so naturally he had a reason to celebrate.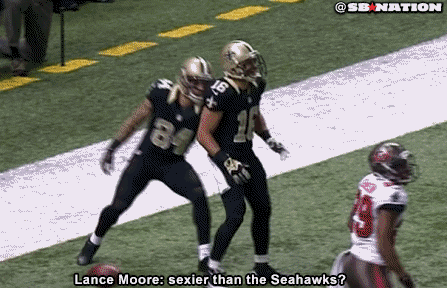 GIF via SB Nation
However, this time it's not an original Moore dance, and it doesn't take any inspiration from past dances. He's channeling Hingle McCringleberry, a character featured in a Key & Peele sketch about excessive celebration on the field.
In the sketch McCringleberry, played by Keegan-Michael Key, is unable to contain himself after scoring a touchdown. Jordan Peele is the referee who flags him for excessive celebration multiple times, even after getting flagged.
It's a commentary on excessive dancing in the NFL, and Moore using some of Key & Peele's move make it come full circle.
Moore observes the three-pump rule during his celebration, but unlike McCringleberry, he doesn't get a flag for excessive dancing from the refs.
Peele wasn't throwing any flags around on that play.
Big shout out to @KSTiLLS and @LanceMoore16 for observing that 3 pump rule today. Made my year.

— Jordan Peele (@JordanPeele) December 30, 2013
  H/T Fansided | Photo via Comedy Central/YouTube