A teenage girl who says two star high school football players sexually assaulted her has become the victim of a vicious online harassment campaign. She's been called a "whore" and a "snitch" and has been berated for "ruining" the lives of the men she accuses of assaulting her. 
This is not Steubenville.
This is the picturesque town of Torrington, Conn., population 35,000. But the case does have clear and disturbing echoes of the Steubenville rape trial, in which two local football stars drew national attention thanks to the pivotal role of social media and what appeared to be an official cover-up in a tight-knit town where football is king.
Police have released few details in the case. All we know is this: On Feb. 10, 2013, they began investigating Edgar Gonzalez and Joan Toribio, both 18, for the alleged assault of a 13-year-old girl. Word of the investigation quickly trickled through the community. Toribio and Gonzalez, the team's most valuable player this past season, have found a crew of vicious defenders online, not at all interested in waiting for a trial to take place before issuing their own verdict. 
Jessica Glenza, a reporter for the local newspaper The Register Citizen, has been compiling the tweets (her story on the case is a must read):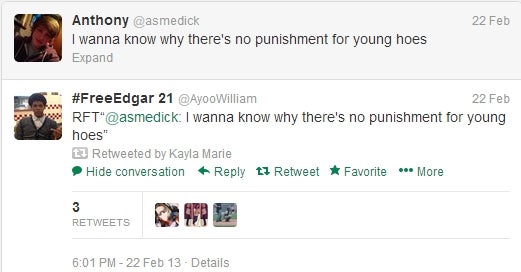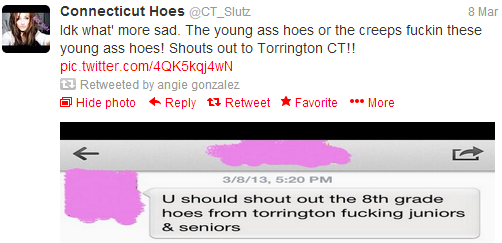 "If you think there's some wild band of athletes that are wandering around then I think you're mistaken," Torrington High School athletic director Mike McKenna told Glenza. 
But the evidence says otherwise. Four players have been suspended after a scandalous hazing incident last fall. Police are also investigating Gonzalez, as well as 19-year-old former football player Jeffrey Holder, for a felony robbery that took place in March 2012. Former head coach Dan Dunaj, who held the reins for five years, resigned in January in the wake of the hazing scandal.
"What happens if the kid is a bad seed? There's people in jail. There's bad people out there," Dunaj told Glenza. "If we had about 50 kids on the team over 5 years and you do the math how many of the kids I coach."
You do the math.
Screenshots via Jessica Glenza/The Register Citizen | Main photo via Flickr