It doesn't matter that he spawned the most popular athlete meme on the Web. The Internet is saying "no" to Tim Tebow.
A slick new site called evenifhesreleased.com is racketing up opposition against the beleagured quarterback playing for the Jacksonville Jaguars, the team many NFL fans and a failed White House petition have imagined as his natural landing spot after being cut by the New York Jets. Funded by a Jaguars fan group called Bold City Brigade, the site's already cracked 457,000-plus clicks of agreement since it went up Wednesday.
"Obviously it's frustrating to be constantly bombarded by the Tebow-mania," John Caputo, Bold City's president, told ESPN. "Many die-hard Jaguars fans feel ignored. We feel like our voices are not heard because we tend to sit back and not do anything brash and in-your-face."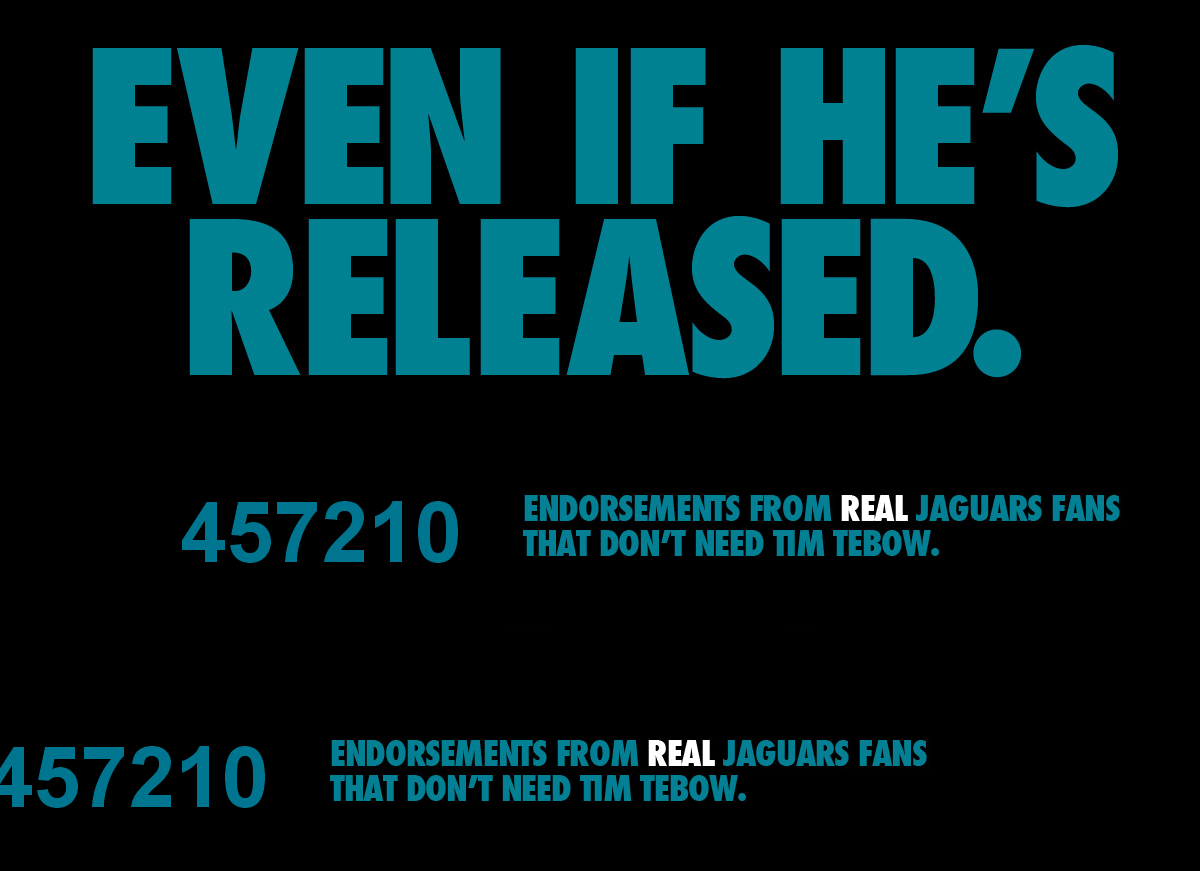 The site's name is a nod to Jaguars general manager David Caldwell. In January, when Tebow was still with the Jets, he proclaimed, "I can't imagine a scenario in which he'll be a Jacksonville Jaguar—even if he's released."
Fan-created Web campaigns don't appear to have ever affected an NFL general manager's decision and don't appear likely to anytime soon. But that hasn't stopped scores of fans from trying to influence their team's next quarterback. In the 2012 offseason, fans numerous teams tried to woo then-free agent Peyton Manning using petitions, parody videos, and clever Photoshop images of him in their team's uniform.
Tebow is currently a free agent, and it's unclear if any team is willing to sign him for this next season. He's been silent online since his release. That's when he tweeted: "Proverbs 3:5-6: Trust in the Lord with all your heart and do not lean on your own understanding in all your ways acknowledge Him, and He will make your paths straight."
Photo via Wikimedia Commons