A TikTok showing the moment a dog took its final breath is breaking viewers' hearts. While some users have flocked to comfort the TikTok user who posted it, others are calling the video exploitation.
The TikTok of the dog dying has racked up nearly 3 million likes. It shows an aged dog panting in a car.
"Sparky was acting weird so we took him to the ER," text over the video reads.
A moment later, the video shifts to show Sparky being wheeled into the vet's office and Emma, as she calls herself on TikTok, weeping in the car.
"Turns out he had a ruptured tumor and internal bleeding," the mid-video text explains.
The video then shifts yet again, showing Sparky as he is wheeled into an exam room by a vet.
"Little did I know I would be saying goodbye to my best friend," the text reads as Emma strokes her pup and apologizes.
As viewers watch, Sparky takes a final breath. A moment later, the vet can be heard quietly confirming that "he's passed."
The video concludes with a shot of Emma and Sparky together with the caption "Fly High Baby."
Opinions on the video are thoroughly split. Many commenters flocked to support Emma through the pain she is clearly feeling in the TikTok. They shared messages of love and solidarity, and many told stories of their own pet's passing.
"Hearing 'he's passed' killed me," one commenter wrote. "That was the worst thing to hear when my dog was put to sleep a couple months ago. I'm so sorry for your loss."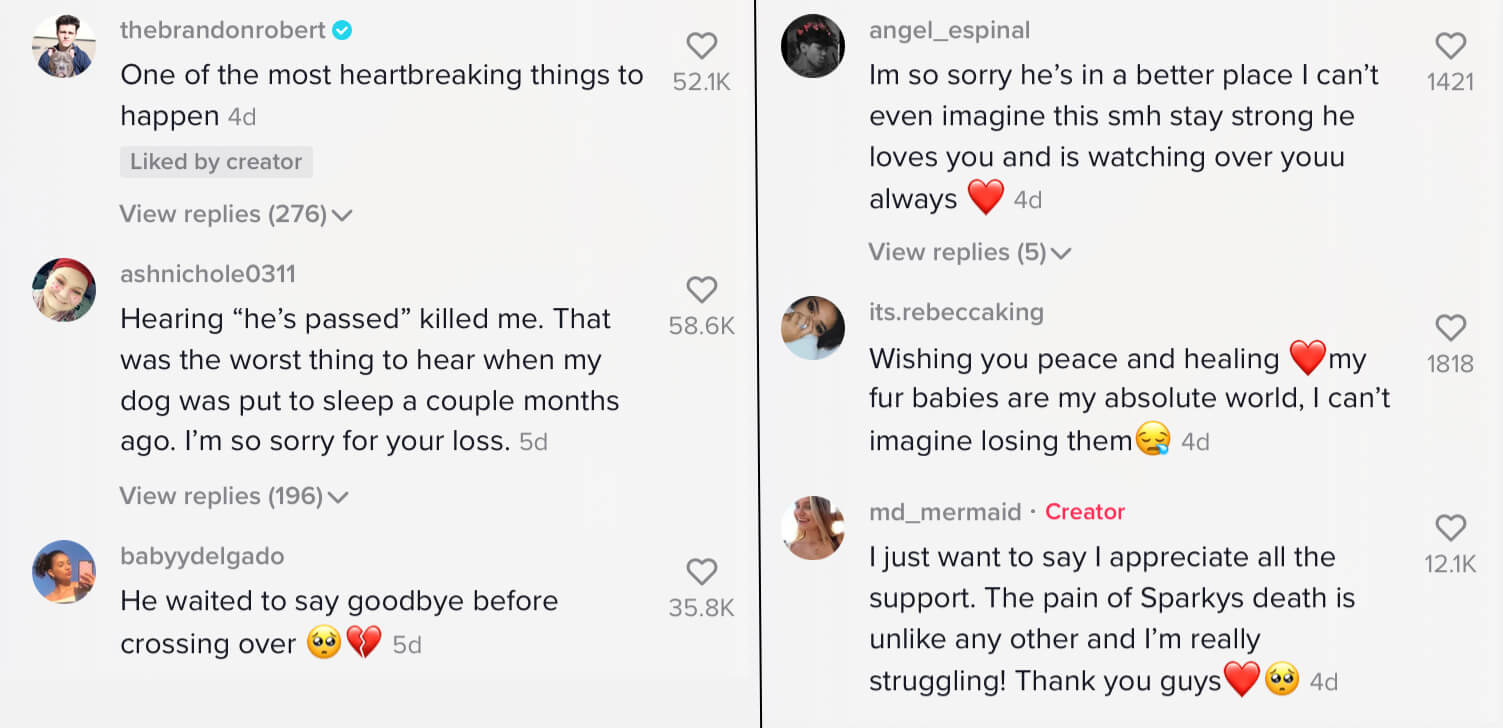 Other users criticized Emma's decision to post the video to the internet. They accused her of only recording Sparky's death for clout.
"Ok I'm sorry but why is it people's first reactions to take out a camera and record them crying," one person wrote.

Some users even took to Twitter to share their distaste for the video. Due to its use of TikToks' #fyp and #foryoupage hashtags, which make videos broadly viewable by casual perusers of the platform, it was able to be seen by a ton of people.
One commenter noted, in response to criticism, that Emma had explained her reasoning for recording the process in an earlier comment. Emma had previously explained that her father was unavailable but wanted updates through the entire process, according to TikTok user @ryanbeard22.
Emma had no intent, initially, of uploading the video to TikTok. She noted in another comment that she was "doing everything to try and cope but it wasn't working so I tried doing this and it helped some."

Regardless of the criticism, experts say the TikTok of the dog dying does not count as exploitation. Insider spoke with James Serpell, director of the Center for the Interaction of Animals and Society at the University of Pennsylvania's School of Veterinary Medicine. He said that while it might seem odd to some to post a video of such an emotional moment, it's no surprise it connected with so many people.
"People can identify with that experience and that's the motivation for sharing," he said.
The Daily Dot did not hear back from Emma by publication time.
READ MORE:
H/T Insider