At first glance, the boat ramp looks like a road to nowhere, a concrete slab ending abruptly in the middle of a field. The body of water in the distance appears almost as a mirage, the Hurst Harber Marina stranded ashore with Lake Travis in Austin roughly 46 feet below its normal level.   
The image is part of a stunning new Flickr collection, 2011 Texas Drought, from the Texas Parks & Wildlife Department. The 36-image set captures the effects of the record-setting drought with visceral, effective detail: An emaciated longhorn at Big Bend, a trail of deserted fish from Lake O.C. Fisher at San Angelo State Park, and old cell phones brought to surface.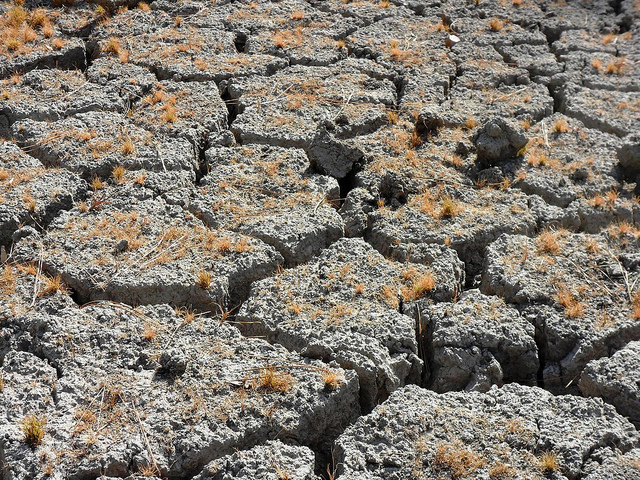 "Historically, it's important that we document it the best we can," said Fountain, who, along with colleague Earl Nottingham, is responsible for the images.
Equally important for the agency, however, is harnessing the potential of Flickr and other social media outlets to expand the reach of the images and engage online audiences. Texas Parks & Wildlife Department manages more than 90 Facebook pages – roughly one per state park – and is currently hosting a Flickr photo contest in conjunction with its Life's Better Outside campaign.
Those social outlets have become a critical source for breaking news as well. As the Daily Dot previously reported, the department's video, "See how fast wildfire spreads," which captured the alarming pace of the Bastrop wildfire earlier this month, landed on YouTube's news and politics section and has since netted more than 500,000 views.
Fountain believes that traffic helped spark the interest in the drought images — only fitting given those dry conditions enabled the natural disaster in the first place.
The current drought in the lone star state has become the third worst on record, based on the Palmer Drought Severity Index. The Tumblr, States of Change, reports that 73.49 percent of the state is in extreme drought. The effects of the drought, particularly for the agricultural industry, will linger for years, if not decades.
For Fountain, who plans to upload some aerial images in the near future, the end goal of the collection is simply to create awareness about that harsh reality.
"It's kind of like visiting Big Bend," Fountain said. "You don't fully appreciate it or get the enormity of it until you see it. It's the same thing with the drought images."
In other words, Flickr makes it real.