A family in Washington is convinced that their son committed suicide Sunday after learning that a local sheriff's department had cracked a joke about him on Facebook.
The Latah County sheriff's office in Idaho is being accused of driving 19-year-old Andrew Cain to kill himself after posting a message on its Facebook feed that read: "We have decided that Andrew Cain is no longer the Wanted Person of the Week… he is the Wanted Person of the Month of June. Congratulations!
Cain, who lived in nearby Pullman, Wash., had a number of arrest warrants in the Idaho county, including driving without privileges, possession of a controlled substance, and a third that police wouldn't divulge to the press. 
Latah County Sheriff Wayne Raush added that it probably wasn't appropriate to editorialize Facebook messages about people with arrest warrants, even if the post was sort of funny.
Cain's family said that the boy suffered from depression "and a number of problems," adding that the sheriff's department has yet to do anything to apologize for the death.
On Tuesday, Cain's sister posted on Facebook that the sheriff's office had done more than just post about Cain's dubious "Wanted" distinction.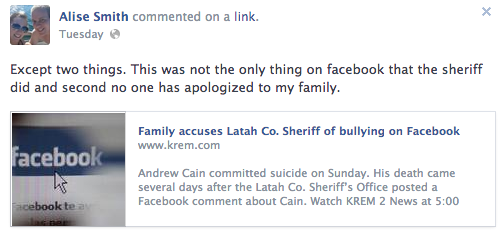 The sheriff's department has removed the post, but, as some media outlets point out, it's made no attempt to curb its character.
Illustration by Fernando Alfonso III