Alyssa Douglas probably wishes she'd never hit "send" last night.
The teen posted the following tweet, since deleted, Thursday night on the heels of Barack Obama's speech at the Democratic National Convention (DNC):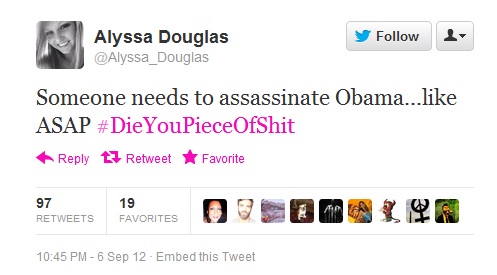 Both the tweet and Douglas's account were deleted by Friday morning, but not before they caught the attention of the Twitter masses, and one person who released her personal information on Pastebin.
Details of Douglas's hometown, high school, and possible work location were released. Many Twitter users were angered by Douglas's post, and suggested the Secret Service was likely to pay a visit.
"If you don't like Obama, fine. That's how you feel, your opinion. But to say somebody need to ASSASSINATE him, you done lost your mind!" offered Nataki Kali.
"It is a federal felony to threaten the President's life," James S. Henry wrote helpfully, while Notorious Wojo told Douglas: "Prison will be awesome for you Im sure."
She wasn't the only one to tweet such thoughts about Obama this week. A man from North Carolina was arrested after threatening to kill the president. Twitter users @Yamadogg_134 and @Blazing_Ben also sent threatening tweets.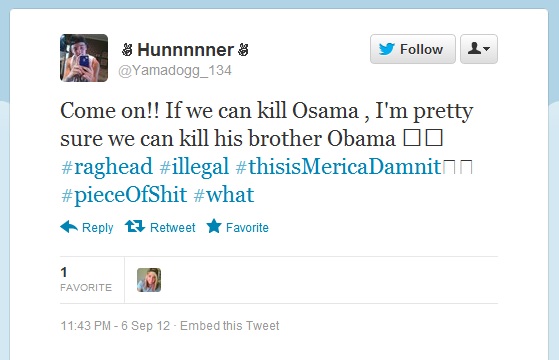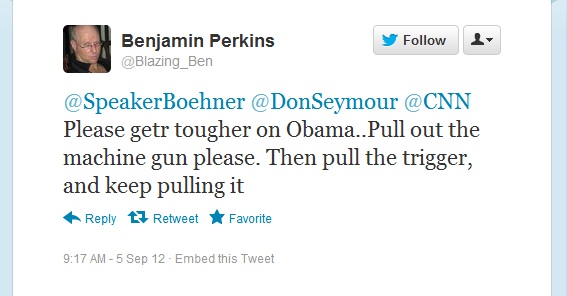 Republicans aren't the only ones making threats, though. A delegate to the DNC is under investigation after allegedly claiming she wanted to kill Obama's Republican rival, Mitt Romney.
Photo by @alyonamink/Instagram