A Norwegian tech journalist is claiming that a schoolgirl's private photos are being uploaded, without her consent or knowledge, to his Google+ account. He has her passport information, geolocation, and pictures of her friends and school. 
If this journalist is telling the truth, it's a glitch Google needs to figure out immediately. If he's not, and a teen girl's private information is on his computer for another reason, the story becomes much more scandalous.
Magnus Eidem, based in Oslo and working for the site Dagensit.no, reported yesterday that he's received more than 300 photos from a teenage girl living on another continent over the past few weeks. Eidem claims that the photos are being automatically uploaded to an album on his Google+ account from the unidentified 16-year-old girl's Sony Xsperia S smartphone. The girl also uploaded a photo of her Norwegian passport, giving Eidem her name, age, address, and social security number.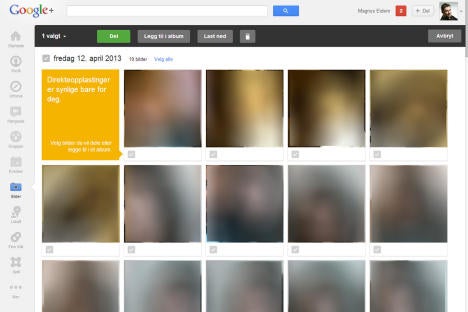 Screenshot of Eidem's Google+ via DN.no
In his story, written on DN.no (translation here), Eidem claims that Google has never before encountered a glitch like this. He quotes Google Denmark's PR manager Christine Sørensen, who says the problem is most likely due to a user error. For this to be the case, the teenager would have had to log in to Eidem's phone using his username and password. She does not appear to use Google+ herself.
Eidem says he has changed the Google+ password on his Android phone, but that's not the fix. He writes that he needs to contact the girl to get her to sever the link, but he can't see her email address or username, and a Google search for her name and address came up blank. He could try knocking on her door, he writes, but she lives on another continent.
Incidentally, Eidem's beat for the past eight years as a tech journo has been social networks and privacy. He thinks the girl is unaware that her photos are being uploaded and wonders how many others unsuspecting users this is happening to. The Daily Dot has reached out to Eidem and is currently awaiting comment.
Over on the website Hacker News, users have been speculating on the "glitch." Here are the favored theories:
1) Magnus Eidem made this whole thing up.
It's awfully convenient that he's a tech journalist and he just so happened to start getting the photos of a teenage girl from his same country. He has the platform. The story is kind of salacious (re: what if that girl starts sexting and he's got an unwanted child pornography charge slapped on him?) and the headline is totally clickable. Have I become cynical in my old age? Yes. Could this be happening to others and it just so happens that this time it was a tech reporter? Sure. Could he also just be concocting some excuse for having 300 pictures of a teenage girl on his computer? Obviously. Welcome to the Internet.
2) The girl and Eidem have a similar email address.
Most of us have been entangled in a case of mistaken Web identity. I used to receive emails from an elementary school in Connecticut because one of their teachers was also named Gabrielle Dunn. In this case, could be that Eidem and the girl have similar email addresses and it's a case of mistaken switcheroo. Slightly unlikely here, but it happens fairly often.
3) Eidem reviewed a phone. The girl bought the phone after he returned it, but Eidem was still logged into his Google+ account.
This theory from user web64 is my favorite right now: 
I guess tech-journalist gets to try out quite a few mobile phones through their work. Would it not be a reasonable scenario that the journalist got to try a phone and used the Google+ app with his account. Upon returning the phone, it wasn't reset properly before being sold to another person. So the Google+ app could still be associated with the journalist's account when the phone was sold on. In this article, the journalist reviews the Sony Xperia S, the very same phone model that the girl uses.
Great detective work, Internet. As Sherlock Holmes says, "When you have eliminated the impossible, whatever remains, however improbable, must be the truth." But man, if this is the case? That's wild.
Update: Google responded to confirm someone is in touch with Eidem. "We are not aware of widespread issues and cannot comment on specific accounts, but we know how important security is to our users and we are working directly with the individual to resolve any issues," wrote PR rep Iska Hain in an email.
Screenshot via DN.no