The ever-controversial YouTuber Tana Mongeau recently apologized to fellow YouTuber Kahlen Barry who called her out for racist comments and treatment.
This is only the latest in a years-long stint of racist behavior by Mongeau.
From 2012 to 2014 Barry was part of Mongeau's collab channel "Trash" and was the only Black collaborator at the time. In a June video titled "finally revealing the truth about Tana Mongeau" Barry said that during the time the two worked together Mongeau used the N-word, gaslit him, and made other racist and ignorant comments.
At the same time this was happening with Barry, Mongeau was also using the N-word in Snapchats and live-streams and tweeting other racial slurs, Insider reported. When Barry reportedly brought this up to her in private she dismissed him as an "angry Black person," a racist trope used to diminish the feelings and concerns of Black people.
Fellow YouTuber Nessa Briella is also accusing Mongeau of past "racist microaggressions," according to Life and Style magazine. Briella in a YouTube video said that Mongeau would discredit her behind her back and accuse her of having mental health issues.
Mongeau last week said that she would be addressing her past racism in upcoming videos.
Old tweets of Mongeau also resurfaced in which she calls vlogger Imari Stuart, one of her longtime friends, a "cotton picker" and tells him to "go back to the plantation," among other racist remarks.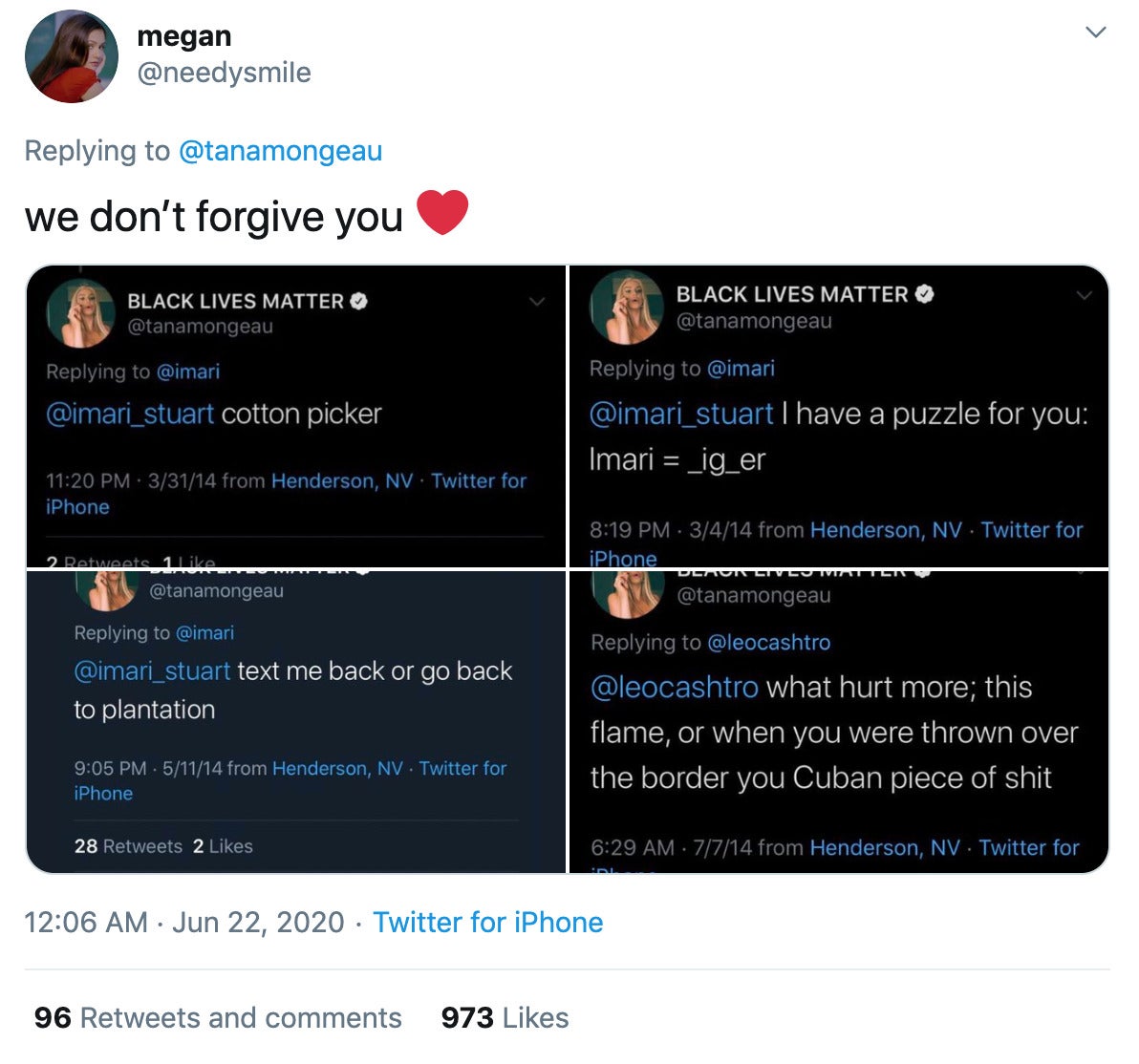 After making his story public Barry got an outpour of support, he said in a tweet, but heard nothing from Mongeau. Meanwhile, she was promoting her OnlyFans and being a "performative activist" he said in an interview with Centennial Beauty. (Her Twitter handle is currently Black Lives Matter in all caps.)
"It's not even just about me. As much as an apology would be nice, so many Black people watch her channel and she owes them at least to grow and do better," Barry said in the interview.
Mongeau apologized in a Twitter thread about a week after Barry's video went live.
"I've been trying to find the words to address this and apologize in a way that won't further hurt anyone, and educate myself on how to handle this properly. i am so sorry that came with any silence," she tweeted.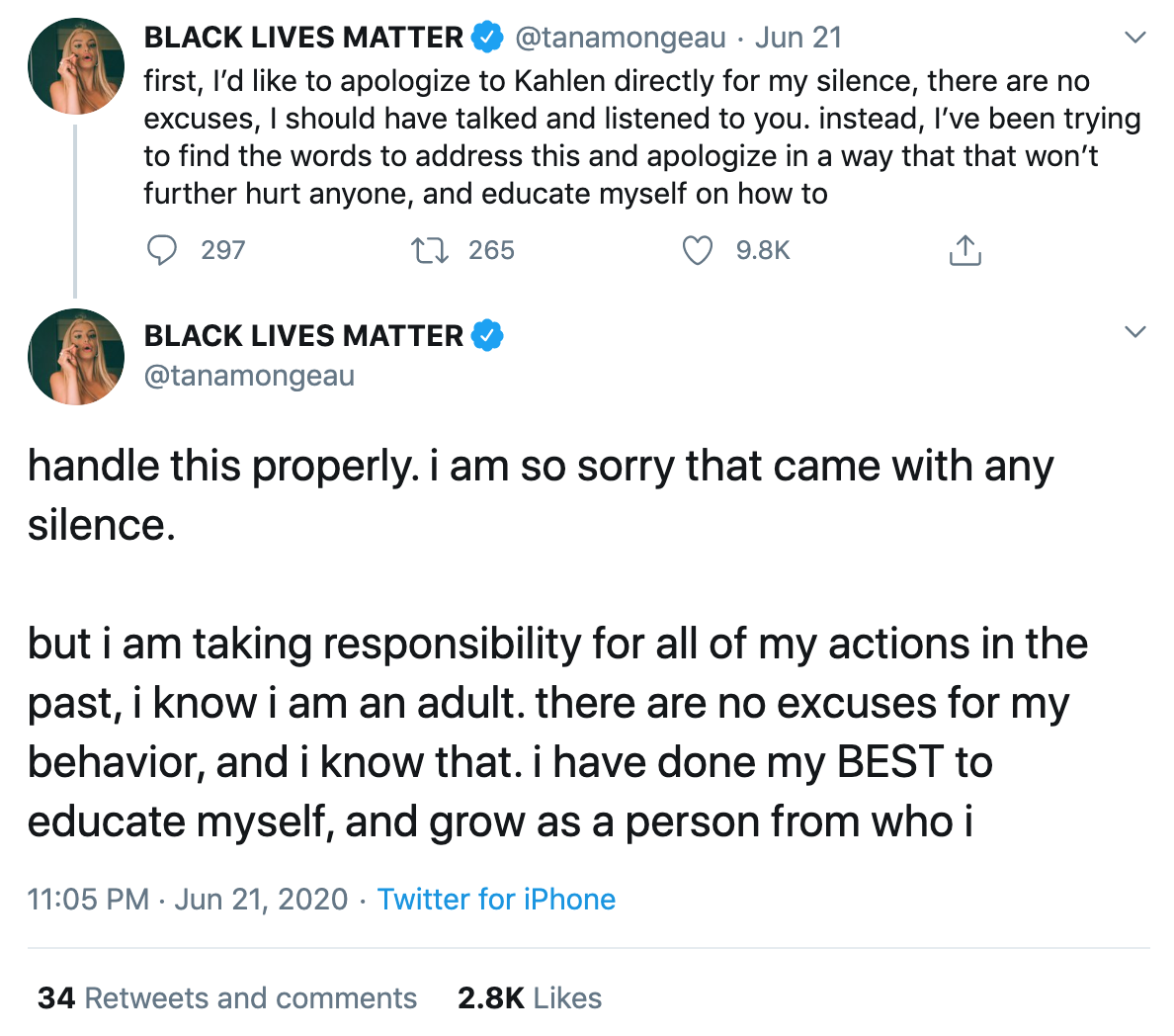 But people in the comments did not seem satisfied with the apology thread and claimed she's telling people that what Woods said isn't true and that she needs to actually take action instead of using the same "scripted apology twitter thread."
"yt youtubers saying the same things 😭😭😭im over it," tweeted @tvoodooirl.
Barry told Centennial Beauty, that he kept silent about Mongeau's racist transgressions and ill-treatment for years because he was scared of Mongeau and feared retaliation. But he was recently inspired by other Black creators.
"With the climate we're in and after seeing other Black entertainers speak out, I wanted to share my story for closure, to educate, and to give other people in my community the strength to speak out and share their stories," Barry told Centennial Beauty.