In recent years, it has felt like JRPGs are simply rolling off a conveyor belt. That's not necessarily a bad thing, as fans of lengthy story-driven experiences can look to any console's marketplace for plenty of options in setting, character, and combat systems. But with a bevy of imposing apocalypses and insidious enemies to face off against, it can feel hard to encounter a role-playing game that manages to feel truly fresh.
A few hours into Nintendo's latest JRPG, Sushi Striker: The Way of Sushi-Do, it becomes clear that this story isn't aiming to shake up genre conventions. The colorful, anime-inspired, puzzle-action game manages to blend a predictable-but-entertaining story with a wonderfully realized core mechanic and deliver an experience that should satisfy hardcore and casual fans alike.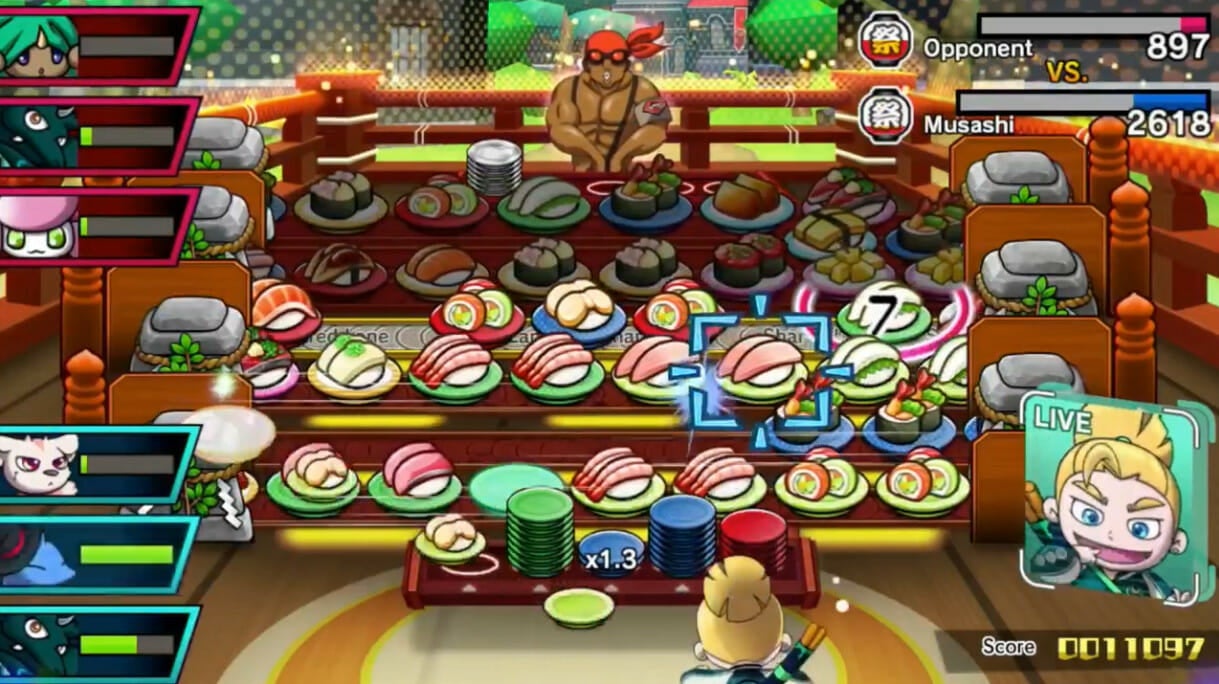 What sets Sushi Striker apart isn't a bold direction for narrative or character, but a visual flair that exudes joy at nearly every moment. Musashi, our protagonist, is detailed with an over-the-top range of expressions that drive the plot along through even the most predictable beats. In a welcoming touch that the story pays no mind to, players can choose whether they want Musashi to be a boy or a girl. From there they enter a world of strife, with an ongoing struggle for resources weighing on an entire empire.
The story's ludicrous setup involves a war over fish and the subsequent outlawing of sushi. Sushi Striker's animated opening cutscenes introduce us to the world and its major players, but thankfully never asks us to take any of it too seriously. A lot of the tropes the story rolls through are played tongue-in-cheek, and characters often comment on the tired trappings of a standard JRPG.
Still, it can feel like that narrative gets in the way too often. It's fairly easy to predict every minor twist and turn the game takes, but it still labors on, dragging out dialogue sequences for far too long. While it is clear that Sushi Striker is meant for a younger audience, any older Nintendo fans may find the constant interruptions a tad grating. However, the game has a good sense of humor, jovial delivery, and some surprisingly solid puns.
Forgiving the middle-of-the-road story would be hard if Sushi Striker's gameplay were anything less than engaging, but thankfully the game truly shines when players enter the combat arena.
At first glance, the core mechanics of Sushi Striker's chaotic gameplay are hard to wrap your head around. It might seem tough to keep track of the individual sushi plates being flung across the screen, but the constant back-and-forth is never overwhelming.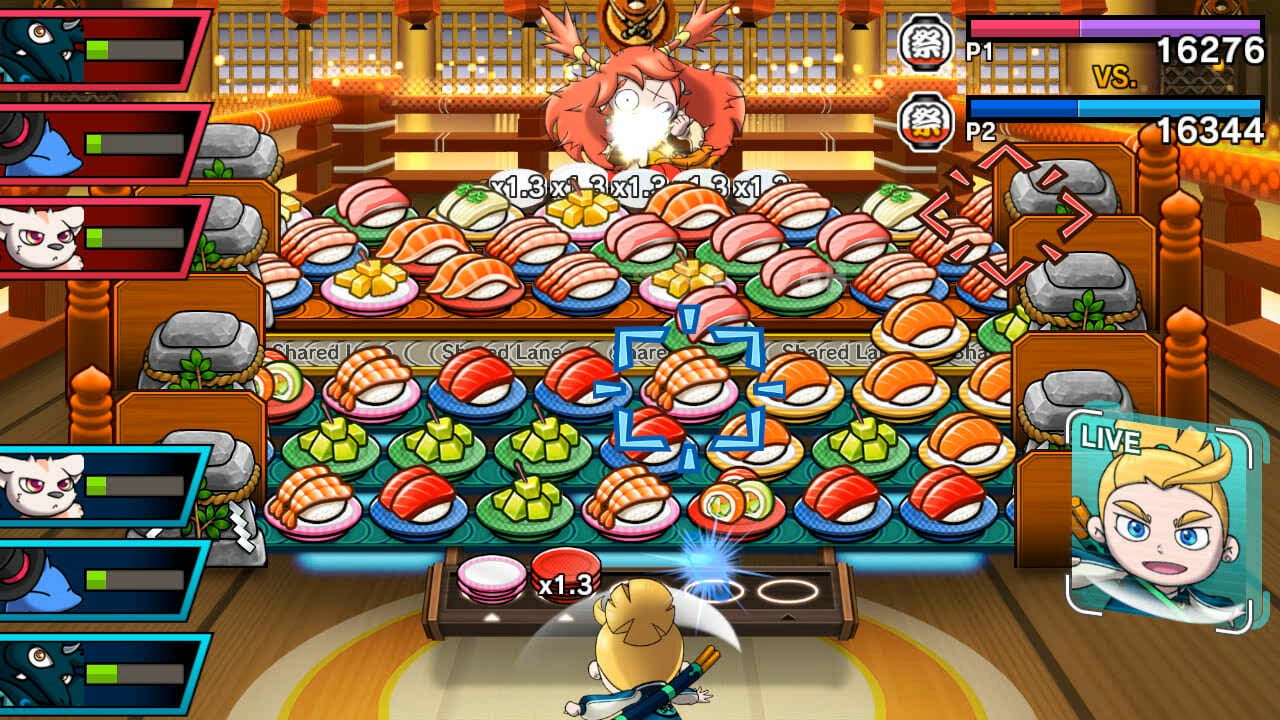 To damage your opponent, you'll need to trace a line between multiple plates of the same color. There's an added visual wrinkle with the variety of sushi in each of the three lanes, but plate color is the key to matching. The higher the stack, the more damage the attack does, but the player only has seven seconds to drag them together. Sushi comes in rapidly, creating an urgency to quickly strategize and pile each stack together. Every match is quick, but each one feels different from previous encounters thanks to added variables.
The depth of customization is a surprising layer in Sushi Striker. During your adventure, your character teams up with special sprites that are able to summon sushi. They serve a role in the story, but they also change up how the combat encounters work. Each creature offers a special move that can be used in the course of battle to change the color of plates, freeze the enemy, or boost your combos. On top of that, each character can be individually leveled up and has their own stats. By choosing which three to bring into a new match, you can alter the way your strategy will work.
Musashi can also be custom-tailored to fit different players. With a number of items, you can control the speed at which sushi will flow, as well as health and score bonuses affecting your hero. You'll want to hop into the menus after each battle to change some of these elements depending on the kind of enemy you're up against next.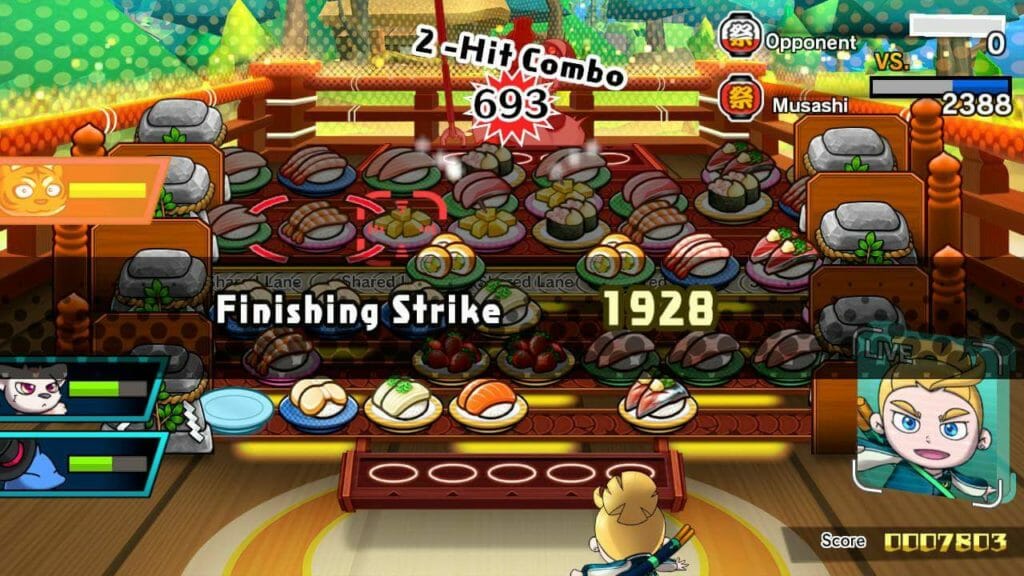 Sushi Striker capitalizes on the great fun offered in high-pressure action with a robust multiplayer suite. Players can join in chaotic online battles, as well as local face-offs using Joy Con controllers. With a lengthy story, fierce competitive modes, and a great deal of collectibles, it would be easy to spend dozens of hours in this cartoony world.
Your first impressions of Sushi Striker probably won't do enough justice to the surprising depth hidden within. While it can feel derivative of the genre at times, there really is a great hook hidden in the core systems. Watching the Saturday morning cartoon characters interact between intense levels feels like enough padding to bolster Musashi's journey and carry you to the finish line. While the game may not initially appeal to most hardcore Nintendo Switch owners, it manages to be an entertaining spin on traditional role-playing games with a totally unique hybrid of puzzle-and-action combat.
Score: 3.5/5 
Disclaimer: This review was written based on a copy of the game provided by the publisher. Sushi Striker: The Way of Sushi-Do is available for Nintendo Switch and Nintendo 3DS on June 8.