So much of 2020 has been a never-ending hellscape where time seems to exist on another level that, eight months into the COVID-19 pandemic, we're already recycling our way through memes. And while a now-iconic Glee scene isn't necessarily a new meme, it's now getting a vast second life online.
For years, the dry wit and sarcasm dished out by Sue Sylvester (Jane Lynch), the cheerleading coach who regularly sought to destroy Will Schuester's (Matthew Morrison) Glee Club at William McKinley High School, was among Glee's more consistent qualities on a show that could easily go off the rails. (And it often did.) But that's never been more evident than in "Throwdown," the seventh episode of Glee's first season.
Early on, Sue, who's become a co-director of the Glee Club, meets up with Quinn (Diana Agron), Santana (Naya Rivera), and Brittany (Heather Morris) in her office to discuss possible ways to pit the Glee Club against one another. After Quinn points out that the non-white members of the club "don't feel like they're being heard," Sue sees that as an opportunity to destroy the club from within.
"I am going to create an environment that is so toxic, no one will want to be a part of that club," Sue explained. "Like the time I sold my house to a nice young couple and I salted the earth in the backyard so that nothing living could grow there for a hundred years. You know why I did that? Because they tried to get me to pay their closing costs."
Sue's take on creating a toxic environment was both literal and figurative. The internet, as Sue's line would be remixed, reworked, and edited to the nines, had bigger plans for it.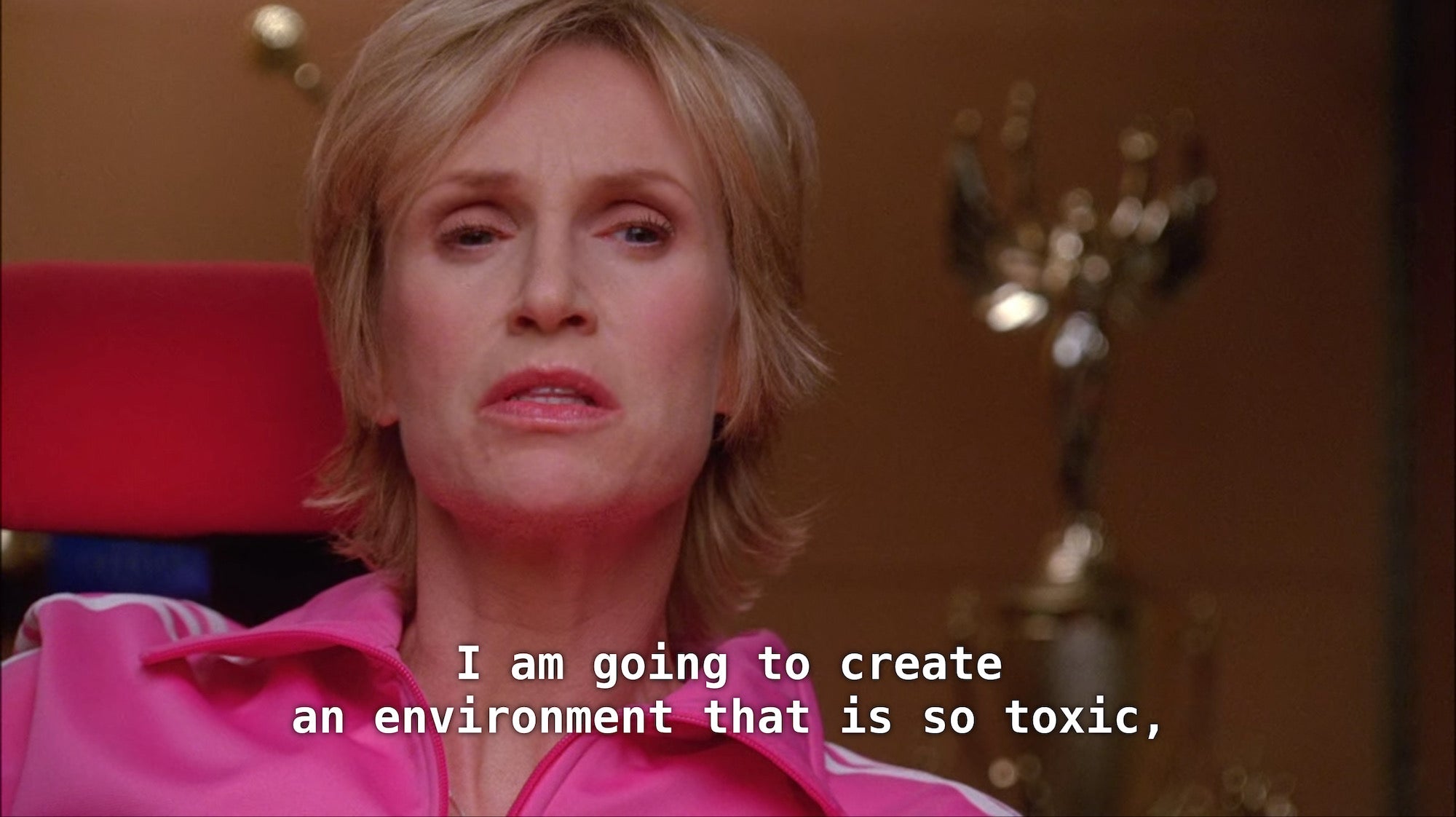 According to Know Your Meme, the first instance of someone using the meme came in late June 2020. Early examples applied Sue's quote of "I am going to create an environment that is so toxic"—most of which used a captioned screengrab from Netflix's version of the show—to other scenarios.
But it didn't take long for people to warp the image to whatever use they needed. In late November, the Sue Sylvester meme returned to Twitter in full force, leading to an environment so ripe for it that the meme has basically been inescapable ever since.
For instance, blacking out the words "environment" and "toxic" and replacing them with whatever made the meme work.
Or blacking out any amount of Sue's mini-monologue to basically give you the mental image of a deadpan for your punchline.
You can even kick off the start of 2021 on a pessimistic note.
And of course, there's the meta angle.
"Why does every version of that Sue Sylvester meme make me laugh?" Digital Media Management associate director Alex Goldschmidt tweeted. "It's been months."
But that's the beauty of this meme. It started out as something entirely specific but is now so chaotic that you can basically make any version of it possible.
H/T BuzzFeed