One man's parody of every negative, obsessive joke you've ever heard about Trekkies went right over everyone's heads this week, with hilarious results all the way down.
"Nothing weird is going to happen," promises the last line of this hilarious Craiglist ad in an Edmonton personals section.
It's the punchline of a well-crafted joke that gets funnier with each line as it skewers geeks by glancing off age-old stereotypes about their obsession with nerd trivia, their creepy, fantasy-laden behavior, and their arrested adulthood development.
The ad calls for "2 or 3 women for Star Trek roleplaying" and specifies at length that it wants comers to supply Next Generation costumes only. The author wants nothing to do with that male chauvinist Captain Kirk.
"I built a bridge in my mom's garage and a small shuttlecraft," it reads. "Maybe my mom will make lunch."
The author caps it all off with a hilariously alarming line, which, after a suitable amount of time, he struck through, as though the author has realized it might not be the wisest thing to advertise: "T̶h̶i̶s̶ ̶i̶s̶n̶'̶t̶ ̶p̶a̶i̶d̶,̶ ̶b̶u̶t̶ ̶I̶ ̶h̶a̶v̶e̶ ̶a̶ ̶d̶o̶c̶t̶o̶r̶'̶s̶ ̶p̶r̶e̶s̶c̶r̶i̶p̶t̶i̶o̶n̶ ̶p̶a̶d̶ ̶(̶a̶ ̶l̶o̶n̶g̶ ̶s̶t̶o̶r̶y̶)̶ ̶a̶n̶d̶ ̶I̶ ̶c̶a̶n̶ ̶w̶r̶i̶t̶e̶ ̶y̶o̶u̶ ̶a̶ ̶p̶r̶e̶s̶c̶r̶i̶p̶t̶i̶o̶n̶ ̶f̶o̶r̶ ̶b̶a̶s̶i̶c̶a̶l̶l̶y̶ ̶a̶n̶y̶t̶h̶i̶n̶g̶ ̶y̶o̶u̶ ̶w̶a̶n̶t̶.̶"
The ad is just realistically socially awkward and amusingly worrying enough that everyone bought it.  It went viral, and according to the author, brought a flurry of media inquiries and even talk show invites.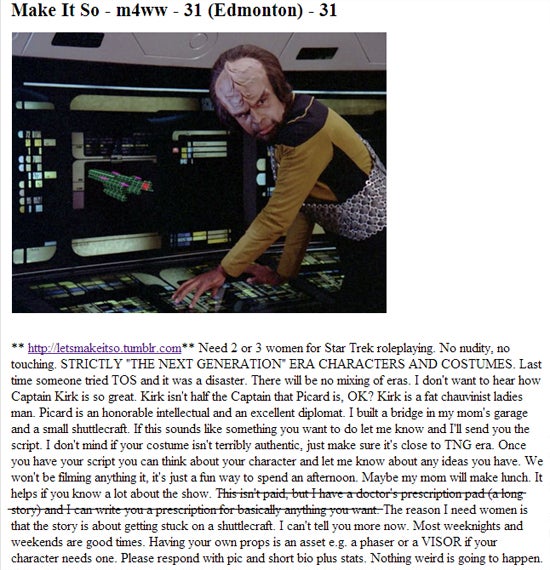 The problem—or perhaps the relief, in this instance—is that the author was trolling. The writer created a Tumblr at letsmakeitso with the aim of clarifying the joke.
"It might be difficult to believe now but I had no intention of disparaging an entire legion of devoted Star Trek fans," he writes. "I mean, these are my people."
"Ultimately," says the author, "I feel guilty for relying on some tropes and stereotypes which are getting played out in our culture." He goes on to apologize to the many people who responded to the ad sincerely, offering to roleplay with the fictional author. "I wish I had a shuttlecraft and a bridge to show them," he opines. "Hell, I might even have donned a costume myself."
Thwarted Edmonton residents who are still hungering for a good fantasy may be in luck: One recent personals ad on the relatively low-traffic local Craiglist community is searching for a bona fide Nemesis.
Alas, there are no details on whether the part of Nemesis comes with a homemade lunch.
Photo via Craigslist