The five stages of grief, posited by Swiss psychiatrist Elizabeth Kubler-Ross, describe the emotions felt by people facing death, whether it's their own death or the loss of a loved one. Kubler-Ross observed the five stages while working with terminal patients, but we all go through our small versions of denial, anger, bargaining, depression, and acceptance when we face smaller losses, too. When we discover it's not really butter, for example.
guys i've cracked the code pic.twitter.com/P0TqxUV4eM

— daisyowl (@daisyowl) August 20, 2017
The stages of grief have long been fodder for memes—Know Your Meme notes one popular instance on DeviantArt back in 2012—but they're having their biggest moment yet thanks to a tweet by @DaisyOwl, who assigned an "I can't believe it's not butter"-like product to each stage. These butter substitute knockoffs have appeared in memes before, particularly a 2016 alignment chart that recorded the best examples.
— Bootleg Stuff (@Bootleg_Stuff) January 20, 2016
But DaisyOwl's tweet is the most successful example of either butter substitutes or the five stages of grief as memes. It's been retweeted more than 75,000 times and is approaching 200,000 likes.
It's brought back the stages of grief in a big way. A paradigm that already applies to human psychology turns out to be the perfect exploitable format for a meme. All you need is a large enough category to match all five stages. "Videos by YouTube communist kid Sceneable" is a good one: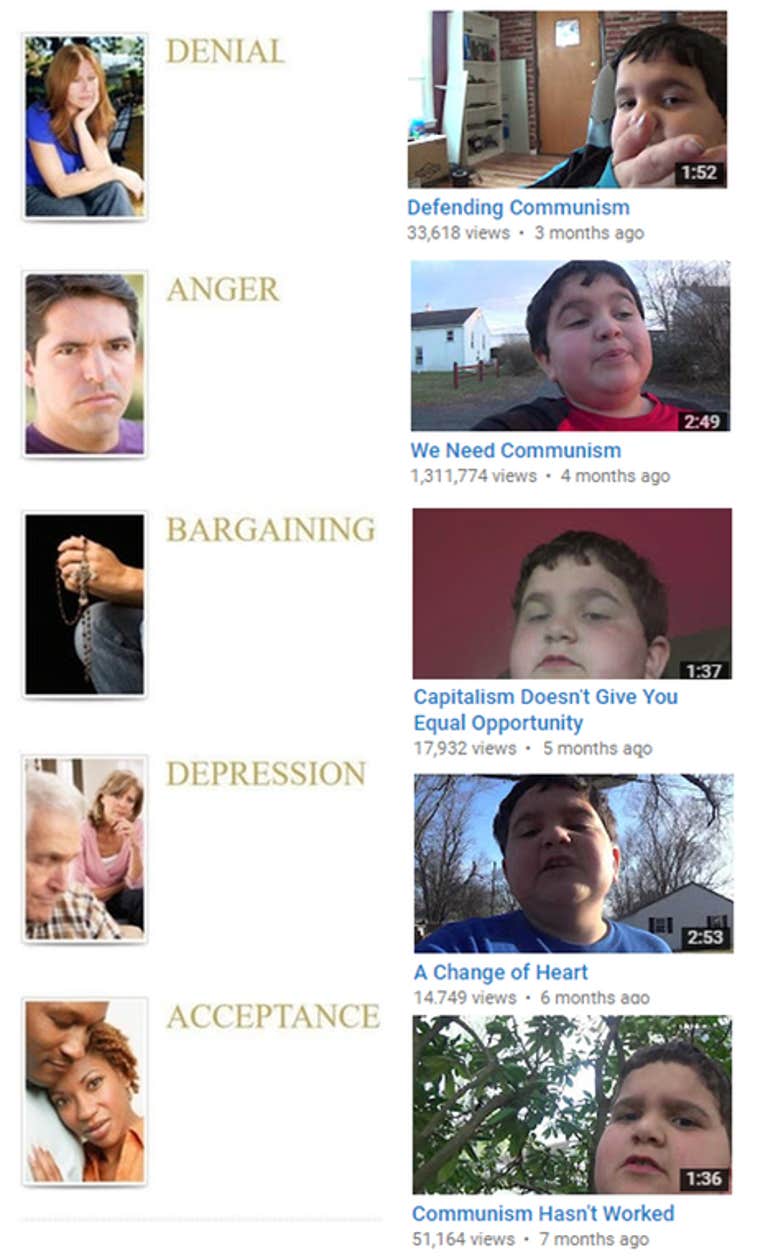 "Beef-based foods" also works pretty well: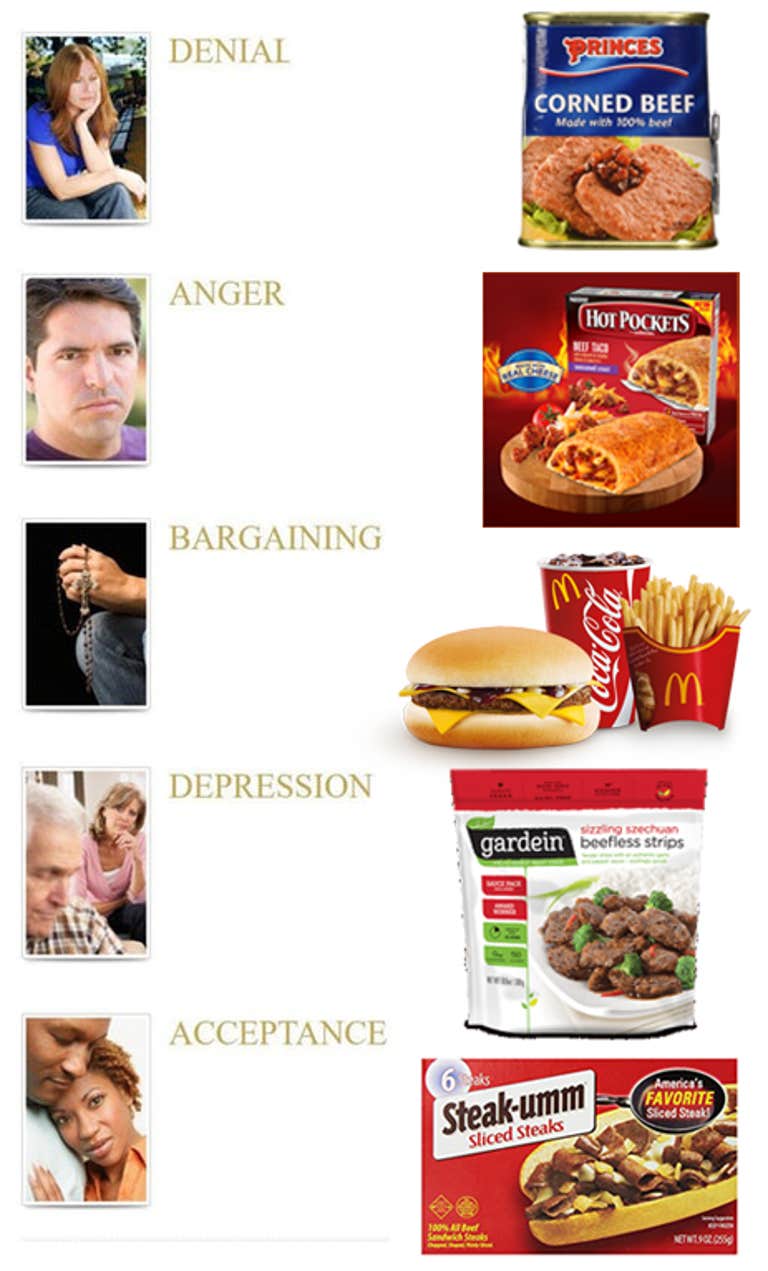 So do Jake Paul video titles on YouTube: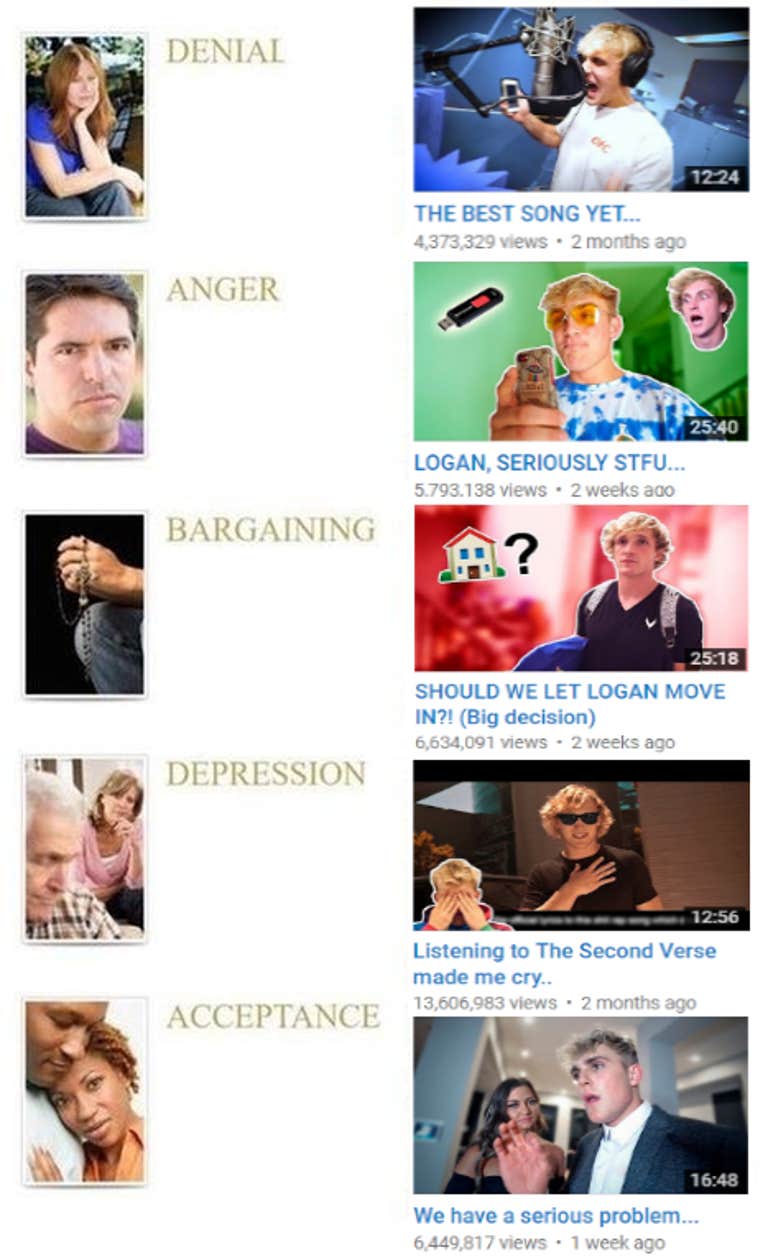 Perhaps the best example comes from internet-famous erotic author Chuck Tingle, known for books like Pounded in the Butt by My Own Butt and Space Raptor Butt Invasion. He tweeted a stages of grief meme using the titles of his own books, and it is perfect:
sometimes there are good days ahead sometimes there are sad days ahead thats okay. it is important to understand these stages as buckaroos pic.twitter.com/Lmvh24MNnK

— Chuck Tingle (@ChuckTingle) August 22, 2017
The crucial component of a funny grief stages meme is making sure your objects are really connected to the stages they represent, and that they tell a story together.  Tingle excels here. "My Butt Is Comforted By the Realization That I'm Okay and Everything Will Be Alright" is almost as good a punchline as the plain ol' margarine in the butter version.
Despite a couple of very successful examples, the meme has yet to become widespread among creators. It's more challenging to execute than many templates, mainly because you have to find five of something that actually matches the Kubler-Ross model, but the payoff is worth it when it's done right. It may take awhile before the dank meme community reaches the "acceptance" stage on this one, but look for it on Twitter in the meantime.