An unusual witness was featured in a Florida murder trial: Siri, Apple's robotic iPhone assistant.
A court heard that Pedro Bravo, who stands accused of murdering his roommate, Christian Aguilar, once allegedly told his digital iPhone assistant "I need to hide my roommate," the Drum reports. 
Siri responded, as programmed, to ask: "What kind of place are you looking for? Swamps, reservoirs, metal foundries, dumps?" The following screengrab was shown at the trial: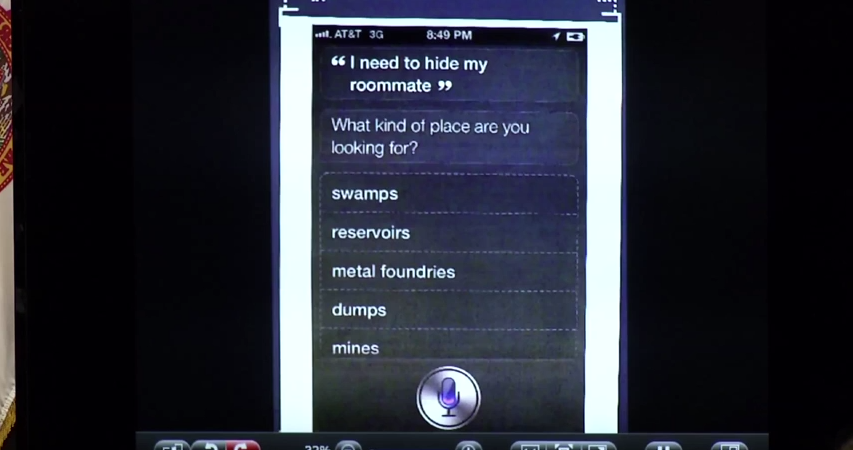 Aguilar's body was found in a shallow grave in early October 2012. Bravo was formally charged with murder two weeks prior to the discovery, on Sept. 28. The prosecution alleges that the pair got in a fight after planning to buy a Kanye West CD, resulting in Bravo strangling Aguilar, an act Bravo denies.
As CBS Miami reported, however, the prosecution was unable to prove that Bravo made the inquiry to Siri. Local news outlets noted that the phone Bravo had at the time—an iPhone 4—did not include Siri, and Gainesville police Det. Matthew Goeckel testified that the photo (featured above) actually came from a cache of Bravo's Facebook photos. 
Here's a courtroom video of Goeckel specifically addressing Siri at the trial. 
Other iPhone-related data is still being used by the prosecution to build their case, including the fact that Bravo used his built-in flashlight nine times over 48 minutes on the night of Aguilar's disappearance, in the period from 11.31pm to 12:01am, and that the iPhone's GPS contradicted Bravo's claims as to his whereabouts in the night. 
The response from Siri was clearly a pre-programmed joke (and one of hundreds), but BuzzFeed reports that Siri "no longer offers advice on how to hide bodies," telling the morbidly curious "I'm sorry" or "What, again?" instead.
Correction: This story has been updated to include events from the courtroom and to clarify that, while Bravo's Siri screengrab was featured during the trial, the possibility of its connection to the murder has been ruled out. The headline has been updated accordingly. 
H/T The Drum | Photo via Vasile Cotovanu (CC BY SA 2.0) | Remix by Jason Reed