Contrary to what some people on Twitter think, Seth Rogen was not the host of the Oscars Sunday night.
Granted, he does share a first name with the actual host, Seth MacFarlane, but he assuredly was not the man singing about seeing actresses' boobs last night (well, at least not on TV). 
Rogen initially warned followers that he was not the man of the hour.

From there, he seemed to think it'd be a little more fun to play along with those who were mistaken, even claiming that he was ready to host the show.

Rogen continued to have some fun with the ruse, retweeting some of those who believed him.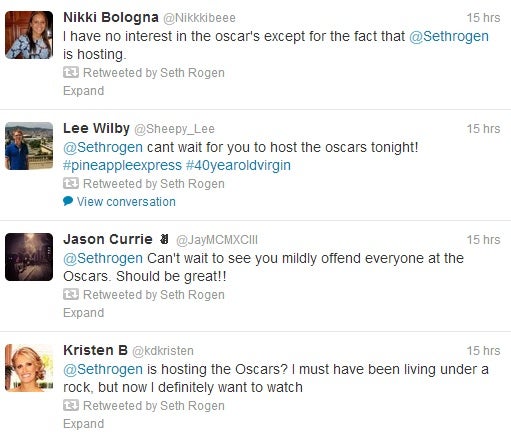 His ruse didn't amuse all followers, however. One sharp fan gave him a stern finger wag for leading on thousands of people.

Rogen might still look on the bright side: At least he wasn't laden with a script full of sexist jokes.
Photo via Video Top News/YouTube