Sebastian Gorka, the one-time deputy assistant and terrorism advisor to Donald Trump, has spent the months since his August resignation becoming a lightning rod for controversy. It seems like a day can't go by without a bizarre incident, a strange remark, or an off-kilter photo opp.
Gorka's ability to be a parody of himself is nothing new. From the beginning, no one was really sure what his job was, or if he even had the security clearance to do the things he was claiming to do. "Fans" of Gorka's antics may remember his famous proclamation, "The era of the pajama boy is over and alpha males are back!" Earlier this year, The Atlantic reported that the former national security editor of Breitbart had apparent ties to a quasi-Nazi Hungarian nationalist group. Other quirks, like his misinformed "academic" papers on Islam, his grandiose vocabulary, and his storied and ever-changing past, have been highlighted by comedians like James Adomian, who portray him as a Cold War-era Bond villain.
However, the last four months have been a never-ending succession of odd Gorka episodes, job changes, and memes. Here is a timeline of Seb's strange season.
Aug. 25-28: Gorka says the White House isn't Islamophobic enough
After resigning his post as deputy assistant to President Trump, Gorka not only claimed he didn't resign (just stopped working there), he wrote in a letter that he quit because Trump did not mention "radical Islamic terrorism" in a speech about Afghanistan. On August 28, he doubled down on this claim, telling The Jerusalem Post that national security adviser H.R. McMaster sees "the threat of Islam through an Obama administration lens, meaning that religion has nothing to do with the war we are in."
Sep. 19 to early Nov.: Gorka joins, then leaves Pizzagate Super PAC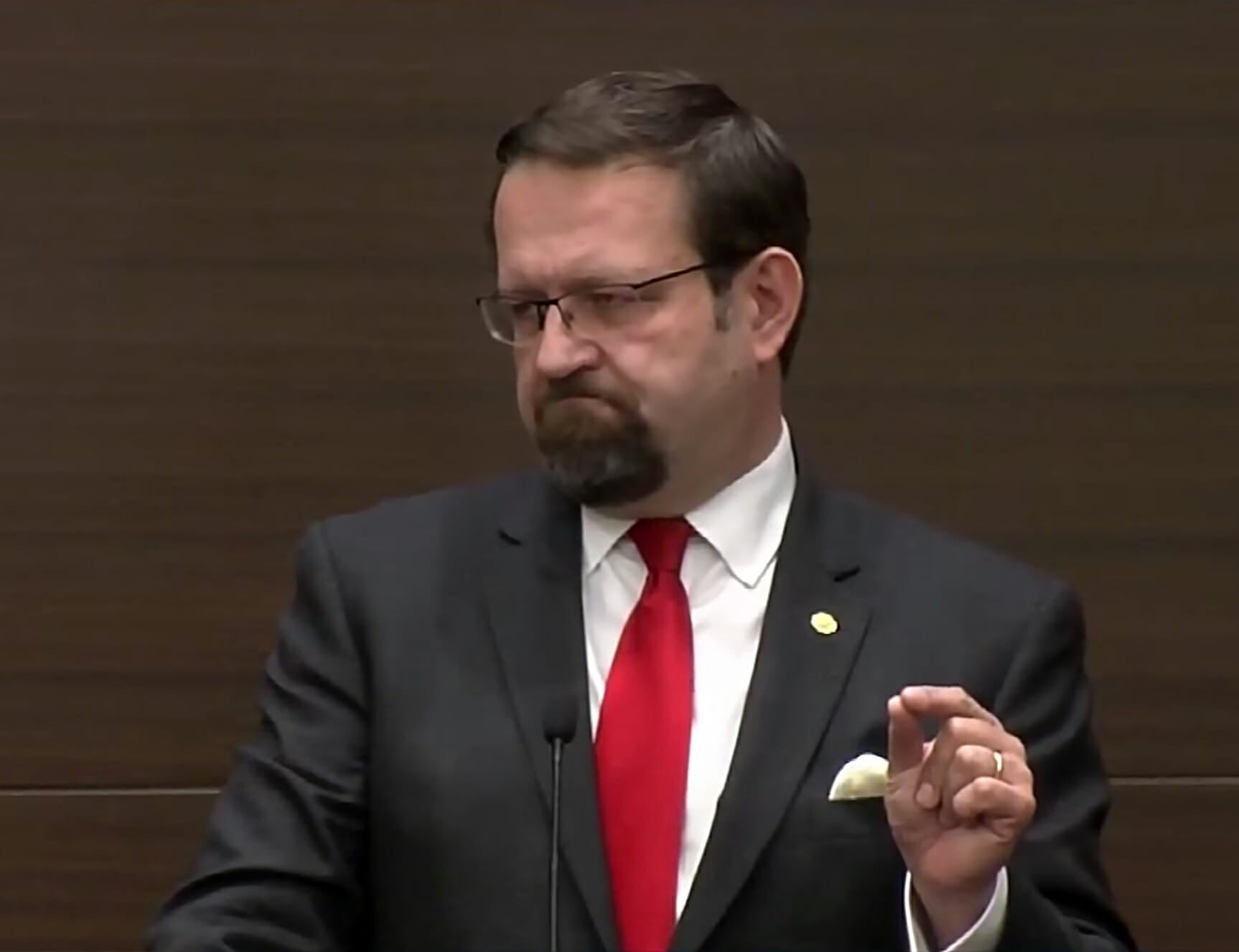 Seb's first gig after being forced out of the White House was a position as "chief strategist" of the MAGA Coalition, a Super PAC run by conspiracy theorists who promoted falsehoods about the 2016 murder of DNC staffer Seth Rich and an outlandish story about a child pedophilia ring found in D.C. pizza shops.
Shortly after, Gorka commented on his new role on the Laura Ingraham radio show saying he joined as chief strategist to weed out "fake conservatives," saying: "There are far too many swamp creatures, or future swamp dwellers, who are being supported as candidates, as fake conservatives, out there." The honeymoon period for the MAGA coalition is apparently only two months long: Gorka resigned on November 20. Strangely, the MAGA Coalition website still uses Gorka's name and image to promote themselves.
Oct. 11: Gorka claims Harvey Weinstein should follow Mike Pence's rules on women
As the first assault and rape allegations against Harvey Weinstein broke, Sebastian Gorka offered this opinion nobody asked for.
THINK:

If Weinstein had obeyed @VP Pence's rules for meeting with the opposite sex, none of those poor women would ever have been abused. pic.twitter.com/Kgl9FF7nam

— Sebastian Gorka DrG (@SebGorka) October 11, 2017
In 2002, Vice President Pence told the Hill that he won't eat alone with a woman who isn't his wife or go to events that have alcohol without her. To imply that the "lesson" of Harvey Weinstein and other sexual harassment cases in the workplace is that men can't control their bodies without their wives present is idiotic and completely out of line. But if you're Sebastian Gorka, it seems like nothing is outside the realm of possibility for idiocy.
Oct. 27: Gorka compares Hillary Clinton to spies who "got the chair"
In an interview with Sean Hannity, in which the Hillary Clinton's role in an alleged uranium deal with Russia was brought up, Seb brought up a 50-year-old execution to illustrate his point. "If this had happened in the 1950s, there would be people up on treason charges right now. The Rosenbergs, okay? This is equivalent to what the Rosenbergs did and those people got the chair." Gorka was referring to Julius and Ethel Rosenberg who were sentenced to death by electric chair in 1953. Intel obtained from Ethel's brother, a Manhattan Project employee, implicated them in a Soviet plot to gain classified information about the atomic bomb.
Snopes maintains that Clinton's supposed quid-pro-quo uranium deal is an unsubstantiated rumor.
Oct. 31: Gorka parks his car on the sidewalk—mockery ensues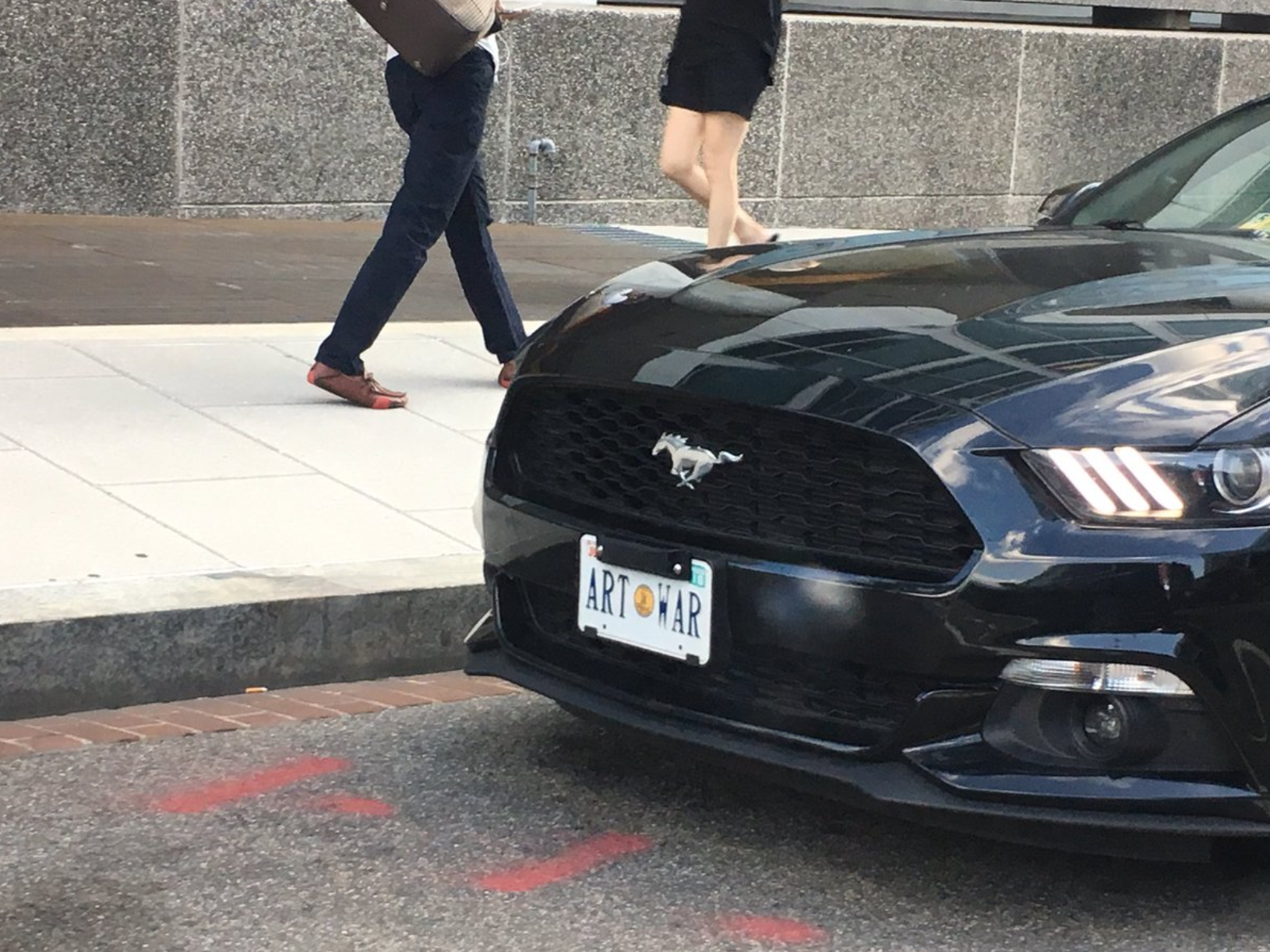 This is perhaps the most bizarre incident in Gorka's continued eight-dimensional chess game against himself. Last summer, this picture of Seb posing with a car featuring custom vanity plates that read "ART WAR" made the rounds on Twitter.
Honestly, I'd be upset if Seb Gorka DIDN'T have a Ford Mustang with an ART WAR personalized plate pic.twitter.com/mF0taiZNI3

— Jensen "Mutie Pie" Karp (@JensenKarp) August 10, 2017
Then, on Halloween, Arlington, Virginia-based Twitter user @Bilsko posted this picture of the same car parked on the sidewalk near Gateway Park.
Despite @ArlingtonVA laws prohibiting this behavior, I came across this car that had just been parked on the sidewalk at Gateway Park pic.twitter.com/UYrDwnxWos

— Bilsko (@Bilsko) October 31, 2017
Users pointed out the availability of nearby street parking spots in the photo, and the illegality of the act. Gorka refused to comment to journalists on the fineable incident, writing Benjamin Freed of Washingtonian this screed: "I suppose you think you're a journalist, right? How amusing."
Twitter found his negligence extremely amusing.
Late Oct.-early Nov.: Roasting reporters and threatening duels via email
Even before the car incident, Gorka lacked humility and self-awareness. The former advisor lashed out at journalists who questioned his comment that "our big issue is black African gun crime against black Africans" with comments like "Get a real job." He repeated this sick burn when questioned about his parking situation by Business Insider, emailing Executive Editor Brett LoGiurato, "Get a real job. With a real outfit."
https://twitter.com/hunterw/status/922985907959095296
When Sebastian Gorka misquoted CNN's Jake Tapper and Politifact sought verification, he sent this vitriolic message to the fact-checking org:
Sebastian Gorka got back to me about his Pants on Fire claims about @jaketapper. pic.twitter.com/Ry4LvbO2zW

— Joshua Gillin (@jpgillin) November 3, 2017
Ashley Feinberg found HuffPost roasted in this email from Gorka regarding Mueller's first charges:
sebastian gorka has weighed in pic.twitter.com/1pRIRj8Bd6

— Ashley Feinberg (@ashleyfeinberg) October 28, 2017
Finally, unable to take any more heat from parking on the sidewalk, Gorka threatened a young college journalist at Mediaite to a verbal televised duel in this epic email exchange: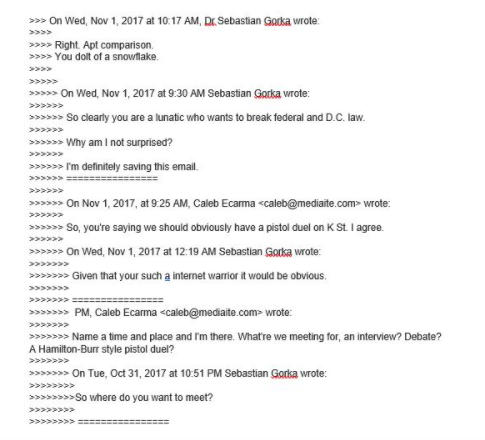 Nov. 8: Fox News hires Gorka as an analyst
Overlooking Gorka's Nazi ties and comments about white supremacy, Fox News graciously hireds the now unemployed former Breitbart editor as a "national security analyst." It's his second job in three months.
Nov. 15: Gorka gives scare speech at UNC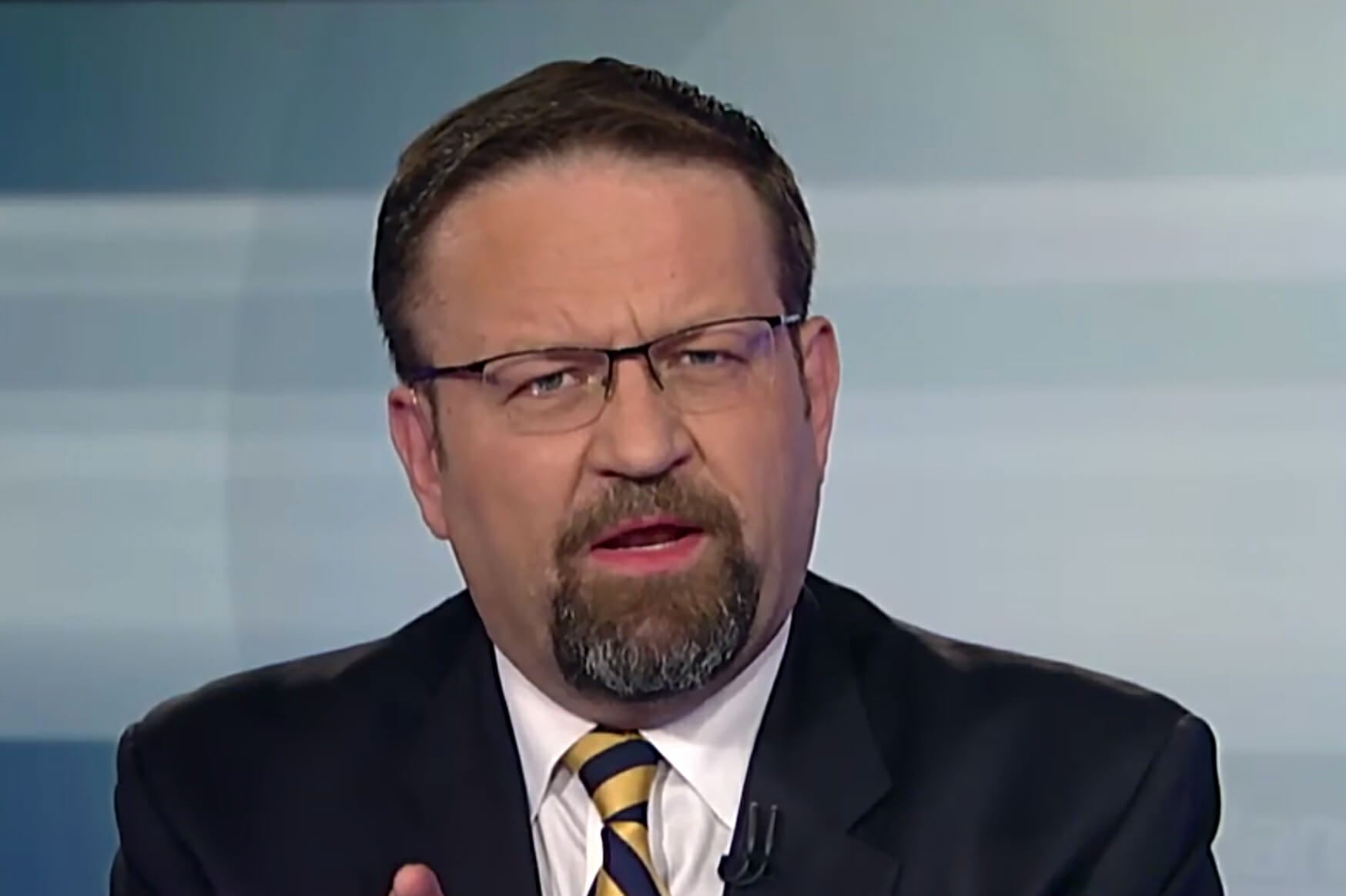 Before Sebastian Gorka was scheduled to speak at UNC, he was billed as an "expert in counterterrorism and defense" for the event, which was actually about U.S.-Israel relations. Student organizers and activist groups gathered the night of the event, hosted by Turning Point U.S.A., to protest his presence and history of hate speech.
Gorka's nonsense quotes won the day. He sought to abolish the apparent idea that "jihad is sexy," by reminding students,"Right now, being a jihadi from Marseille to Boston is sexy. That's not good. It's sexy to choose the life of jihad. We have to make it unsexy." Gorka also compared socialism to terrorism and called them both "totalitarian threats to our freedom." As for Trump's regime, he advised the audience to relax. "Take a deep breath," he said. "This is about the long game. This isn't about the first eight months. This is about the first full eight years, followed by the eight years of President Pence."
Nov.27: Recoil Magazine publishes unbelievable profile of Gorka
Keeping the self-parody fire alive, alpha snowflake Gorka posed for and agreed to be interviewed for this Recoil Magazine profile, which became one long meme. One outfit, a camel-colored suede blazer and white shirt, was most frequently compared to McLovin in Superbad.
Gangstaaaaaaaaaaasss… what's up guys? pic.twitter.com/2nTxnlunAg

— zeddy (@Zeddary) November 25, 2017
Most notably, Seb claimed that he never leaves home without two pistols, two flashlights, a tourniquet and a copy of the U.S. Constitution.
Gorka never leaves home without two pistols, two flashlights, a copy of the Constitution and a tourniquet https://t.co/tlEWDcC3F5 pic.twitter.com/TcFCZCChps

— Robert Maguire @ #NICAR20 (@RobertMaguire_) November 25, 2017
Nov. 28: Gorka lands a gig with the Heritage Foundation
It was announced this week that Sebastian Gorka would be adding "paid lecturer" to his job roster for the conservative think tank, The Heritage Foundation. According to John Cooper, a spokesperson for the organization, Gorka will be speaking about foreign policy as an independent contractor. "He is solely responsible for the content of his speeches and other statements, and his views are not necessarily those of Heritage or any of its personnel," Cooper told The Daily Beast.
Based on Seb's track record, that disclaimer is probably a good idea; moments after the announcement, Gorka added this new position to his personal LinkedIn page.