Sean Parker always wanted a fairytale wedding straight out of Tolkien's mind, and now his corresponding confessional scroll has been discovered deep within the walls of Minas Tirith.
The executive partner at Founders Fund and director of Spotify has faced plenty of media backlash for his extravagant June 1 wedding—especially when reports came out that his wedding caused damages to a campsite in Big Sur, Calif.—although those reports have been disputed.
before everyone gets in a huff: yes, I know, it's just a transcription to tengwar script not a translation to the quenya language

— finn (@finn) June 28, 2013
Almost a month later, Parker fired back at his critics in a 9,500-word essay published on TechCrunch and lamented that "nothing is sacred on the Internet, not even a wedding."
Nor, does it seem, is his TechCrunch essay.
Modcult's Finn Smith ran Parker's piece through a transcriber so that the entire thing was written in Tengwar, an artificial script that J.R.R. Tolkien created for his fictional universe (including The Lord of the Rings trilogy).
Parker explained early in his piece that he and his wife wanted their wedding to have the look and feel of Middle Earth.
My wife Alexandra and I met five years ago, fell in love, and almost immediately began fantasizing about our wedding day, which, we both agreed, should take place deep within an enchanted forest. (You know, sort of like Lothlórien, the mythical home of Galadriel in Tolkien's Lord of the Rings.) "We wanted our wedding to begin with "Once upon a time…" and end with "…and they lived happily ever after." But life rarely works out the way it does in fairy tales, as much as we hoped it would. The story I'm about to tell, ironically, begins where many fairy tales end: with a wedding.
However, when you transcribe that paragraph into Tengwar, it looks rather elegant.

It could even pass off for a wedding memory with the inclusion of the same wedding photos Parker included in the original essay.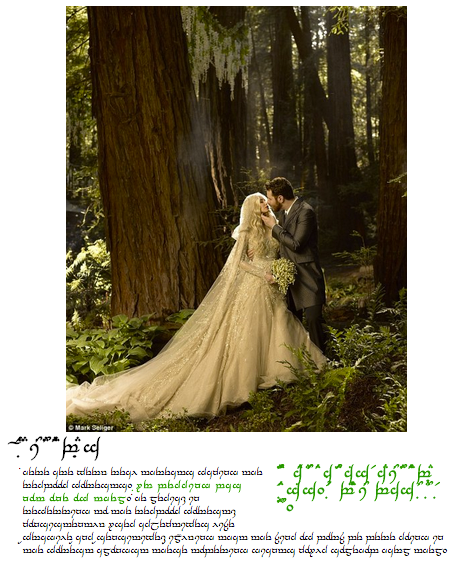 The site is a transcription, not a translation, so the article is still in English, but written with Tengwar characters. Smith counters this point that Tolkien fans might have made before they're even given the chance.
There's no need to run this back through a translator, however. You could read Parker's original essay or even save your time and skip to the Summary Points at the end of the page.
Or you can hold out for the latest update of The Red Book of Westmarch.
Screen grabs via TechCrunch | Photo via LeWeb13/Flickr